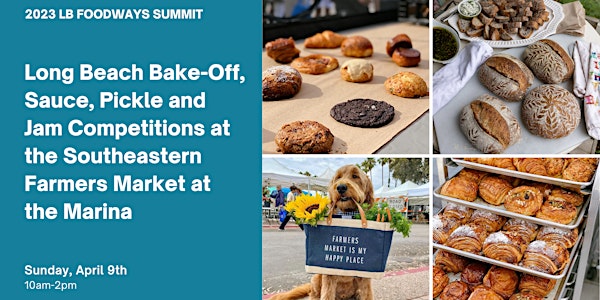 LB Bake-Off, Sauce, Pickle and Jam Competition at the Marina Farmers Market
Local culinary talent faces off at these Local Food Competitions! Join us at the waterfront farmers market for the ultimate food fight!
Date and time
Sunday, April 9 · 10am - 2pm PDT
Location
Long Beach Southeast Farmers Market 6602 East Marina Drive Long Beach, CA 90803
Refund Policy
Contact the organizer to request a refund.
Eventbrite's fee is nonrefundable.
About this event
Come one, come all to the Marina Farmers Market for an exciting local food competition! Bakers, sauciers, jammers and fermentors will be competing for the title of "Best in Long Beach." The event will take place against the stunning backdrop of the Marina and the bustling Sunday market, complete with live music and delicious food offerings. Join us for a day filled with excitement and delicious treats, as local chefs and home cooks battle it out to showcase their culinary talents. Whether you are a seasoned foodie or simply looking for a fun weekend activity, the Marina Farmers Market bake-off competition is sure to be a highlight of your weekend. Don't miss out on this opportunity to taste the best baked goods, sauces, and jams that Long Beach has to offer.
Compete at the Sunday Farmers Market in the following categories by submitting here:
Baked Goods
Jams/Preserves
Suaces
Fermentations
Additional categories will be judged at the Friday LB County Fair
About the Foodways Summit:
The Foodways Summit is a multi-day, multi-site exploration of potential and emerging innovations in local food, with the goal of expanding healthy food access, education, and opportunities. Supporters are encouraged to become a Foodways Champion .
About the organizer
Our Mission
To increase the production, distribution and consumption of healthy, local foods in Long Beach, California
Background
Food in America is broken: Inequalities in food access and overconsumption of processed foods, chemicals and GMOs are affecting public health and the environment in disastrous ways.

Communities are organizing to fix the gap: Local farms, chefs and activists are educating citizens and establishing sustainable, local food growth and distribution. Urban agriculture is becoming an increasingly viable source of fresh affordable foods.

We believe in helping all three parts of a local food economy work together: Eaters (consumers), Feeders (establishments ranging from schools and hospitals to restaurants, distributors and co-operatives) and Seeders (local farms and growers). Eaters, Feeders and Seeders comprise the agricultural cycle of supply, distribution, and demand. If Eaters, Feeders and Seeders can become more connected, both supply and demand for local food production will scale up and become a change agent in public health and the local economy.