About this Event
"Growing up our house was full of music. Bob Dylan, Jerry Jeff Walker, and Kris Kristofferson were big early influences on me as songwriters. I started to write songs in college and it has become an essential part of who I am. My earliest interaction with the music industry was an Atlantic Records A&R exec taking an interest in a song I had written called "Bye Bye Baby" about a young model who went out to LA and ended up dead. They wanted to send me to Nashville to record with producer Garry Tallent (E-Street Band) and I started the process of showcasing for Atlantic in New York City.
My path changed after I met a mystic in Central Park and I started a journey that led me to meet my wife and start a family. Along the way always performing and the songs have continued to come down to me - starting with a lyric and sometimes as a melody. Every morning I carve out time to sit alone with the guitar surrounded by nature and get into the flow - it keeps me going and makes it possible to cope with the painful struggle of this world and to be able to spread joy."
"My great love is sharing with an audience my own folk songs and ballads mixed with raw rock, stripped down country and blues -- you can call it Americana but it is just continuing on the road started by the Allman Brothers…"
In 2015, Lots of Love Records put out Lazer Lloyd's first major international release of new material, a self-titled album that introduced Lloyd's songwriting and unique sound became one of the top blues rock records that year getting widespread critical acclaim with "Burning Thunder" reaching number one on the blues rock chart.
Lazer's second major international release "Freedom's Child" was dropped in September 2017 including 12 new tracks: 11 originals plus Lazer's take on Dylan and Hendrix's "All Along the Watchtower" recorded with Grammy nominated producer & engineer David Ivory at his studio near Philadelphia. The album shot up the Americana charts as awareness of Lloyd's music grew into an expanded fan base of roots music lovers.
Opener to be announced soon!
Tickets:
Reserved seats – floor and standard balcony - are $15 in advance; $20 at the door.
Limited box seats are $30 advance; $40 at the door and include concessions.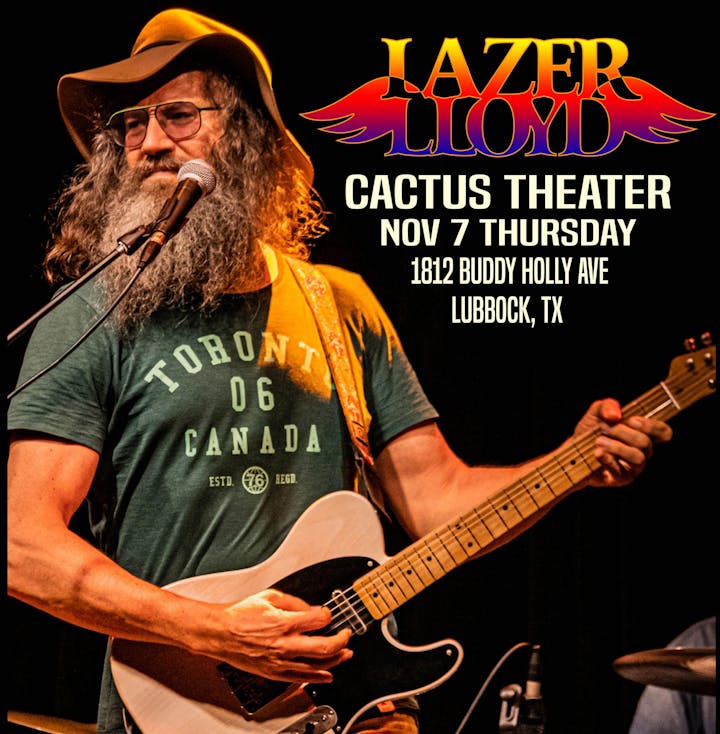 Performers
Date and Time
Location
Refund Policy