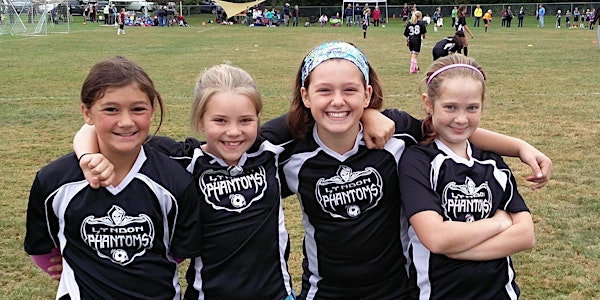 [LAYS] Lyndon Area Youth Soccer - Fall 2019 Registration
When and where
Location
Lyndon Town School (Soccer Field) 2825 Lily Pond Rd Lyndonville, VT 05851
Description
Fall 2019 season begins August 20th until October 19th
Pre K - 2nd Grade Saturday Morning Classes from 9:00-10:00am: September 7th until October 12th
3-6th Grade: $49 (if registered by Aug 1, 2019. $70 thereafter.)
Pre-K to 2nd Grade: $29 (if registered by Aug 1, 2019. $40 thereafter.)
Before you start the registration, please have your child's health insurance information handy to complete the registration process.
The goal of Lyndon Area Youth Soccer is to introduce the area youth to the game of soccer in a manner that encourages teamwork, personal growth, and physical activity. LAYS coaches aim to guide players to develop skills needed to play beyond the middle school level while modeling and reinforcing the principles of fairness, respect, good sportsmanship, and a love of the game.
3rd through 6th grade players:
The first practice will be on Tuesday, August 20th from 5:00 to 6:30 at the Lyndon Town School fields. Bring any extra cleats, shinguards, or black shorts you have to add to the gear swap at the shack. Look there for anything you might need for the season. We might have it!
Gear for the season: LAYS will provide a ball and a jersey. Your player will need cleats and shinguards and should work toward having black soccer socks and black shorts before the first game on September 7 to complete the uniform. If your player is interested in playing goalie, he or she will need a mouthguard.
*If you feel like you have enough soccer balls at home, bring a size four ball to the first practice that holds air, and we will not issue your player a new ball.
Information on picture day coming soon.
Pre-K through 2nd grade players:
The first practice is on Saturday, September 7th from 9:00-10:00am and will continue until Saturday, October 12th. Pre-K and Kindergarten players will need to have an adult or older sibling accompany them at practice on the field.
Gear for the season: LAYS will provide a ball and a shirt that is color coordinated by age group. Players need to show up to practice in clothes and shoes ready to run around and play. There is no specific gear needed to play at these levels.
Picture day will be Saturday, September 21st with a rain date on Satuday, September 28th. More information on this will be distributed on the fist day of practice.