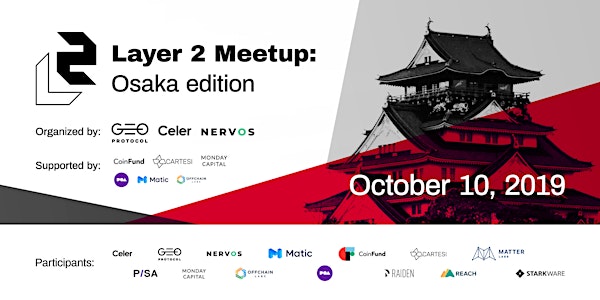 Layer 2 Meetup: Osaka edition
Join us at Layer 2 Meetup for fruitful networking, chilled atmosphere & sushi on October 10, 2019 during the DevCon in Osaka, Japan
When and where
Location
Hotel Fukuracia Osaka Bay, 2d floor, 'THE SQUARE' Conference Room (15 mins by foot from the main DevCon location) 1 Chome-7-50 Nankokita, Suminoe Ward Osaka, Osaka 559-0034 Japan
About this event
We will be happy to meet you again at Layer 2 Meetup during the major annual event – DevCon 2019 in Osaka, Japan.
The first two Layer 2 meetups took place in New York during the Consensus Blockchain Week in May 2019 and in Berlin during the Blockchain Week in August 2019.
Technology leaders of Layer 2 solutions will get together to discuss shared pains and gains in the development of second layer solutions. Anything goes at the meet, from scalability to interoperability and more!
Participate for FREE, but please register in advance since the seats are limited (see details below).
AGENDA (updated):
6:00 pm – 6:25 pm Opening & Networking
6:25 pm – 6:30 pm Welcome speech
6:30 pm – 7:00 pm Lightning talks:
Junda Liu, Co-founder of Celer Network: Mass Adoption of Layer-2 Scaling Through Real-money eSports Games
Bo Wang, Chief Product Officer of Nervos:Towards A Better Sidechain Security Model - A Layer 1 Perspective
Harry Kalodner, CTO & Co-founder of Offchain Labs: Arbitrum State Channels and Sidechains
7:00 pm – 7:40 pm Panel discussion #1. Participants:
7:45 pm – 8:30 pm Lightning talks
Anurag Arjun, Co-founder & Chief Product Officer at Matic Network: UX and DX in Layer 2 solutions
Alex Kolotov: Arbitrary Message Bridge - The missing piece of Ethereum Interoperability
Marco Mirabella, Co-Founder & Chief Business Development Officer at Cartesi: Performing offchain computations on a Linux infrastructure
Vitaliy Gataulin, Product Manager at GEO Protocol: UX in state channel networks
8:30 pm – 9:15 pm Panel discussion #2. Participants:
9:15 pm – 10:00 pm Sushi & pizza time + Networking
WHERE:
Hotel Fukuracia Osaka Bay, 2d floor, 'THE SQUARE' Conference Room
Address: 1 Chome-7-50 Nankokita, Suminoe Ward, Osaka, 559-0034, Japan (15 mins by foot from the main DevCon location)
WHEN:
October 10th, 2019, from 6:00 pm to 10:00 pm
For REGISTRATION, more INFO (partnership, speaking opportunities, etc) please contact Vadym:
Email: vn@geoprotocol.io
Telegram: @vadnester
Also feel free to join the Layer 2 Telegram chat.