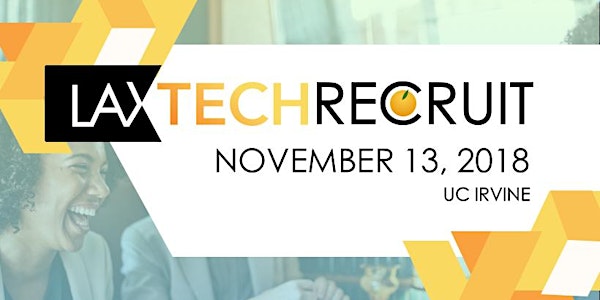 LAXTechRecruit - Orange County, CA.
When and where
Location
UC Irvine Student Conference Center A, 311 W Peltason Dr. Irvine, CA 92697
Description
LAXTechRecruit is a one-day conference that educates Recruiters, Talent Acquisition Leaders, Brand Ambassadors and Hiring Managers across all industries on how to use innovation to attract and hire talent. Join Lou Adler, Dean Da Costa, Derek Zeller, Craig Fisher, Nathan Mondragon and other industry thought leaders on Nov 13th at UC Irvine to learn about the tools, platforms, and tactics used to start recruiting for the year we live in. #WinHiring
Click to Watch Video - LAXTechRecruit Los Angeles
---
Panels + Presentations:
8:00am - Registration + COFFEE & Bagels
8:20am - Welcome Address, Stacey Broadwell
8:30am KeyNote: Todd Davis, Global Talent Acquisition Leader @ IBM
8:45am - University Recruiting Gateways: Berkeley, UC Irvine, Loyola Marymount
10:00am - Advanced Sourcing Innovations Block: 3 Presentations + Panel
Dean Da Costa, "The Sourcing Lifecycle and the Tools to Help You Succeed"
Steven Jiang, "Proactively Building Talent Pipelines with AI"
Derek Zeller, "Linkedin Profile Building"
David Nicola, Panel Moderator
11:15am – KEYNOTE: Lou Adler: Human and Artificial Intelligence in Hiring
- LUNCH BREAK - (PIZZA + Drinks, Included with admission)
1pm - Diversity, Bias & Inclusion Block: 3 Presentations + Panel
Nathan Mondragon, "Judgement, Bias & AI: Can HR & AI Work Together?"
Kimberly Jones, "Diversity: Commitment, Consciousness & Technology"
Shelly Winner, "From Incarceration to Microsoft"
Stacey Gordon, panel moderator.
2:15pm - Recruitment Marketing Block: 3 presentations + Panel
Joan Waggoner, "Recruitment Marketing Strategies & Case Studies"
Craig Fisher, "Employment Branding"
Teg Grenager, "Programmatic Ad Buying for Recruitment Marketing"
Michelle Sargent, KRT Marketing, panel moderator.
- BREAK -
3:45pm - Recruitment Data & Analytics Block:
Raghav Singh, "Turning HR Data into Analytics Gold"
Ethan Medeiros, "Presenting Hiring Analytics to the Executive Board"
4:30pm – "How to Build Talent Acquisition Teams that Scale"
WAG - Brendan Rogers, Founder
IBM – Todd Davis, Global Talent Acquisition Leader
el POLLO LOCO - Eric Roberts, Senior Manager, Talent Acquisition
---
DEMOS + Workshops:
9:45am - Content Managment and Creation: ContentApp
11:00am Sourcing with A.I. (bring your reqs): Hiretual
1:00pm Sourcing 101 - Boolean + x-Ray: Dean Da Costa
3:45pm Recruitment Marketing/CRM: SmashFly
---
Who Should Attend: CHRO, CTAO, People Operations, Heads of Talent Acquisition, Recruitment & Sourcing Leaders, Employer Brand Ambassadors, Recruitment Marketing Specialists, Hiring Managers and anyone charged with hiring. You get the idea.