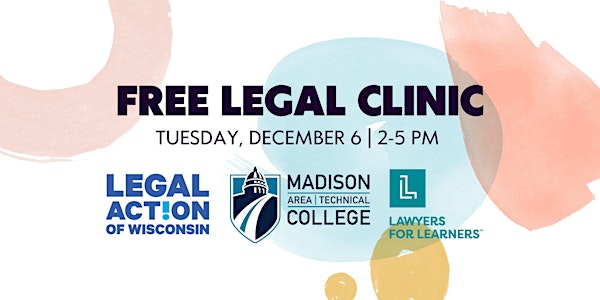 Lawyers for Learners Free Legal Clinic at Madison College
Speak to an attorney for free on December 6th! Appointments are available online or in-person at Madison College's Truax Campus.
When and where
Location
Madison College Truax Campus - Main Building- Room D1630 - Wolf Pack Cafeteria Annex 1750 Wright Street Madison, WI 53704
About this event
Have you ever been arrested?
Are you worries about getting a field placement, certification/licensure, or job because of a conviction?
Do you not know what is on your background check?
Is your driver's license revoked/suspended or are you worried it will be?
You can speak to an attorney about your background check and/or your driver's license for free! Consultations may be virtual.
If you have a legal problem or question about something other than your background check or driver's license, please fill out the Lawyers for Learners intake form, here.
This clinic is in partnership with Madison College, Lawyers for Learners, and Legal Action of Wisconsin, Inc.