Join us for live music, company performances, dancing, food & drinks as we celebrate re-connecting and toast to our 30 years!
About this event
You're Invited!
LAWN PARTY & PERFORMANCE
Sunday, June 13 at 6:00pm
Hosted in the spacious backyard at the iconic home of Hugh and Claudette Lowe
400 Academy Drive
Austin, TX 78704
Featuring music by Claude 9 and performances by AADT dancers Whitney O'Baugh, Luis Armando Ordaz Gutiérrez, Ceci Proeger, and Ciceley Fullylove. Special guest appearances by AADT collaborators Andy Nolte, Leila Louise Henley & Rey Arteaga.
Join us to enjoy food, drinks and dancing for everyone!
Help us celebrate re-connecting in person!
Reservations are recommended.
Tickets $25 - Reserve your spot with a ticket or a donation of any amount.
Tickets will be available at the door, space permitting (cash/cc)
Proceeds will benefit AADT to support 2021 artist fees , operations and programs.
In this spacious outdoor setting we ask guests to follow CDC guidelines.
Hats, Parking, and Seating
It's a lawn party! We invite you to wear a fun or fancy hat! The yard will be in shadow during the event.
Help us respect the neighborhood. Please spread parking along Academy Drive, Newning Avenue (runs north beside the house), and Le Grande Avenue (Newning intersects it). Let us know if you have special needs for drop off. We can get you right to the lawn. Please email us at andrea@arieldance.org with your contact information.
Seating is provided for this event. We also have hand fans and mosquito repellant.
More About Claude 9
Claude 9 has been a collaborator with AADT since the first performances of The Bowie Project in 2014 and in subsequent productions in 2015 and 2017. He also performed in Locked-In (2018) and Rally (2019). Many of you may also know him from his performances at many of our House Concerts over the years with Super Creeps, 35MM, and the Austin Soundpainting Collective.
Read more about Claude 9 in this VoyageAustin article "Life & Work with Claude McCan"
Listen to "The Entrance" one of the tracks we are working with from his upcoming album release.
Learn more about us at www.arieldance.org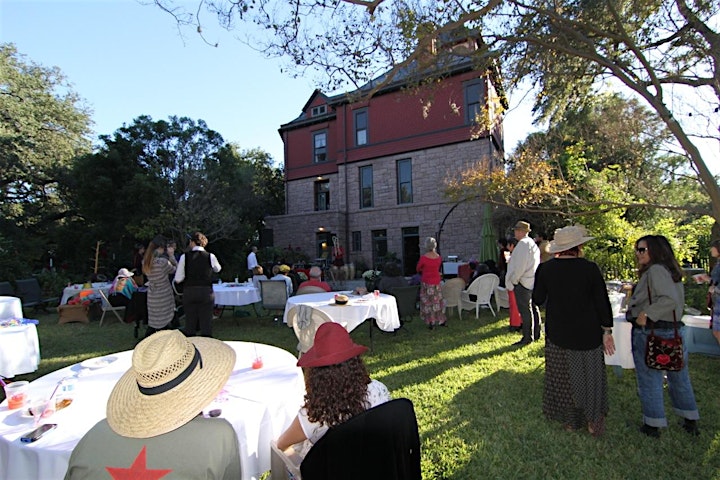 Organizer of Lawn Party & Performance
Andrea Ariel Dance Theatre creates original, multi-disciplinary dance-based performances centered at the heart of our human experiences.  Inspired by the poetic and everyday elements of life, the company engages in a collaborative, ensemble-based process to explore personal, social, political, and environmental issues with inquisitiveness and imagination. We cultivate creative opportunities for diverse audiences and participants through performances, community projects, classes, workshops, and educational and training residencies.  
Andrea Ariel Dance Theatre was recently selected as a 2019 Creative Ambassador in Dance by the City of Austin. Andrea will represent Austin, TX during her travels to Madrid and Tres Cantos in Spain this July where she will have the opportunity to work with multidisciplinary artists working in Soundpainting from all over the world! Thanks to Mayor Adler and the City of Austin Cultural Arts and Music & Entertainment Divisions! 

In 2017 Andrea Ariel Dance Theatre and Andrea Ariel were honored with a special citation from the Austin Critics Table, The Sound and Vision Award.
 "For conspicuous commitment to visionary cross-disciplinary work. To the best dance generator telling us: Love, Austin, we have a wild creative future regardless of the inconstant winds of politics and money.  To the artist and company that proves it (so far) with a reimagining of the fluorescent minimalism of Dan Flavin and three presentations of homage to David Bowie in five artistic modes guided and blended with one gesture language." 
In 2016 Andrea and AADT received the Site for Sore Eyes and Ears Award for invigorating collaborations of dance and music in site-specific performance. AADT has also received twelve nominations and four awards for LUMEN (2016), HEART (2014) and The Bowie Project: A Rock and Roll Soundpainting (2014, 2015, 2017), also named #2 of the Top Nine Big Bang Dance Concerts of 2015.
Four times voted Best Choreographer/Dancer by the Austin Chronicle reader's poll, Andrea's work has previously been honored with two awards and seven nominations from the Austin Critics Table, and two B. Iden Payne Award nominations.
Learn more about us at our website at www.arieldance.org