Event Information
Location
Raleigh Studios
5300 Melrose Ave.
Hollywood, CA 90038
Description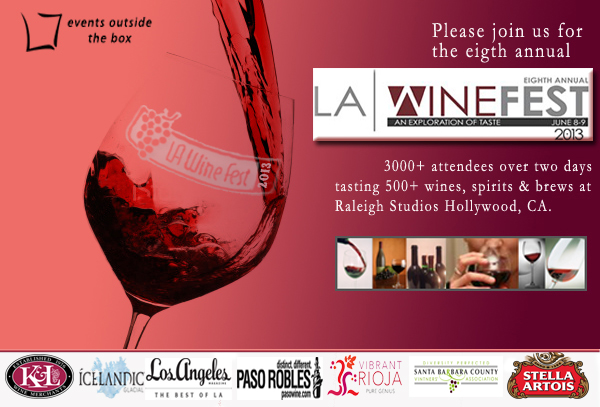 LAWineFest returns to Hollywood's historic Raleigh Studios for an amazing eigth year! Billed as the largest two-day festival of its kind in Los Angeles, the fest brings together growers, brewers and distributors who will be pouring FREE samples of more than 500 wines, spirits and brews from around the world.

Spend a gorgeous SoCal day at Raleigh Studios outdoor lot sipping wines from more than 15 countries at this walk-around tasting. You can also hang out in the new Stella Artois beer garden. Pair your drinks (or simply help soak them up) with delicacies of your choice from LA's finest gourmet food trucks (food priced separately). Plus, you can enjoy celebrity chef demos- including one from the Foundry's Eric Greenspan, live entertainment, and more. Tickets even include a souvenir glass, and the event benefits the non-profit Food Forward.

L7 has a limited number of deeply discounted tickets for both days of this event. Please get yours early if you plan on attending.
When: SATURDAY, June 8 or SUNDAY, June 9, 2013
Time: 2:00 to 6:00pm Saturday or Noon to 5:00pm on Sunday.
Where: Raleigh Studios
Address: 5300 Melrose Ave., Hollywood, CA 90038
Cost: Discount tickets available now- SATURDAY or SUNDAY tickets just $49/each or choose a pair of tickets for either date- just $89 (admits two).
Tickets: Discount tickets for this event must be purchased in advance. Purchase tickets here >>> or call L7 at 310-877-6266.
Parking: $10 at Raleigh or Paramount Studios or metered street parking (free on Sunday).
What to wear: Comfortable walking shoes and a sun hat.
Wineries, Breweries, Distilleries participating so far:
Allied Importers
Cantara Cellars, Central Coast
Cielo Malibu Estate Wines
Darms Lane Wine, Napa Valley
Deutsch Family Wine and Spirits
Frey Vineyards, Mendocino
Double Bond Winery, Central Coast
Herzog Wine Cellars, Ventura
J. Hamilton Wines, Westlake VIllage
Jada Vineyard & Winery, Paso Robles
JVS Imports, Scotland
Martian Ranch and Wineyard, Los Alamos
Naked Rebel Winery, San Mateo
Phantom Rivers Winery, Central Coast
Reyes Winery, Agua Dulce
Rosenthal Estate Winery, Malibu
Solsticio Mendoza, Argentina
Roxo Port Cellars, Paso Robles
San Antonio Winery
Stanger Vineyards, Paso Robles
Ventura Limoncello Company, Ventura
Temecula Valley Winegrowers Association pouring Callaway Vineyard & Winery, Cougar Vineyard & Winery, Danza del Sol Winery, Europa Village, Hart Winery, Leoness Cellars, Lorimar Vineyard & Winery, South Coast Winery Resort & Spa and Weins Family Cellars.
Ventura County Winery Association pouring Bella Victorian Vineyards, Cantara Cellars, Four Brix Winery, Magnavino Cellars, Panarro Brothers Winery, Plan B Cellars and San Vicente Cellars.
Vibrant Rioja, Spain
Wedell Cellars, Central Coast
Wilson Creek Winery and Vineyards, Temecula
Stella Artois, Belgium
Karl Strauss Brewery, San Diego
Firestone Walker Brewing Co., Paso Robles
Bekseju USA/Kooksoondang Brewery
Boutique Sake, Rancho Dominguez
Pisco Porton, Peru
Ventura Limoncello Co., Ventura
Food Trucks- Crepe de Ville, Heirloom, Hot's Kitchen, Green Truck, Lobsta Truck, Raleigh Cafe, Slammin' Sliders, Sweet Arleen's Cupcakes & Bread Puddings, Tainamite and The Surfer Taco.

Date and time
Location
Raleigh Studios
5300 Melrose Ave.
Hollywood, CA 90038