Description
Law School for the CFO
hosted by
The Detroit CFO Leadership Council
Tuesday, February 13th
5:00 p.m. - 5:30 p.m. Check-In
5:30 p.m. - 7:00 p.m. Program
7:00 p.m. - 8:00 p.m. Networking and Drinks
---
It's the advice you need, without the hourly fees.
Join us for 'Law School for the CFO,' an informative session on the legal topics today that directly affect the health of your business. Our legal experts will deliver a series of 10-minute segments packed with practical and actionable advice to help you avoid unintentional pitfalls and risks.
Who Should Attend
CFOs and other senior finance executives interested in protecting their organization from unintentional breaches of the law.
---
Learning Objectives
Attendees of this program will understand and be able to identify the legal issues in the following areas:
Employer/Employee Agreements

Executive Compensation Benefits

Employment

Merger and Acquisition/Corporate Governance

Private Equity

Cannabis Legalization

Litigation

Intellectual Property

White Collar Crime
---
Speakers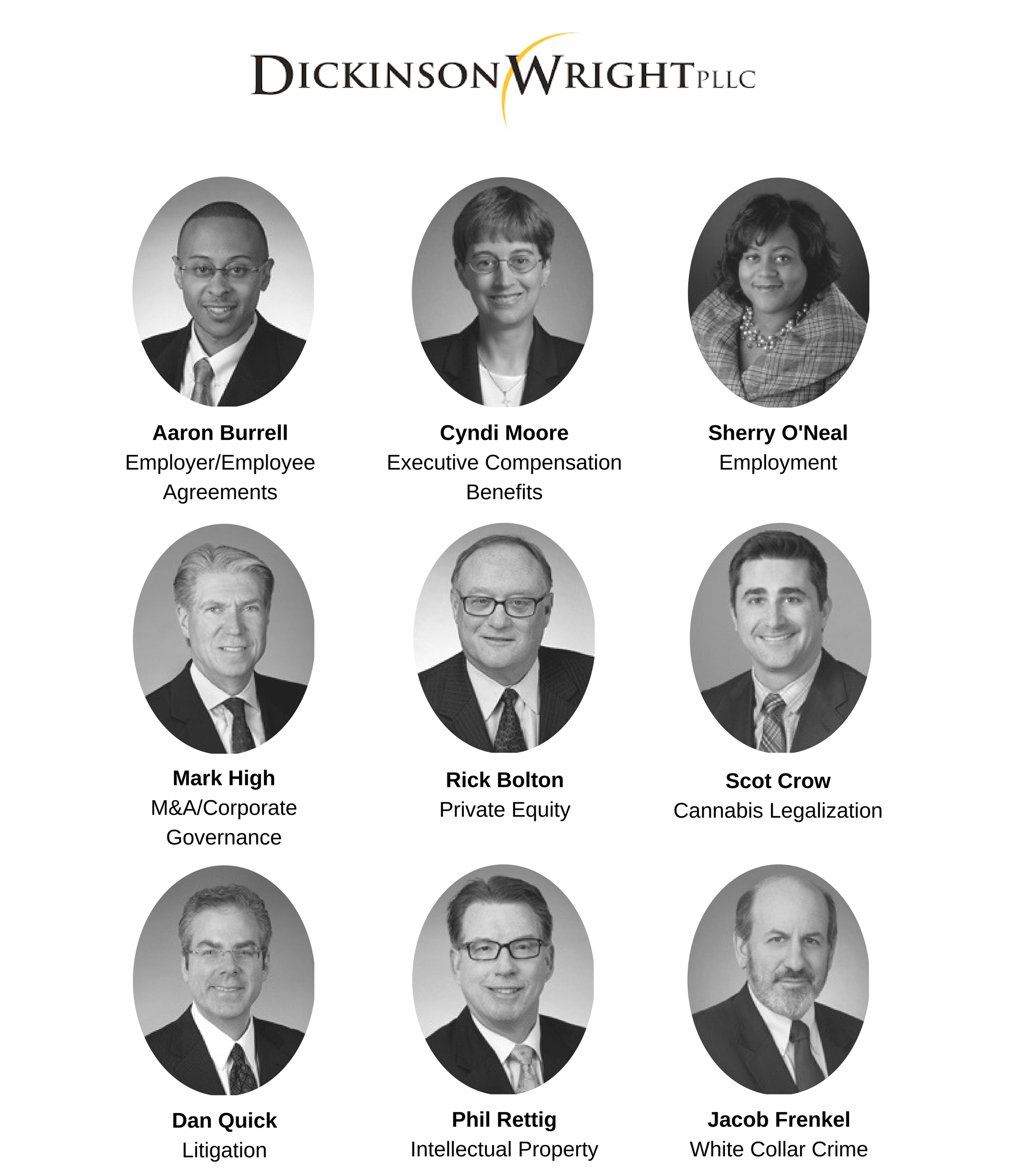 ---
Registration
To register for this program, simply click on the green tickets button and then click one of the two registration buttons and complete the form as requested.
All CFO Leadership Council members may attend this program for free.
Non-member senior financial executives who are CFOs, Vice Presidents of Finance, Directors of Finance and Controllers (or the like) are welcome to attend this program for $60.


Please note that service providers or any executives who are not senior financial executives (CFOs, Vice Presidents of Finance, Controllers, Directors of Finance, etc.) will not be admitted attendance to this event. The CFO Leadership Council reserves the right to decline any registration.
---
More Information
For more information about this program or The CFO Leadership Council, please contact Kat Stevenson, Marketing Director, kat@cfolc.com.
---
Cancellation Policy

Send cancellations to kat@cfolc.com no later than 4pm on February 10th to receive a refund.
---
CPE Information:

Program level: Intermediate

Field of Study: Business Law

Recommended CPE: 1.8 CPE

Program Prerequisites: None

Advanced Preparation: None

Delivery Method: Live/Group

The CFO Leadership Council is registered with the National Association of State Boards-of-Accountancy (NASBA) as a sponsor of continuing professional education on the National Registry of CPE Sponsors (Sponsor ID 109063). State boards of accountancy have final authority on the acceptance of individual courses for CPE credit. Complaints regarding registered sponsors may be addressed to the National Registry of CPE Sponsors, 150 Fourth Avenue North, Suite 700, Nashville, TN, 37219-2417. Website: www.nasba.org
---
About our Speakers
Aaron Burrell
Member
Aaron Burrell focuses his practice in the areas of complex commercial litigation, labor and employment law, appellate law, and minority business enterprises.
As a member of the firm's labor and employment practice, he has successfully defended clients in a wide range of discrimination and unfair-labor-practice claims in state and federal court, as well as before the Equal Employment Opportunity Commission, the Michigan Department of Civil Rights, and the National Labor Relations Board. Mr. Burrell has also counseled clients on all aspects of the employment relationship including hiring, discipline, and the creation and enforcement of employment agreements.
Mr. Burrell is a member of the Board of Directors of the Oakland County Bar Association; is the immediate past president of the D. Augustus Straker Bar Association; was named a foundation fellow of both the American Bar Foundation and the Oakland County Bar Foundation; served as affiliate representative of the National Bar Association, is a member of the State Bar of Michigan's Representative Assembly, Third Judicial Circuit; and co-chairs the State Bar of Michigan's Equal Access Initiative. He has been named an Up and Coming Lawyer by "Michigan Lawyers Weekly" and a Rising Star by Michigan Super Lawyers. He has also been named a Top 100 Lawyer in Detroit by "Native Detroiter Magazine". Mr. Burrell is an active member of the Detroit Metropolitan Bar Association, the Wolverine Bar Association, and the American Bar Association. Mr. Burrell is the author of the Commercial Torts chapter of Torts: Michigan Law and Practice (ICLE 2016), a contributor to "Employment Discrimination Law" (BNA, 2015), and a co-author of the "Michigan Class Action Compendium" (Defense Research Institute).
---
Cyndi Moore
Practice Department Manager: Domestic Relations, Employee Benefits, Estate Planning, Gaming and Immigration. In this role she provides:
Counsel to a diverse group of employers in the tax and ERISA aspects of welfare benefit plans, including Section 125 plans, COBRA compliance, consumer directed health plans, retiree medical plans, VEBAs and wellness plans.
Counsel to numerous plan sponsors in the design, administration and qualification of qualified retirement plans, with an emphasis on 401(k) plans.
Counsel to companies and compensation committees on the tax, ERISA, and securities law aspects of executive compensation programs, such as supplemental executive retirement plans, stock option plans, restricted stock plans, and non-qualified deferred compensation plans, including Code Section 409A compliance.
She is a member of the State Bar of Michigan, Sections of Business Law, Health Law and Taxation, the American Bar Association, Sections of Business Law, Health Law and Taxation; member of the Employee Benefits Committee, Cafeteria Plans and Flexible Benefits Subcommittee and was previously Chairman of the Employee Benefits Committee of the Oakland County Bar Association.
---
Sherry O'Neal
Member and Pro Bono Coordinator
Prominent assignments include:
Successfully first-chaired a residential construction trial resulting in an over $65,000 judgment for the client.
Successfully second-chaired a pension fund contribution trial which resulted in the defendant receiving attorneys fees and costs totaling over $33,000.
Obtained summary judgments in several age, race, disability and gender discrimination cases.
Counseled and obtained judgment in favor of the employer in several ERISA matters.
Represented clients in federal and state court with respect to unlawful discrimination, retaliation, harassment, wrongful discharge, FLSA, defamation, breach of contract and ERISA claims.
MDCR and EEOC claim defense, including position statements, mediation and conciliation.
Counseled and represented clients in relation to unemployment compensation claims.
Counseled clients on hiring, discipline, and termination issues.
---
Mark High
Member
Prominent assignments include:
Counsel to buyers and sellers in mergers or acquisitions in the high tech, manufacturing, retail, food service, real estate, automotive, defense, and natural resource industries in transactions valued between $5 million and $150 million.
General counsel to small and medium-sized closely-held entities.
Counsel to domestic branches of Canadian and other foreign businesses (Japanese, Chinese, English, Swiss, Brazilian, Russian, Italian, South African, Taiwanese) in automotive and other industries.
Counsel to Johnson Controls, Inc. in organizing $400 million joint venture with subordinated lenders to acquire interior business of Plastech Engineered Products from bankruptcy, and administering company through lender buy-out.
Counsel to Tier 1 supplier in dissolving 20-year joint venture relationship with Japanese partner.
Counsel to Cypriot affiliate of Russian investment group in private equity investments in high tech companies.
Counsel to Tier 1 suppliers in stock and asset purchase and sale transactions.
Counsel to investment entity in purchase, financing, and ultimate sale of Great Lakes freighters.
Counsel to entrepreneurs and other closely-held entities in formation, succession planning, and business divorce situations.
Counsel to minority and majority investors in establishing minority business entities.
---
Rick Bolton
Member
Mr. Bolton has extensive experience in all areas of Private Equity, Corporate Finance, Mergers & Acquisitions and Securities. He is the Managing Director of Dickinson Wright's Private Equity Practice. Mr. Bolton provides legal counsel to private equity and mezzanine firms in numerous mergers, acquisitions, recapitalizations, divestitures, "going private", mezzanine finance, and other similar transactions. He is also counsel to numerous fund sponsors for fund organization, capitalization and administration.
Prominent assignments include:
Counsel to private equity fund to organize and capitalize portfolio acquisition entity, followed by acquisition of public component manufacturer in a "going private" transaction effectuated via a merger.
Counsel to private equity fund to organize and capitalize portfolio acquisition entity, followed by simultaneous acquisition and financing of five (5) operating entities.
Counsel to private equity fund to organize and capitalize acquisition entity, followed by acquisition and financing of numerous media and special event businesses (including publications such as Southwestern Art, Yoga Journal, Backpacker and Log Home Living, and the Fort Lauderdale International Boat Show).
Outside general counsel to Active Interest Media, Inc., InterMedia Outdoors, Inc. and several other portfolio companies of private equity firms.
Counsel to numerous private equity fund sponsors for fund organization, capitalization and administration.
Counsel to private equity funds in numerous merger, acquisition, LBO, MBO, "going private", recapitalization and divestiture transactions.
Counsel to funds in numerous mezzanine finance transactions.
Counsel to Boards of Directors and committees regarding corporate finance transactions and governance issues.
Counsel to issuers and underwriters in numerous registered public offerings.
Counsel to Florists' Transworld Delivery Association in the spin-off and divestiture of its business operations and return to its core function, a trade association.
---
Scot Crow
Member and Practice Department Manager: Corporate, M&A, Private Equity, Securities and Tax
Scot has extensive experience in corporate, mergers and acquisitions and tax law. His clients rely on him to advise them with respect to their complex financial transactions as well as serving as their outside general counsel. Scot provides proactive advice with respect to sensitive management matters, litigation management, day to day transactional needs and objective assessments for the development of successful business strategies.
Scot has served as lead counsel in numerous mergers and acquisitions, private equity investments, private offerings, venture capital financings, mezzanine debt offerings, divestures and other related transactions, with an emphasis in the following business sectors:
Dental Services (DSO)
Assisted Living
Legalized Marijuana (Growth, Production and Sales)
Commercial Transportation
Healthcare Consulting
Precious Metal Refinement
Charter School
Legal
Industrial Manufacturing
Restaurant/Entertainment
Prominent assignments include:
Serves as lead counsel to a number of DSO organizations regarding formation, structuring, credentialing, acquisition and other general matters.

Serves as lead counsel to various private equity funds regarding fund formation, structuring, tax issues, acquisitions and dispositions.

Serves as lead counsel to a number of privately held companies with respect to the implementation and structuring of tax free mergers, divestures, spin-offs, split offs, loan syndications, mezzanine debt, venture capital needs and other related financing transactions.

Counsel to high net worth families in regards to their private held companies in connection with succession and exit strategy planning and wealth transfer techniques.

Underwriter's counsel for numerous municipal bond issuances in the assisted living and chart school industry.
---
Dan Quick
Member and Practice Department Manager: Commercial Litigation, Antitrust & Trade Regulation and ADR
Prominent assignments include:
Commercial and Automotive Industry Litigation
Fully prevailed in a six week "bet the company" AAA arbitration in Chicago defending FTD Florists' Association against corporate partner, including an award of attorney and expert fees to our client.

Defended FANUC Robotics North America, Inc. in a $30 million complex commercial arbitration after which the panel awarded only de minimis damages (less than 0.5% of the amounts claimed).

Obtained full damages for breach of contract, fraud and tortious interference in two week Oakland County jury trial.

Obtained full damages in Wayne County Circuit Court bench trial for breach of contract and veil piercing.

Represented numerous clients in UCC supplier disputes, including defeating buyer's claim that its "pricing matrix" constituted a long-term steel supply contract amidst sky-rocketing global steel prices.

In federal court jury trial, obtained no-cause of action verdict on multi-million dollar counter-claim in a commercial dispute involving resale of telecommunications services.

Prevailed in two week federal court bench trial for road construction company against structural steel vendor, receiving damages and defeating counter-claim.

Nationwide prosecution of enforcement actions on behalf of various banks, lenders and financial institution clients, including three year litigation in federal court involving
$20 million loan in which we obtained receiver and preliminary injunction after evidentiary hearing demonstrating fraudulent handling of assets.

Represented former officers and directors of largest Michigan HMO in three year fraud litigation; after prevailing on venue contest, affirmed on appeal, litigated claim to resolution with zero payment by Dickinson Wright clients.

Represented both claimants and respondents in AAA and ICC arbitrations and post-award federal court motions, including claims involving Korean automotive supplier dispute, Argentinean automotive supplier and Iraqi financial services company.

Shareholder Disputes, Trade Secrets and Non-Competes

Represented numerous clients in "business divorce" and shareholder/partner disputes, including securing summary judgment dismissing a $100 million minority shareholder oppression claim.

Obtained a judgment for full damages for JPMorgan Chase against former top executive under clawback agreements for violation of non-competition agreement.

Prevailed for full damages in AAA arbitration against former employee who breached a non-competition agreement with accounting firm.

After bench trial, obtained 5 year injunction and more than $2 million in damages for celebrity chef's violation of non-compete and conversion.

Successfully litigated numerous trade secret matters, including prosecution against former employees in two week federal court trial and the defense of company and its top executive against claims by former employer in the landmark case that established the "inevitable disclosure" doctrine in Michigan.

Numerous actions on behalf of doctors, medical practices and physician groups involving control contests, office breakups and non-competes. Author of leading article on physician and attorney non-competes in Michigan.

Copyright, IP & Entertainment Litigation

As lead counsel for Universal Music Group and related entities and associated artists (including Lady Gaga, Sheryl Crow, Mary J. Blige and Dr. Dre), prevailed in copyright claims, commercial disputes and defamation actions in Louisiana, Illinois, Indiana, Ohio and Michigan. Victories include dismissal of copyright infringement action and award of over $500,000 in sanctions for "campaign of fraud" committed by plaintiffs and their counsel.

Successfully prevailed on motion for Motown-era songwriters against major label in dispute regarding copyright recapture and assignment of songwriter agreements, resulting in multi-million dollar settlement.

Counsel for Apple and Universal Music in Michigan trial involving claims by Eminem copyright holders over royalties from iTunes downloads.

For Harley-Davidson, defeated plaintiff's claim for violation of right of publicity based upon alleged use of his likeness on a product.

Lead counsel in Chicago federal court involving claims of jewelry copyright infringement.

Obtained summary judgment of claims of copyright infringement in California federal court regarding on-line message board software.

Fully prevailed at trial for a distributor of Aveda products against the purveyor of grey market goods based upon a novel theory of unfair competition under Michigan law.
Prevailed after jury trial for producer against Detroit rock bank for unpaid royalties.
---
Phil Rettig
Member and Practice Department Manager: Intellectual Property and Intellectual Property Litigation
Prominent assignments include:
Prior to beginning his legal career, Mr. Rettig worked in the automotive industry and held various product engineering and sales positions. He joined an intellectual property law firm in 1988, and concentrated his practice on obtaining and enforcing patents, trademarks and copyrights for clients in various fields, with a particular emphasis in the automotive industry.

After practicing for 11 years, he joined a Tier I automotive supplier as Vice President, General Counsel and Corporate Secretary. In addition to his legal duties there, Mr. Rettig was a member of the company's Executive Management Committee and was General Manager of European Operations. Mr. Rettig then moved back into a role within a law firm, and continues to focus his legal practice on obtaining and enforcing patents, trademarks and copyrights, as well as counseling clients in strategic portfolio management.

Prior to joining Dickinson Wright, Mr. Rettig practiced law at Harness Dickey.
Mr. Rettig has extensive experience in all aspects of patent, trademark, trade secret and licensing matters in a broad range of technologies:
Automotive drivetrain assemblies including transmissions, transfer cases, power take-off units, rear drive modules and axles
Automotive suspension assemblies including coil/leaf springs, shocks, struts, independent suspensions and linkages
Electric and hybrid vehicles including electric drive modules, thermal control systems, hybrid architectures and battery assemblies
HVAC systems
Seating systems
Surgical and medical apparatuses
---
Jacob Frenkel
Member
Clients hire Jacob because his aggressive, tenacious, creative and proactive strategies often put the other side on its heels, and because he gets successful results in investigations and litigation. Jacob has secured superior results for his securities enforcement, white-collar criminal defense, FCPA and internal and government investigations clients. Jacob brings his experience and outstanding reputation, including for creative strategies and solutions, to the defense of investigations, litigation strategy and governance counseling. Jacob's clients view him as a trusted advisor who understands the needs of their business.
A former Senior Counsel in the SEC's Division of Enforcement, US federal criminal prosecutor of corruption and financial crimes and New Orleans Assistant District Attorney, Jacob has practiced in the private sector for 17 years. He has obtained favorable results for individuals, including auditors and attorneys, and for corporations and their officers, directors and other senior officials in federal and state securities, financial crimes, FCPA, export, government contracts, public corruption, and other government investigations, including Inspector General investigations.
Jacob conducts internal investigations for public and non-public companies and represents officers, directors and employees in internal investigations. He successfully defends parties in white collar criminal investigations by federal and state authorities, and investigations by securities regulators, stock exchanges and capital markets self-regulatory organizations. Jacob practices regularly before all offices of the SEC, the Department of Justice's Fraud Section, United States Attorneys' Offices throughout the country, FINRA, state securities regulators, and the Public Company Accounting Oversight Board (PCAOB). His clients consistently cite his ability to take challenging facts, advocate effectively and secure very favorable outcomes - cost effectively.
Jacob is retained as an expert witness in high stakes litigation. He frequently appears in national and local print and broadcast media commenting on white collar, securities and governance issues. His clients find his media experience of particular value in managing the public policy and public relations aspects of their legal matters.
Jacob is not admitted to practice in the District of Columbia.
Prominent cases include:
White-Collar Criminal Defense
Secured no charges for Chairman, CEO and Controller of New York Stock Exchange-listed healthcare industry company in a federal criminal investigation and a parallel SEC investigation;
Successfully negotiated no charges being filed against the CEO of an offshore company in the sale of industry-specific electronic devices governed by the Export Administration Regulations (EAR);
Negotiated favorable resolution in criminal prosecution for conflicts of interest and ethics violations of a prominent US Government scientist;
Negotiated favorable resolution with DOJ Antitrust Division, National Criminal Enforcement Section, in criminal prosecution of two government contractors and their CEO for antitrust, fraud and false statements violations.