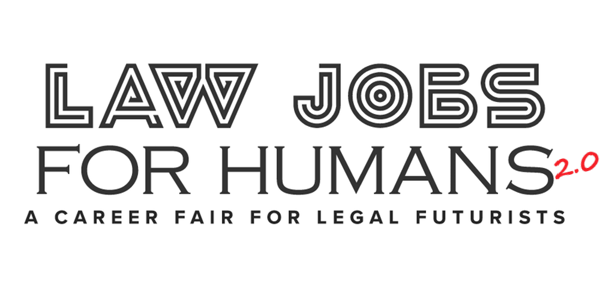 Law Jobs For Humans NYC - A Career Fair For Futurists
Event Information
Location
WeWork NYC - Bryant Park
54 West 40th Street
New York, NY 10018
Description
The traditional career paths are atrophying. Not only are there fewer openings on the 2,000 annual billables "up or out" track, today's entrepreneurial and technologically fluent law graduates increasingly want no part of that grind. Technology and information abundance are rapidly disrupting every facet of our economy, and the legal industry is no different. Today, trailblazing legal professionals and employers leverage new delivery models, data analytics, process management, service design, and many other tools and approaches to create careers that look very different from the law jobs of yore.
Radically new legal career paths are here. Join us at the second alternative legal career fair.
Find your own path, build your network, and connect with peers, mentors, employers, and schools.
---
AGENDA
1:00 – 1:30 Registration and Coffee

1:30 – 1:45 Welcome Remarks
Program Director:
Dan Lear, Legal Innovator, Facilitator, Blogger, Right Brain Law
Event Co-Chairs:
Bill Henderson, Professor and Stephen F. Burns Chair on the Legal Profession, Indiana University, Founder and Editor of Legal Evolution
Bernadette Bulacan, Rockstar and Legal Evangelist, Icertis
1:45 – 2:45 Panel 1: Innovators Runway - Law Student Edition
Panelists:
Felicity Conrad – Co-Founder & CEO of Paladin
Jason Dirkx – Knowledge Management Counsel, Littler
Selena Lucien – Founder, Small Claims Wizard
Nicola Shaver – Director of Knowledge Management, Paul Hastings LLP
Rebecca Williams –DC Legal Hackers Founder
Miguel Willis – LSAC Presidential Innovation Fellow, LSAC; Director at Access to Justice Technology Fellows Program
2:45 – 3:00 Coffee Break
3:00 – 4:00 Panel 2: Innovators Runway - Mid-Career
Panelists
Nicole Clark – Founder and CEO of Trellis Research
Marla Decker – Managing Director, Lake Whillans
Linda Tvrdy – Founder, Daisy Debt
Tunji Williams - co-founder and CEO, dealWIP and Director of Strategy for Transaction Management, Litera
4:00 – 4:45 Speed Networking & Coffee Break
4:45 – 5:45 Panel 3: Building the Perfect Human
Panelists:
Jacquie Champagne – Director of Talent Acquisition at Elevate Services
Carlos Gamez - Client & Partner Lead - Legal Technology Innovation, Thomson Reuters
Lori Lorenzo – Managing Director Chief Legal Officer Program, Deloitte
5:45 – 6:00 Closing Remarks
6:00 – 7:00 Networking + Happy Hour
---
Thank You To Our Sponsor

Date and time
Location
WeWork NYC - Bryant Park
54 West 40th Street
New York, NY 10018
Refund policy