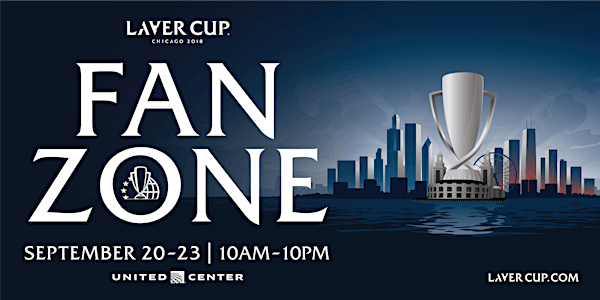 Laver Cup Fan Zone, Chicago 2018
When and where
Location
United Center Parking Lot C 1901 W Madison St Chicago, IL 60612
Description
Laver Cup Fan Zone, Chicago 2018
Fans are in for a treat as world class tennis and some of the biggest names in the sport hit Chicago for the Laver Cup in September.
The spectacular Laver Cup Fan Zone, the biggest ever staged at the famed United Center, will be open to the public Thursday, Sept. 20 through Sunday, Sept. 23 from 10am daily, with a special USTA family preview event taking place at 4pm on Sept. 20. The Fan Zone is open to the public, however a free ticket will be needed for entry and can be secured by visiting www.LaverCup.com/FanZoneTickets. Fans with match tickets will be able to utilize their tickets to enter the Fan Zone.
Fans will have the rare opportunity to see some of the world's best players, including Roger Federer, Novak Djokovic, Alexander Zverev, Grigor Dimitrov, Juan Martin del Potro, Kevin Anderson, John Isner and Jack Sock as they go through their warm ups on the purpose built practice court located in the heart of the Laver Cup Fan Zone.
The iconic black Laver Cup court will be replicated within a stunning three-story glass structure so fans can view all the action as the players of Team Europe and Team World prepare for their matches.
Other features of the Laver Cup Fan Zone include:
Giant LED Screens to catch all the on-court action
The International Tennis Hall of Fame interactive gallery featuring the history of the game and celebrating the legends
Photo opportunities with the iconic Laver Cup Trophy
Mini Tennis courts hosted by the USTA – Test your tennis skills and learn some of the basics of the game using modified equipment.
Net Generation Experience sponsored by the USTA - arcade style games for kids and a host of other activities for kids and adults
An attractive collection of local restaurants to provide signature items with a global appeal, including beer tent and wine bar, will be open throughout the Laver Cup Fan Zone. Additionally, official Laver Cup merchandise, guaranteed to become collector items, will be available at the Fan Zone, including Team Europe and Team World apparel.
Laver Cup partners will also create a premium experience in the Fan Zone with Barilla, Chase and Wilson, among others, all contributing to a grand slam atmosphere with activations including: