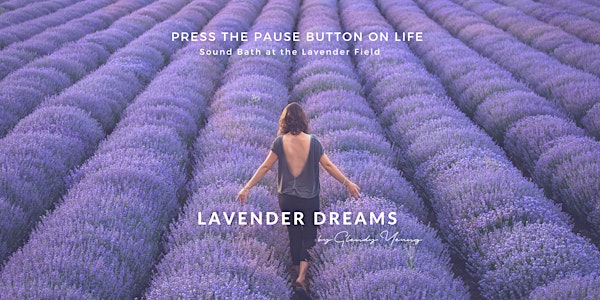 Multiple dates
Lavender Dreams - Sound Bath at the Lavender Field
Step away from the daily grind. Rejuvenate and heal immersed in a field of lavender. Sound bath in the lavender field.
When and where
Date and time
July 10, 2021 · 5pm - September 25, 2021 · 6:15pm EDT
Location
Vine Gate Lavender Floral Farm 134 Whippoorwill Road Hillsdale, NY 12529
Refund Policy
Contact the organizer to request a refund.
Eventbrite's fee is nonrefundable.
About this event
Press the pause button on life this summer.
Step away from the daily grind.
Rejuvenate and heal immersed in a field of lavender.
Healing with SOUND BATH in the lavender field.
​
We have stayed indoor for so long, with so much stress accumulating from Zoom life, managing household, taking care of friend & family, and trying to keep it together but losing ourselves along the way. ​
If you are an empath, you could have absorbed so much energy (good and bad) from all around you, which has led to constant anxiety, overwhelm, weight gain that has been impossible to shed, and feelings that as if time is standing still and yet passing by.
Have you wondered:
How do I come back to feeling like myself in the new world?
How can I show up fully for myself, my family and my work with healthy boundaries?
How can I let go of the mental emotional burden I have been silently carrying?
How can I get a break from my life with all the external demands that require my attention?
How can I stay centered when thoughts and feelings from past traumas resurface in waves?
What more can I do to shed that low-grade anxiety, worry and stress?
You don't need to endure anymore.
All the broken pieces are broken open to create more possibilities.
You are resilient beyond measure.
This summer, join us for one or a series of healing and rejuvenate with sound and lavender.
Connect with the pure energy from lavender plant and healing sound to restore your energy fields.
In this therapeutic sound session, Glendy will be using the power of sound vibration from various instruments to eradicate stress and rejuvenate your body, mind, and spirit. We will personally connect and collect our own healing lavender and have their assistance during our session to deeper our healing. The experience opens the doorway to whole body recalibration and inner wisdom.
Regular sound sessions help develop and strengthen your emotional-mental resilience against stressors from modern-day living. Additional energy healing principles will be applied to further anchor new energy to bring wholeness to your being. From this place of wholeness, you shed the old stories and fully connect and embody all parts of you.
To prepare for maximum comfort:
1. This is an outdoor experience - bring a comfortable lawn chair or blanket to lay down and let go. We will be surrounded by lavender plants. Have water with you for hydration. Sun hat, sunscreen, a light shaw/blanket, or an eye pillow if you are sensitive to the weather. Bathroom/portapotty on site.
2. Be prepared to close your eyes, relax, and be supported by the earth underneath as we turn up our physical intelligence and turn down our chattering. You may do so in a seated position or laying down.
3. Come with a relatively empty stomach for a deeper experience. Food and water after the experience will help ground your energy.
4. You meet the sound as the sound meets you. Every experience will be different based on your state of being. Bring an intention to the session.
4. Common effect for up to a week - deep rejuvenating sleep, nervous system reset, increase insights, sharpen intuition.
5. Repeat sound experience can accumulate in your body
6. Rain date - the follow event in 2 weeks (or contact Glendy for a Sunday morning event at a different location you can join weekly)
About the organizer
Glendy Yeung elucidates and changes the way we experience who we are - our thoughts, emotions and relationship with our body mind and spirit - with vibrational wellness.
Using a holistic approach to well-being with the transformative power of vibrations from many quality sources, every experience with Glendy is an opportunity to access meditative state, deep relaxation, physical, mental & emotional rejuvenation, and inner wisdom for soul growth. Her immersive healing experiences allow participants access to clarity, focus, resilience in mind, body and spirit.