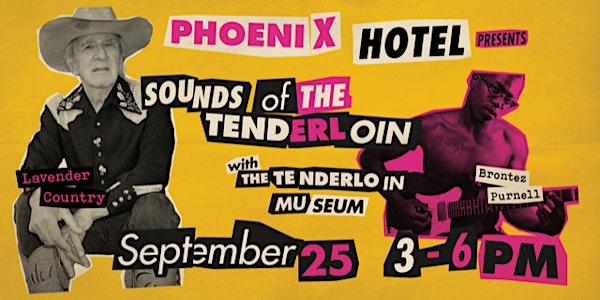 Lavender Country & Brontez Purnell at the Phoenix Hotel
TL Museum presents two maverick, transgressive artists at the TL's iconic rock hotel. Part of the Sounds of the Tenderloin live music series
When and where
Location
Phoenix Hotel 601 Eddy Street San Francisco, CA 94109
Refund Policy
Contact the organizer to request a refund.
Eventbrite's fee is nonrefundable.
About this event
Tenderloin Museum presents Lavender Country & Brontez Purnell in concert at the Phoenix Hotel as part of the Sounds of the Tenderloin live music series. The program brings together two maverick, transgressive artists–one a country singer, the other a punk rocker–whose performance practices resound with the iconoclasm & resistance that evince the glimmer in the Tenderloin's grit.
The venue shares in that spirit, too: the 1950's-era motor court hotel is a shangri-la in the central city, and has long been the preferred boarding house of bands traveling through SF thanks to its tour bus parking and proximity to iconic venues and studios. A rock and roll vibe is evident at the Phoenix Hotel, and music history practically seeps out of the walls and floats in the pool.
Lavender Country released the first openly gay country album in 1973. Some say country music is three chords and the truth, and singer songwriter Patrick Haggerty could not deny his, even if the world (or the country music industry) wasn't ready for it. Today, Haggerty is celebrated for this brave, visionary act, and he carries forth a timeless message of queer liberation and revolution through a revival of his band, Lavender Country.
A DIY punk maestro, Brontez Purnell is a writer, musician, dancer, filmmaker, and performance artist. His multitudinous practice reveals the fluidity of medium, genre, and identity, as well as Purnell's own mastery at shifting shape and being able to inhabit both an other/imagined persona and his own. The results are often sharply observed, irreverent, and darkly hilarious. Purnell describes White Boy Music E.P., his most recent musical release and the first under his own name, as "a fake mod 80s white boy record," in which he dons an "anti-alter ego… like Brontez Purnell as Paul Weller as Brontez Purnell."
Both artists, in their own ways, have deep roots woven through the Bay Area underground music and queer scenes. They share a bill for the first time for this special daytime show at the TL's iconic rock & roll roost, part of Tenderloin Museum's Sounds of the Tenderloin series that celebrates and animates the neighborhood's undersung cultural history.
Join us for Lavender Country & Brontez Purnell at Phoenix Hotel on Sunday, September 25th, 2022 from 3-6pm. Attendees are welcome and encouraged to come early for brunch at the Phoenix's restaurant/bar, Chambers, served from 11am-3pm.
ARTIST BIOS:
While LAVENDER COUNTRY was little known outside the Pacific Northwest and only released one self-distributed album in 1973, they created a genuine cultural milestone: the first openly gay country album. After sitting stagnant for four decades, indie label Paradise of Bachelors discovered the album, reissued it, and shot Lavender Country into the stratosphere. With a new rotating lineup of musicians, Haggerty began performing to a brand new generation of Lavender Country fans drawn to the band's timeless message of queer liberation and revolution. Haggerty, now approaching age 77, is stronger than ever. His shows are a unique combination of good country music, sharp Marxist political critique, and a huge lineup of incredible backup musicians across the country. Poignant emotions leave his audience laughing, dancing, and crying all at once. The current emergence of fascism and the deep political divisions in American culture are making Lavender Country a critical component of progressive and radical politics.
https://lavendercountry.bandcamp.com/
These C*cksucking Tears documentary: https://vimeo.com/186421525
Brontez Purnell is a writer, musician, dancer, filmmaker, and performance artist. Purnell is the frontman for the band The Younger Lovers, and in 2020 released White Boy Music E.P. under his own name. He is the author of a graphic novel, a novella, a children's book, the novel Since I Laid My Burden Down, and 100 Boyfriends, a collection of stories. The recipient of a 2018 Whiting Award in Fiction, he was named one of the thirty-two Black Male Writers of Our Time by T: The New York Times Style Magazine in 2018. He is also a cofounder of the experimental dance group the Brontez Purnell Dance Company, the creator of the renowned cult zine Fag School, and the director of several short films, music videos, and the documentary Unstoppable Feat: The Dances of Ed Mock. Born in Triana, Alabama, he's lived in Oakland, California, for more than a decade.
https://brontezpurnell.bandcamp.com/