ENCORE: A launch party celebrating Creativity, Unity, & Health with LIVE music, interactive art, poetry readings, trivia/pub quiz and more!
About this event
ABOUT US
LavaStage is an international platform for artists to create, collaborate, and compete for recognition, funding, and to share their talents with the world. It is designed to continuously produce local, national, and international events, competitions, and opportunities for artists to be seen and heard by a global audience.
We are excited to have our LAUNCH PARTY in the beautiful and creative city of Gothenburg! LavaStage gives artists of any background the resources to discover and be discovered. We value artistic entrepreneurship, collaboration, and the power to enhance communities' wellbeing and prosperity with art and music.
ABOUT THE EVENT
We invite you to our epic event ENCORE: The Launch Party to Celebrate Creativity, Unity, and Health. There will be live music, poetry, interactive art, trivia/pub quiz, and amazing prizes.
Held at the unique and exciting gastropub, Contrast Public House, enjoy fine cocktails, beers, and food as you embrace this evening of inspiration. We have collaborated with local artists, bringing you a line-up of talented Gothenburg-based bands, international poets, and the reveal of a local artist's Mural, which will be displayed at Contrast Public House on the famous street Tredje Långgatan. Attendees to the event will get the exclusive opportunity to participate in a surprise collaborative and interactive art project to become an artistic installation as well!
Art and music bring people together and inspire communities worldwide. ENCORE is about celebrating the creativity in all of us. We are a platform providing opportunities typically only available to established artists. We are excited to highlight and support artists on www.LavaStage.com and to have you join us at our Launch Party!
The Launch Party is also an opportunity for artists to discover and participate in The Global Unity Mural (G U M), an event, in collaboration with the World Health Organization. We are currently accepting submissions from international graffiti artists, muralists, and painters to create the largest mural of our modern day. The event will be held at the United Nations campus in Geneva, Switzerland, and will continue to New York City where a nine-country 54 city tour will kick-off.
FULL EVENT ITINERARY:
6:00 p.m. -10:00 p.m. - Interactive art project available for participation with all materials supplied. Reveal of a mural created by a local artist.
6:00 p.m. - 8:00 p.m. - Music and art-themed trivia/pub quiz in English! Winners will receive a gift basket with various prizes.
8:00 p.m -10:00 p.m. - Live Music from local bands and an intermission with poetry readings.
Attendees are also encouraged to bring their own poetry to participate in the reading, their sketchbooks, and art pieces if they so choose.
Bring your friends and let's celebrate creativity and unity!
See you at ENCORE.
To check out our upcoming events, join our artists' community, and stay up to date on all things creative, visit us at www.lavastage.com and find us on social media @lavastage.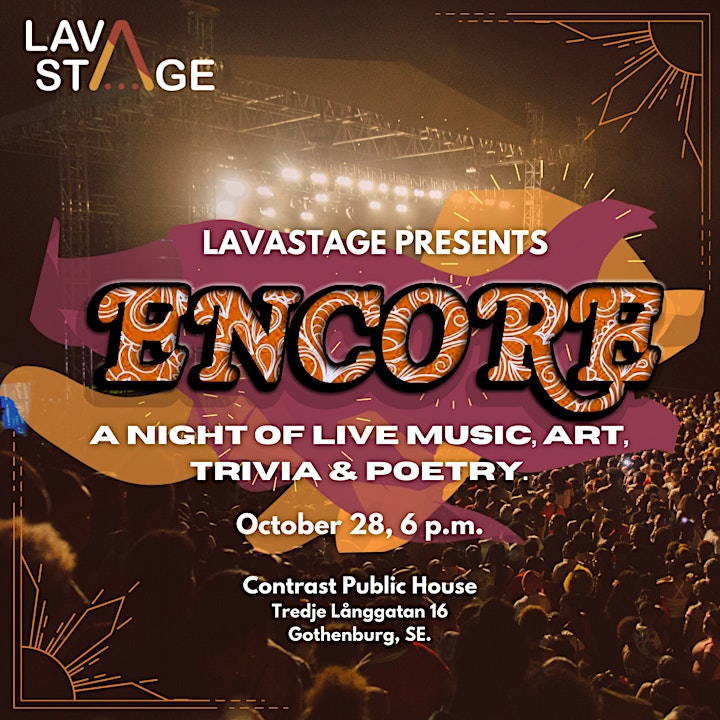 Organizer of LavaStage presents: ENCORE - A night of live music, art, trivia, & poetry