Description
Creating Shabbat Candlesticks for Jewish families touched by the wild fires in California.
The Gary Rosenthal Collection is fighting fire with fire! Join us at an open studio for a hiddur mitzvah project where participants help create glass mosaics for two pairs of Shabbat candlesticks. One pair will be donated to a family in California touched by the fire, while the second set will be picked up by the participant (at the studio or at a designated location in Howard County). for personal use. On Friday night, March 16th, all participating families from coast to coast are invited to light their candles for the first time, and fight fire with the Shabbat light!
Two styles of candlesticks are available. A $20 deposit reserves your spot at this open studio event and will be applied towards whichever candlesticks you wish to make. Only one ticket is required per family. The Gary Rosenthal Collection is reducing the cost of these candlesticks to two for the price of one so that a family in California can receive their Shabbat candlesticks at no cost to you or them.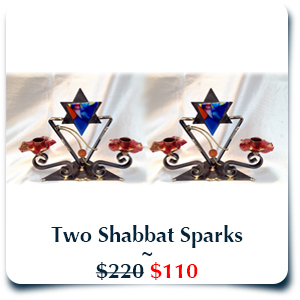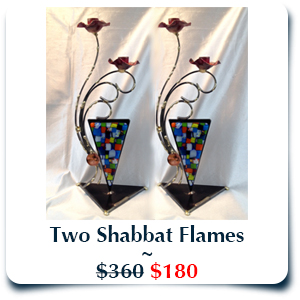 Can't attend but want to donate to this cause?
Click here
.
Visit hiddurmitzvah.org to learn more about the Hiddur Mitzvah project. For more information, questions, or to arrange a smaller group private visit to help Jewish families in California please contact Gary Rosenthal at 301 493-5577.