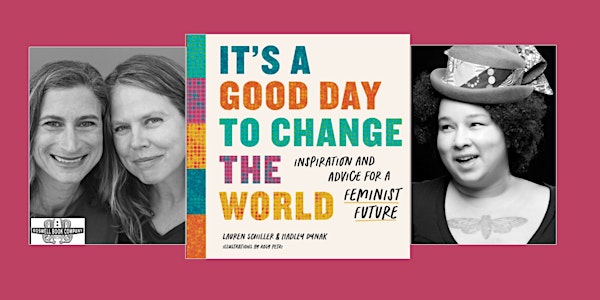 Lauren Schiller, Hadley Dynak, and Rosy Petri - an in-person Boswell event
Lauren Schiller, Hadley Dynak, and Rosy Petri for IT'S A GOOD DAY TO CHANGE THE WORLD - an in-person Boswell event
Date and time
Starts on Thursday, March 30 · 6:30pm CDT
Location
Boswell Book Company 2559 North Downer Avenue Milwaukee, WI 53211
About this event
Boswell presents an evening with Lauren Schiller, Hadley Dynak, and Rosy Petri, authors and illustrator of It's a Good Day to Change the World: Inspiration and Advice for a Feminist Future.
What does it take to achieve an equal, just, and joy-filled world—and how do we sustain ourselves when the work is daunting? Lauren Schiller and Hadley Dynak, the award-winning team behind the nationally syndicated Inflection Point podcast and radio show about women's power in our modern world, have created an essential guide for action drawn from their interviews with groundbreaking activists, authors, artists, entrepreneurs, and visionaries who have mobilized change and can show us the way. In It's a Good Day to Change the World, readers learn from established icons and meet new ones, too. From Ijeoma Oluo to Sarah Silverman, each trailblazer's story features firsthand narratives and vibrant illustrations. Discover how to push new ideas forward, the significance of building solidarity, the liberating power of laughter, the importance of valuing your own time, and more. Advancing social justice can be a long road, but change is possible.
From Meena Harris, founder of Phenomenal Media: "It's a Good Day to Change the World is a living testimony of transformation. It's the book that makes its title self-fulfilling—it will stir your soul and, more importantly, get your feet moving."
Lauren Schiller is an award-winning interviewer and the creator of numerous podcasts and radio shows, including Inflection Point, about how women rise up, build power, and lead change. She was Executive Producer of Audio for Salon Media and has been a guest host for The Conversation on the BBC World Service.
Hadley Dynak is an activist, storyteller, and creative producer who helps organizations and groups express why their work matters, join up with one another, and raise funds for impact. She's worked with dozens of organizations across the country including Code for America, Hirsch Philanthropy Partners, the International Museum of Women, and the Park City Summit County Arts Council.
Rosy Petri fuses portraiture and storytelling as an act of witness. She's been an Artist-in-Residence at the bell hooks center and Pfister Hotel, a Nohl Emerging Artist Fellow, and Mildred Harpole Artist of the Year.
Click here to purchase your copy of It's a Good Day to Change the World. Signed copies and personalization available on pre-orders. Please note that signed copies will not be shipped until after the event.