About this Event
Laura Pelletier Certified Natural Health Care Consultant, the owner of Kwikfit4u Canada and Whole Body Vibration Specialist.
Are you having trouble with pain, circulation, loss of muscle, sagging skin, sugar levels, blood pressure, erectile dysfunction, bladder control, no motivation to exercise, unable to exercise?
In this 1 free talk you will learn how in just 10 Minutes a day the Whole Body Vibration Machine can help improve a healthier life.
Research from more than 30 universities worldwide back up Whole Body Vibrations effectiveness:
Increasing strength, building bone mass and density, increasing metabolism up to 18 percent from 10-minute sessions three times a week for six weeks
Burning fat, boosting energy, toning skin, decreasing cellulite by up to 26 percent in 24 weeks and helping to release more of the "feel good" hormone serotonin.
Whole Body Vibration exercise engages 97 percent of your muscles all at once, which is why it works so quickly. In fact, when first starting out, it is recommended not to use it for more than 10 minutes at a time.
The first 20 people get 3 FREE visits on the whole body vibration machine .Also when you come to this informative free talk enter to WIN a package of 12 free sessions on the whole body vibration machine.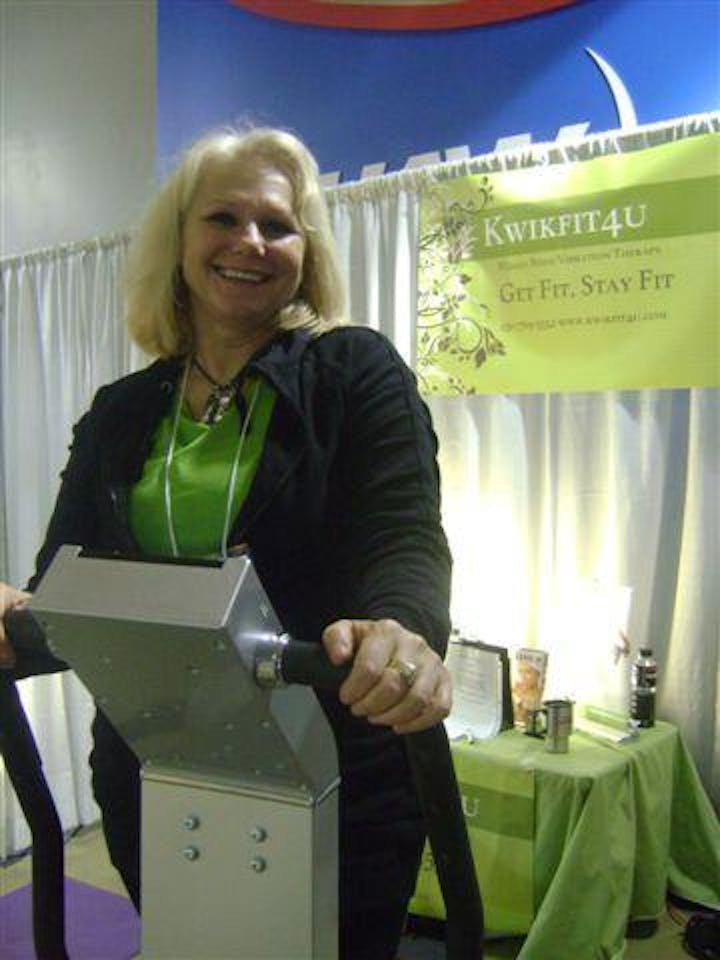 Laura Pelletier of Kwikfit4u Canada
Laura Pelletier feels she got her life back by using the product that she sells. She was suffering chronic pain when she tried Whole Body Vibration and now feels better than ever. It prompted her to start Kwikfit4u Canada, a company that supplies the equipment necessary for whole body vibration.
Laura is a Certified Natural Health Care Consultant, and a Whole Body Vibration Specialist.. She works with a lot of people with chronic conditions, example: Physical Limitations, M.S. M.D., Parkinson, Arthritis, Diabetes, High Blood Pressure, Weight Issues, Wheelchair Bound, Circulation problems, Lung Conditions, Chronic Pain, Brain Disorders, Emotional Issues, Prevention, and the list goes on.
Laura's says "in Dec. 2000 I discovered how Whole Body Vibration gave me my quality of life back, due to chronic conditions, and now I feel better than ever."