LaunchLM Tech Open House: Social Media Week Edition

Thursday, February 20, 2014 from 1:00 PM to 10:00 PM (EST)
Event Details
If you're keen on an afternoon of product wargames, Oculus Rift demos, data-driven Super Bowl commercial analysis, a Billion Oysters, academic social media data-mining, puppies, machine-learning, open Big Data, chats with founders, swanky office tours, Rolling Stone, biz dev opportunities, schwag, and open positions, clear your schedule on Thursday, February 20th.
LaunchLM presents its first Tech Open House: Social Media Week Edition!
Explore a small sample of our diverse social and digital media companies, then jive at our happy hour.

Choose one company or choose them all, and then grab a drink at our open bar. Can't swing by the open house? Fret not, join us for that drink!
Please note that tickets for each company are limited, and in-person attendance is first-come, first-served.
Featuring:
Get a glimpse into the future of digital technology as Dom & Tom gives design and development demonstrations with some of tomorrow's newest experimental devices. CEO Dominc Tancredi and director of mobile development Daniel Saad will be showcasing Google's hands-free device, Google Glass; the virtual reality behemoth, Oculus Rift; and seemingly limitless open-source prototyping platform, Arduino. The audience will get an opportunity to try out the devices themselves, and ask any questions about the design and development on these cutting edge platforms.
About Dom & Tom, the CompanyTwin brothers Dominic and Tom Tancredi founded Dom & Tom in 2009 with the dream of building effective and meaningful digital products and services with the people they care about.  The D&T motto: Do good, be good.  It is a philosophy we carry throughout our entire culture.   Four years later, D&T has grown into 30+ full-time employees spanning three major cities, and now provides end-to-end digital services including design, development, strategy, content creation, social media management, and enterprise applications for major corporations.
 Product Demo: Say It--Our Characters, Your Voice!

Create and send animated characters talking with your voice! Record your voice to one of our many colorful (and, some say, demonic) characters. Then, send your Say It! Greeting to a friend, family member, loved one, evil twin, alter ego, arch-nemesis, or best friend's dog. Don't forget to top it off with a pitch-shifting filter to enhance your already beautiful voice.
Aurnhammer is a creative media, custom design and development boutique agency specializing in branded smart applications for mobile. Clients include Sony Music Entertainment, Showtime Networks, Kohler, Foxwoods Resort Casino, Russian Standard Vodka, Century 21 Real Estate, and Planet Fitness. Aurnhammer team players also bring experience in film and television production, digital arts, business strategy, and graphic design.

2:15PM: Klooff @ The Hive at 55

Join Mario Encina and the team at Klooff (TechStars NYC '13), for a sitdown chat on his life, work, and most importantly, puppies.

Klooff is a sharing platform that allows people to capture their pets' best moments through photo and video.Whether it's a singing pug or a cat playing piano, people can submit, caption, and share through the eyes of their pet. A community-curated voting system surfaces up the best moments to the Daily Top 10 List. It's giving Underdogs (no pun intended) a fighting chance to be a pet celebrity!

Come visit the New York City Economic Development Corporation to learn more about the monumental civic open data competition, discover ways to get involved/compete, and meet some of the folks running NYC BigApps in 2014.

NYC BigApps was launched in 2009 with a mission to open City data to the public. It's now the premier civic tech initiative and showcase of NYC and its tech ecosystem. This year, the competition is asking: can you make NYC better with technology?
Take a pitstop and join Team ETR for a drink in their back bar. Then, take a gander at their swanky digs, meet the music and product-obsessed team, and learn how they're using their technology to rebuild New York Harbor with their work in the Billion Oyster Project.

ExpandTheRoom is a full-service, boutique creative agency, specializing in digital design and development, strategic thinking and most importantly, listening. Based in Lower Manhattan, ETR has a decade of experience in the digital world and our vision has never wavered: clients are partners, and working together – clearly, quickly, simply – is the only way we know how to do business. And business we've done! To humblebrag, Business Insider, Rolling Stone, GQ, ESPN, VEVO, American Express, Scholastic, and Jim Beam.
Our team of experts excel in web and mobile design and development but more importantly, we're always on top of emerging trends and technologies (the ones you'll be asking us about tomorrow).
4:15PM Pace University: The Science of Social Media

Pace University – Seidenberg School of Computer Science and Information Systems
163 William Street, between Ann & Beekman Streets, room 237
The Science of Social Media
Tracking and mining the valuable information contained in the millions of Tweets, Likes, hashtags, and image uploads posted by millions of active social media users every hour is a daunting task. That's where the Seidenberg Social Media monitoring team comes in. Join Dr. Cathy Dwyer, Dr. Jonathan Hill, and Pace University CS graduate students to learn about the latest corporate and academic research into social media and the very real opportunities it presents.
Are all of those Super Bowl commercials a righteous bang for their buck? Check out the hottest tech trends and data insights, and see how we use them to help fuel marketing intelligence.
Learn more about our vision for the data-driven marketing future with lightning talks and demos. Our tech and product teams will chat about the way we collect data, munch and crunch it, and make it come alive through our products. Cookies will be served, but don't worry; our lead data privacy council will be on hand to make sure that no PII will be collected.
Annalect is a marketing solutions company. By bringing together the best and most innovative minds in the technology, integrated marketing, and consulting spaces, we are able to provide solutions that make sense of the overwhelming amount of available data--and provide actionable insights for our beloved clients.
Come visit LiveIntent's office to get a tour, some background on the company and learn why email is the cross-device killer app. You'll also get to hear about the company growth, hiring, and culture.

LiveIntent, a fast growing venture-backed startup in Lower Manhattan, makes email advertising real-time, using machine learning and Big Data to serve ads in premium publisher newsletters on any device. At the intersection of email, CRM, and advertising technology, our platform puts publishers and advertisers in full control to target, optimize, and maximize revenue from email subscribers. We are uniting the features from traditional online display with the immediacy and urgency of email, the original social network, making it easy for publishers to monetize premium email ad inventory, and for brands to target their advertising to an engaged, valuable subscriber audience, on every device.
Join for a slick and decadent open bar with our featured companies, LaunchLM, FWD.us, and your fellow roamers at The Wooly.
Google Maps Links:
Dom and Tom: 55 Broadway, 7th Floor
Aurnhammer: 55 Broad Street, 13th Floor
Klooff and FWD.us @ the Hive at 55: 55 Broad Street, 13th Floor
NYC BigApps @ NYCEDC: 110 William 6th Floor
Expand The Room: 27 Cliff Street, 2nd Floor
Pace University: 163 William Street, between Ann & Beekman Streets, room 237
Annalect: 195 Broadway, 19th Floor
LiveIntent: 100 Church Street, 7th Floor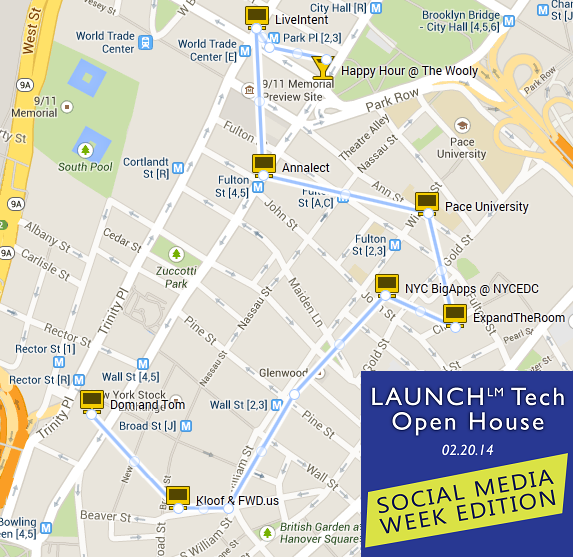 Have questions about LaunchLM Tech Open House: Social Media Week Edition?
Contact LMHQ
When & Where
Broad St
New York, NY


Thursday, February 20, 2014 from 1:00 PM to 10:00 PM (EST)
Add to my calendar
Organizer
LMHQ, the new collaboration space in Lower Manhattan, is opening its doors on July 1st!
A place to brainstorm, socialize, network and collaborate in Lower Manhattan. An extension of your workplace with the amenities you always need more of: meeting rooms, event space, a coffee shop, a living room. Join us at LMHQ and break out of your office.