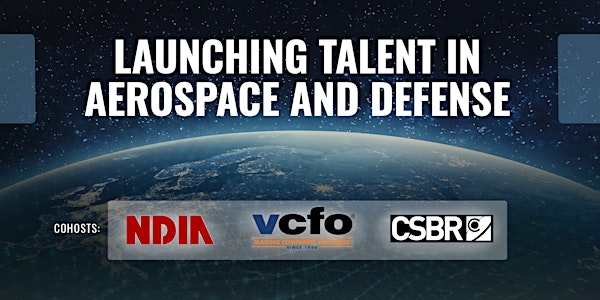 Launching Talent in Aerospace & Defense
Please join cohosts vcfo, CSBR, and NDIA for breakfast, networking, and expert panelist discussion event.
When and where
Location
Holland & Hart LLP 555 17th Street Unit 3200 Denver, CO 80202
About this event
Calling all employers and job seekers!
Please join us for breakfast, networking, and an expert panel discussion on recruiting and retention challenges and strategies in aerospace and defense.
The panel will be moderated by Karli Osgoodby, Senior People Operations / HR Consultant for vcfo Denver. Expert panelists include:
Bradley Cheetham, CEO/ President at Advanced Space
Zach Pfeffer, CEO/President at Centennial Software Solutions, LLC / Arapahoe/Douglas County Aerospace Sector Partnership Co-Chair
Vera Demchenko, Systems & Test Engineer for the Orion Program at Lockheed Martin
Claire Yang, Undergraduate Programs & Industry Relations Manager at the Colorado University at Boulder's Smead Aerospace Engineering Sciences Department
The event will be held at Holland & Hart (555 17th Street, Unit 3200, Denver, CO 80202). Discounted parking can be found at 1730 Glenarm Place.

MODERATOR
Karli Osgoodby, SPHR, is a dynamic leader offering comprehensive knowledge and skills in human resources administration, with an emphasis on benefits, retirement administration, and the full cycle recruiting process. She efficiently handles multiple priorities, can quickly adapt to challenging and fast-paced work environments, and prioritizes building relationships within an organization.
At vcfo, Karli works as a Senior People Operations/ Human Resources Consultant. Armed with excellent communication skills and creative problem-solving techniques, she partners with stakeholders to leverage strategic HR to achieve objectives and implement best practices in the people space.

PANELIST
Bradley Cheetham is a lifelong space advocate, highly experienced engineer, a three-time entrepreneur and, seasoned graduate-level instructor. He is the co-founder, CEO, and President of Advanced Space which exists to support the sustainable exploration, development, and settlement of space. Gifted in communicating and engaging youth in space, Mr. Cheetham co-founded a non-profit organization connecting students with space industry leaders, Future Space Leaders Foundation. His passion for ensuring the space pipeline is robust and the excitement for exploration beginning with our youth has paid dividends. He leads a workforce with a vision of innovation, mentorship, strong internship conversion rate, and customer obsession with delivering excellence. Recently, his company is most known for owning and operating the CAPSTONE mission, launching as a pathfinder for the Artemis mission and the human return to Moon. Advanced Space is an industry leader in space mission development, planning, and operations for commercial, civil, and national security customers. The company is a member of the Commercial Spaceflight Federation, the Colorado Space Business Roundtable, the Lunar Exploration Analysis Group Commercial Advisory Board and has extensive relationships with academic, non-profit, and industry organizations. In addition to his expertise related to entrepreneurship in the space industry, Mr. Cheetham also possesses deep domain technical knowledge in areas including cislunar space, spacecraft dynamics, estimation, and control.
Mr. Cheetham earned degrees in Mechanical and Aerospace Engineering from the State University of New York at Buffalo and his Masters in Aerospace Engineering Sciences at the University of Colorado Boulder where he conducted significant research on spacecraft navigation for the Colorado Center for Astrodynamics Research Director, Dr. George Born, in support of a Doctorate of Philosophy. Mr. Cheetham was a member of the prestigious NASA Academy at the NASA Goddard Space Flight Center where he supported the ARTEMIS mission design, which innovatively sent two spacecraft to the Moon. Bradley created a graduate-level course and served as lead instructor for nearly a decade in Commercial Spaceflight Operations at CU Boulder. As an advocate for the space industry, he serves as Chair for the Board of Directors and helped to establish the Future Space Leaders Foundation, is a member of the Entrepreneurship and Investment Committee of the International Astronautical Federation, serves on the Board of Advisors and the Board of Trustees of Students for the Exploration and Development of Space (SEDS) and is a member of the AIAA Space Transportation Technical Committee. Mr. Cheetham is known as the space collaborator. As the creator of the Colorado Aerospace Happy Hour industry event, Mr. Cheetham realized the importance of gathering in a social setting to network to support students' introduction to the industry and arena for innovative solutions to the everchanging landscape of the business. Diversity of thought, team, and timelines are vital mindsets which have attributed to his success.

PANELIST
Vera Demchenko is a Systems Test & Verification Engineer on Lockheed Martin's Orion Program, a 2022 Future Space Leaders recipient, and a 2019 Brooke Owens Fellow. In 2019, Vera completed a BA in Astrophysics and Planetary Science at CU Boulder. She is actively involved in SGAC (Space Generation Advisory Council), a young professionals organization to further space development, and is a young professional mentor for aerospace fellowship programs such as the Zed Factor Fellowship. Vera is passionate about diversity and inclusion, as well as space sustainability programs.

PANELIST
Zach Pfeffer is the president and founder of Centennial Software Solutions, providing specialized engineering services to medical, industrial, and A&D customers. His contributions to some of the world's most innovative companies, like Qualcomm and AMD-Xilinx, include helping to launch the first Android phones and pioneering software for the first integrated FPGA SoCs.
Zach co-chairs the Arapahoe/Douglas County Aerospace Sector Partnership, advocating for a well-trained engineering workforce and bringing together the resources needed to support a thriving aerospace industry in Colorado.

PANELIST
Claire Yang is the Industry & Alumni Relations Manager at the Ann and H.J. Smead Aerospace Engineering Sciences Department at the University of Colorado Boulder. Passionate about workforce development, she helps aerospace companies and government agencies access top talent at the University of Colorado Boulder.
Thank you to all event cohosts for making this event possible!

Thank you to Holland & Hart LLP for generously allowing us to host this event at your location!