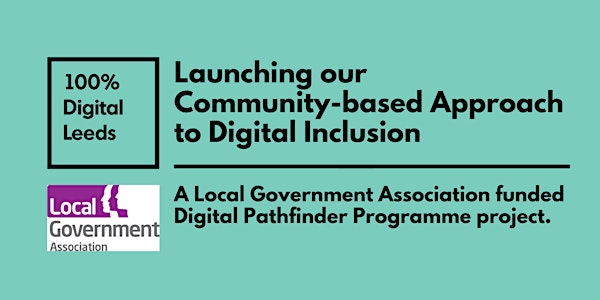 Launching our Community-based Approach to Digital Inclusion
A Local Government Association funded Digital Pathfinder Programme project.
About this event
Leeds City Council was awarded funding as part of the Local Government Association's Digital Pathfinders Programme. The 100% Digital Leeds team, part of the council's Integrated Digital Service, was funded to write and publish a model that other councils could follow to increase digital inclusion. The community-based approach sets out the stages and steps that can be followed by council officers leading digital inclusion. The model will help local councils to implement their own version of the 100% Digital Leeds community-based approach.
Launching our community-based approach to digital inclusion
This webinar is an opportunity for local authorities to hear more about the approach, how they might benefit from adopting the approach, and where they can access the model when published.
"The Local Government Association have funded this project recognising the value seen in the 100% Digital Leeds Programme. In recent years this model has developed into an example of best practice in the sector, strengthening the outcome of digital inclusion initiatives for residents, partners and communities in Leeds and beyond. Hence, why we funded Leeds City Council to utilise their expertise to scale a model to other councils that enables them to replicate and build a community of support that is integral for residents to benefit from being online. The sector-led 'council to council' element of the Pathfinder enabled us to help a cohort of councils test the concepts of the model while simultaneously providing them with support to lead the growth of the capacity and ability of their communities of practice to best tackle digital exclusion."
Tom Denman ,Productivity Adviser – Digital Innovation, Security and Behavioural Insights , Local Government Association
The community-based approach to digital inclusion
Our approach brings together key partners to design digital inclusion interventions based on the needs of a particular community. This could be a geographical community, such as a ward or a town, or a community of interest, such as unpaid carers, older people, or people with learning disabilities. The interventions should be embedded within existing support mechanisms around that community. The approach uses and builds upon existing strengths and assets to create an intervention that is bespoke, sustainable, and able to scale and flex in response to changing needs. This community-based approach has been developed by the 100% Digital Leeds team and is a key part of the 100% Digital Leeds programme.
How other local authorities have already benefitted from implementing the community-based approach
As part of the development process 100% Digital Leeds has run a series of workshops with five local authorities with different geographies and demographics, and different staffing and resource capacities, ensuring the approach is adaptable to the needs of your local authority.
We'll hear from three of these local authorities about their impressions of the usability of the approach, elements of the approach they have already managed to adopt, and the positive impact they have already seen as a result.
"This is a clear and practical model which we have been able to adapt from a city to an extensive rural setting successfully. Whilst this model covers every aspect of implementing an enabling communities approach, you can also use it as a 'pick and mix' to just use the elements you need – its very flexible. As a lone Digital Inclusion Officer covering a large area, this model has become my constant 'go to', and whilst we don't have a team, it always gives me practical deliverable support."
Debbie Fagan, Digital Inclusion (Health) Officer, East Riding of Yorkshire Council
Webinar Hosts
This webinar is hosted in partnership by 100% Digital Leeds and Local Government Association
100% Digital Leeds
100% Digital Leeds is a Leeds City Council team working with partners to make Leeds the most digitally inclusive city for everyone. With more services moving online it has never been more crucial for people to have the opportunity to access the digital world to help manage their money, health, housing, leisure and mental wellbeing.
Local Government Association
LGA is a politically-led, cross-party organisation that works on behalf of councils to ensure local government has a strong, credible voice with national government. They aim to influence and set the political agenda on the issues that matter to councils so they are able to deliver local solutions to national problems.
Webinar practicalities:
The webinar will be held via Zoom.
The Zoom link will be sent out to attendees via email the morning of the webinar.
The webinar will be recorded and video will be circulated to attendees after the event, as well as being hosted on digitalinclusionleeds.com