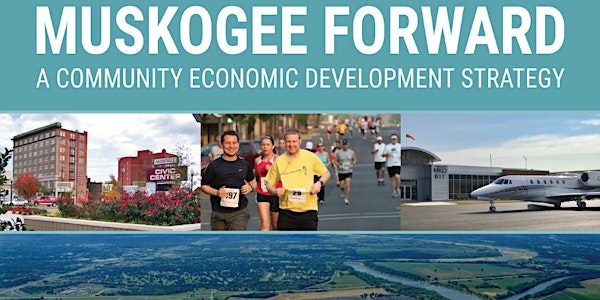 Launching 'Muskogee Forward'
Connecting residents, visitors, and businesses with opportunities that help ensure a thriving economy for current and future generations.
When and where
Location
Indian Capital Technology Center- Brackeen Seminar Room 2403 North 41st Street East Muskogee, OK 74403
About this event
Muskogee Forward was created through a community economic development planning process bringing together public and private sector leaders to build on the success of previous planning initiatives producing a strategic plan with specific catalyst projects. With these takeaways in mind, Muskogee Forward sets out a strategic action plan that defines the role that traditional and nontraditional economic development partners can play in addressing the community's challenges while maximizing its many opportunities. The plan also seeks to leverage economic and community development work already underway throughout Muskogee.
The Muskogee Forward vision is actualized via five goals designed to leverage existing strengths, mitigate challenges, and build on the momentum gained during the planning process.
1. Collaboration
To improve coordination across the multiple entities and resources contributing to Muskogee's economic development and align community goals resulting in more successful initiatives.
2. Business Development
To elevate Muskogee's competitive position by accelerating existing business development efforts, building support for small and large businesses, and facilitating high-wage and high-impact growth.
3. Talent Development
To build out Muskogee's education to career pipeline and ensure a steady stream of talent to support Muskogee's future industries.
4. Placemaking
To secure Muskogee's position as an attractive community for new and existing residents by focusing on quality-of-place assets including downtown redevelopment, housing, connectivity, and healthfulness.
5. Marketing
To shift internal and external perceptions of Muskogee as an attractive and livable community by focusing on the community's unique attributes and targeting key audiences.