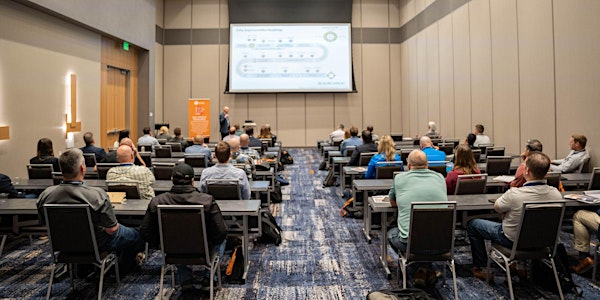 LaunchDarkly - Talkin' Ship Workshop
Bring your laptops and your favorite IDE as we get hands-on keyboards building, shipping, and releasing software!
By nvisia Software Consulting
Date and time
Wednesday, May 31 · 4:30 - 6:30pm CDT
Location
Brookfield Conference Center 325 South Moorland Road Brookfield, WI 53005
About this event
https://launchdarkly.com/talkin-ship/ - PLEASE REGISTER DIRECTLY HERE
Bring a laptop. We're getting ship done.
Prior to ProdCon '23 we are hosting a series of workshops -- this one presented by LaunchDarkly. To get ProdCon conversations started correctly join LaunchDarkly for the Pre-Conference workshop from 5:00 - 6:30 PM
Details:
Join Talkin Ship with LaunchDarkly where you'll spend the day experiencing LaunchDarkly hands-on, as a builder looking to ship software without getting called back in to recover it at 2 am or on the weekends.
You'll learn how to ship fast and recover from outages instantly, target your software releases at anything, use contexts, power, and control migrations, run A/B tests and experiments, and ship in a mobile world. By the end, you'll have redefined what "releasing" means, and know how you can redefine the way you deliver software.
Talkin' Ship workshop will focus on moving the user through the core use cases in a progressive manner, allowing them to explore the main capabilities of LaunchDarkly and learn how it can be used to ship and release software and capabilities faster and without risk.
In this workshop, the attendee will take on the role of a developer/builder within Toggle Outfitters, a fictional company that is moving its storefront into digital - and modernizing it along the way.
During this workshop, teams will accomplish the following high tasks
• Targeted release and rollback of the new webstore and various site functionality
• Controlled migration of both an API payment system and a database
• Troubleshooting of application failures, with recovery and additional protections added
• Exploration of governance concepts like workflows, approvals, and scheduled releases
• Entitlements to new store products based on regional properties
• Launching of experiments to measure adoption
• Launching a new mobile-friendly experience
Appetizers will be provided. Workshop from 5:00 - 6:30 PM.
About the organizer
nvisia /en-viz-ee-yah/ by definition is a group of likeminded technology strategists who, since 1991 have understood how to solve our clients' toughest IT challenges. Listening and learning from others is a critical part of our process that drives success. With hundreds of projects delivered, our market leading clients have come to rely on nvisia's core team model for instant velocity and technical guidance.
For more information on how nvisia can assist you please visit our website - https://www.nvisia.com/digital-transformation-consulting 
#SoftwareDevelopment #ApplicationDevelopment #UX #DevOps #Cloud #AWS #Azure #Docker #Kubernetes #ProductManagement