Launch Your Life Atlanta

Saturday, January 31, 2015 from 2:00 PM to 5:30 PM (EST)
Event Details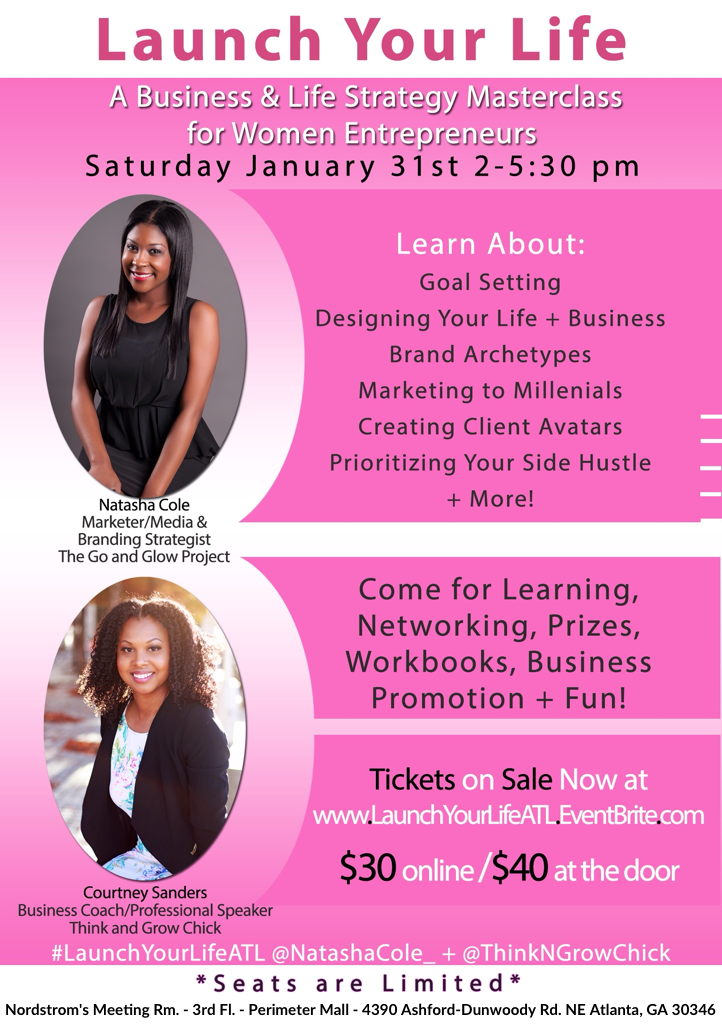 Is it really possible to create a business and life you love? Even if you're just starting out, strapped for cash, and have no idea where to start?
"Learn the strategies needed to turn your passion into profit this year, all while enjoying success in your financial, family, and personal life."
Dear Entrepreneurial Woman,
Do you have a dream of making a full-time income doing something you love? Do you crave the freedom and flexibility that entrepreneurship provides? Perhaps you're in a dead in job you long to escape or maybe you've already started your business but it's not working out like you hoped. If you've recently started, or want to start, your business this year but you have NO IDEA how to get customers and start making money, we have something special for you…
FACT: 8 out of every 10 business started this year will fail
That's a crazy high statistic, right? Most new business owners and would-be entrepreneurs fail within their first 18 months because they don't know how to do the following 3 things:
Understand their customer deeply

Differentiate their business from what's already out there

Communicate WHY anyone should buy from them!
Do you struggle with any of those pitfalls? If so, your new business or business idea is at risk. However, there is a way to overcome this, if you know what to do…
On Saturday, January 31, 2015 from 2-5pm, we, Courtney Sanders of Think & Grow Chick and Natasha Cole of The Go and Glow Project are going to help YOU develop the strategies needed to succeed in your business and personal life. Join us for our workshop, Launch Your Life: A Business and Life Strategy Masterclass for Women Entrepreneur!
During this fun and interactive workshop, we will teach you how to:
Set goals for your business the right way so you won't be stuck in the same position this time next year

Know EXACTLY who you should be marketing to by developing your Ideal Client Avatar

Create an irresistible brand your ideal customer flocks to through the power of Brand Archetypes

Make time for your business or side hustle, even if you have a family to care for or other full-time commitments

Design your ultimate business and life!

...and so much more!
In addition to all the above, you can expect prizes, workbooks, networking with other business women, and the chance to promote your business. This just may be the opportunity you've been waiting for...
So just who are we? Courtney is an entrepreneur, business strategist, and goal-setting coach who has grown her personal brand and business, Think & Grow Chick, into a popular online destination for women that receives nearly 30,000 views every month! She is also a sought after speaker and facilitator who leads workshops and panel discussions all over the country. Natasha Cole is an entrepreneur, marketer, brand consultant, and life coach who teaches men and women all over the world how to succeed in life and business. She is also host to the popular podcast, Go and Glow, which reaches thousands of listeners on iTunes every week.
We are passionate about helping women reach their business and life goals and we'd love to help you! If you want to join us for this life changing workshop, click the option above to buy your tickets!
To your success,
Courtney of thinkandgrowchick.com
Natasha of goandglowproject.com

When & Where

Nordstrom's Meeting Room - 3rd Floor (Office behind Lingerie dept.)
Perimeter Mall
4390 Ashford-Dunwoody Rd. NE
Atlanta, GA 30346


Saturday, January 31, 2015 from 2:00 PM to 5:30 PM (EST)
Add to my calendar