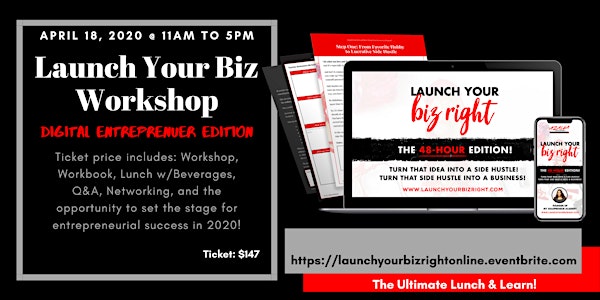 LAUNCH YOUR BIZ RIGHT - The Digital Entrepreneur's Edition!
LAUNCH YOUR BIZ RIGHT - The DIGITAL ENTREPRENEUR'S EDITION! Learn to master the steps to make your online business a success!
About this event
IN THIS ECONOMY, YOU NEED A SIDE HUSTLE......Don't waste another minute building someone else's dream, while sitting on yours!
Instead, start counting down the days until you can finally say, "I quit!"
Hey there soon-to-be business owner, I'm Azalea McKinney. A multi-faceted serial entrepreneur that has seen business success and failures.
How long have you been daydreaming about hanging out your virtual shingle and finally kissing the 9 to 5 job (and your horrible boss) goodbye?
Join us me on April 18, 2020 for a fun and informative business training experience designed for DIGITAL ENTREPRENEURS!
Azalea is passionate about helping others obtain financial success through entrepreneurship and excited to share valuable tools and resources she's acquired over the years!
If you are ready to finally make a shift and equip yourself for success, then you have to attend this event. This training is backed by proven techniques and results and is full of knowledge and creative materials.
So many promising new businesses are derailed by a lack of confidence and direction. And it's understandable, really. After all, you struggle with…
• Finding a profitable business idea and niche (that isn't already done to death)
• Navigating a legal labyrinth of LLCs and S-corps and other cryptic terms
• Scaling the steep learning curve of a host of necessary tools and software
• Creating in-demand products and programs—and figuring out how to market them
And even if you do manage to get clear on all of the many (many) pieces and parts that go into creating a viable business…
You're Left Feeling Overwhelmed At All There Is To Do
Even if you think you have a viable business idea (and let's face it, you really don't know for sure) it can seem impossible to develop a full-fledged business from it.
All that dreaming and wishing won't provide a solid plan, and sometimes it just feels easier to keep your day job.
But you don't have to settle for being dreamer. Instead, come to this event….
My 6 week mastermind has NOW been streamlined into a 6-hour accelerated workshop with an accompanying step-by-step workbook that is designed to move you closer to your entrepreneurial dreams by providing exactly the information you need, right when you need it. No more floundering; no more chaos; no more confusion.
YEAH! I'm excited for this event!
We will kick things of with a delicious catered brunch (and yes, there will be adult beverages!), then dive into learning everything you need to start or up-level your business.
We will also have plenty of time for networking, special surprises, and giveaways! All you need to bring is yourself and the thirst to GROW and do great things in 2020.
If you have any questions or will be traveling from out of town, please contact Azalea McKinney at me@azaleamckinney.com.
Parking: $10
PLEASE NOTE:
* If you plan to pay at the door, "Cash Only," please call Customer Service to pre-register.
* A Laptop, Tablet, or iPad is not required but recommended. Free Wi-Fi available.
*Notice of Photo/Video Consent: Video Footage and/or photos may be taken during this event, which may or may not include your recognizable image. Please be advised, by participating in this event, you agree to allow hosts to use the images in print, digital or web-based formats for promotional an archival purposes.
Organizer of LAUNCH YOUR BIZ RIGHT - The Digital Entrepreneur's Edition!