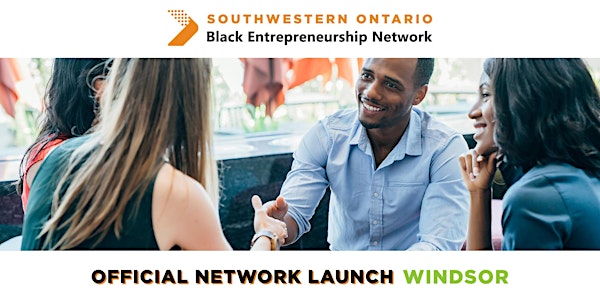 LAUNCH - Southwestern Ontario Black Entrepreneurship Network - Windsor Hub
Launch of the Southwestern Ontario Black Entrepreneurship Network by Empowerment Squared (Hamilton) and partner WEtech Alliance (Windsor).
When and where
Location
Art Windsor-Essex 401 Riverside Dr W Windsor, ON N9A 7J1 Canada
About this event
SWOBEN's Windsor launch will feature special guests, food and drink, remarks, panel discussion with Black businesses, networking, and more!
SPECIAL FEATURE: Guests are invited for a tour of Art Windsor-Essex's 'The Artists of Colour: Abstracted Realities' exhibit, performances and music by Drummer Teajai Travis and DJ Lamar Nelson and food by Naija FoodEats, Zuleeats, Stella's Kitchen and in-house caterer, Koolini Italian Eatery.
Panelists:
Tentative Agenda:
5:00 pm – 5:30 pm Registration / Networking / Appetizers
5:30 pm – 5:35 pm Welcome / Introductions
5:35 pm – 5:40 pm Remarks WEtech Alliance / Windsor-Essex Program Advisory Committee
5:40 pm – 5:50 pm Remarks FedDev Ontario / Government of Canada
5:50 pm – 6:00 pm Remarks Empowerment Squared
6:00 pm – 6:40 pm Panel Discussion + Q&A
6:40 pm – 6:45 pm Wrap-up Remarks and Next Steps
6:45 pm – 7:30 pm Networking and Tour of The Artists of Colour: Abstracted Realities Exhibit
About SWOBEN
The Southwestern Ontario Black Entrepreneurship Network (SWOBEN) brings together a consortium of partners led by Empowerment Squared to offer a dynamic resource for Black business owners, entrepreneurs, and nonprofit leaders in Southerwestern Ontario. All services offered by the Network are free of charge to participants.
SWOBEN has partnered with WEtech Alliance to provide services in the Windsor-Essex region and is funded by the Federal Economic Development Agency for Southern Ontario.
Network offerings will include:
Mentorship
Business Advisory Services
Seminars + Workshops
Networking + Events
Black Business Development Program
For more information or media inquiries on the SWOBEN Windsor Hub launch, please contact Colin Grimmond by email c.grimmond@empowermentsquared.org or by phone at 226-773-2488 .
Event Parking: Municipal Parking Lot 22, 550 University Ave. West. North side of University in between Bruce and Janette. (Parking lot has been reserved and parking is complimentary).