Description

Using Social Media Effectively - Lessons Learned with Jason Boucher
Are you using social media the right way? Jason shares social media strategies and some recent campaigns from The University of New Hampshire. He'll provide an overview of some of the leading social media management tools, including how to respond and how to measure success. Attendees will learn how to use social media to increase engagement effectively and how to respond appropriately to stakeholders.
Jason Boucher, Social Media Manager at the University of New Hampshire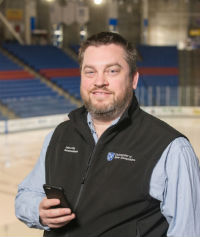 Jason is the social media manager and digital content strategist at the University of New Hampshire. Host on weekly radio program WSCA 106.1 fm and a Huffington Post tech contributor. He is also an Advisory Board member for the FUTURES Program in Portsmouth, NH and a trustee at WSCA, Portsmouth Community Radio. Jason collect records and drinks too much coffee.
Alpha Loft's Launch Series features educational presentations on valuable topics for startups and early stage companies. Each talk, presented by an expert from the field, focuses on issues that impact starting and growing a company. Launch Series is a great opportunity to learn from experts and get answers to your pressing questions.
5:30 PM - Grab a cold beverage/snack, and chat with others
6:00 PM - Introductions and Presentation
7:30 PM – Conclude
Event Location

Alpha Loft is now located at 21 Madbury Road, Durham, NH. Attendees can enter through the entrance closest to the Pettee Brook parking lot (see the image below) and follow the signs to the event.

Attendees may park along Madbury Road, Pettee Brook Lane, and Main Street. Parking is metered until 6:00 PM and is strictly enforced. The first hour is free in many lots, HOWEVER, please make sure a ticket is displayed in your vehicle before leaving.

For additional parking guidelines, please visit the UNH Parking website.