Join Bloodaxe Books to celebrate the launch by Pascale Petit, Wayne-Holloway Smith and Phoebe Stuckes of their new poetry collections.
About this event
Join Bloodaxe Books to celebrate the launch by Pascale Petit, Wayne-Holloway Smith and Phoebe Stuckes of their new poetry collections. Please register by clicking on the green bar opposite.
Hosted by editor Neil Astley, this event will be streamed live through this link on the Bloodaxe Books YouTube channel. Clicking on this link will take you there, with the page becoming live at 7pm.
To order copies of the poets' books direct from Bloodaxe, please click on the book titles:
Wayne Holloway-Smith: Love Minus Love
Phoebe Stuckes: Platinum Blonde
Pascale Petit's Forward-shortlisted Tiger Girl is her eighth collection, and her second from Bloodaxe, following Mama Amazonica (2017), winner of the Royal Society of Literature's Ondaatje Prize 2018 – the first time a poetry book won this prize for a work of fiction, non-fiction or poetry best evoking the spirit of a place. Mama Amazonica is shortlisted for the inaugural Laurel Prize. Four of her earlier collections were shortlisted for the T.S. Eliot Prize.
Tiger Girl marks a shift from the Amazonian rainforests of Pascale Petit's previous work to explore her grandmother's Indian heritage and the fauna and flora of subcontinental jungles. Tiger girl is the grandmother, with her tales of wild tigers, but she's also the endangered predators Petit encountered in Central India. In exuberant and tender ecopoems, the saving grace of love in an otherwise bleak childhood is celebrated through spellbinding visions of nature, alongside haunting images of poaching and species extinction.
*
Wayne Holloway-Smith: Love Minus Love
Wayne Holloway-Smith's second collection Love Minus Love is an emotionally intense exploration of a fragmented personal universe. Its seemingly fixed boundaries of masculinity, family, trauma and mental health are blurred and glued back together through the poems in search of a new sense of identity. It is a Poetry Book Society Wild Card Choice. His debut collection Alarum (2017) was shortlisted for the Seamus Heaney Centre for Poetry Prize and the Roehampton Poetry Prize as well as also being a PBS Wild Card Choice. His poem 'the posh mums are boxing in the square' – included in Love Minus Love – won first prize in the Poetry Society's 2018 National Poetry Competition.
'Love Minus Love is a gorgeous painful classic of the Dead Dad genre, and the We Are All Meat genre and the Re-Building Mum genre. It is a beautiful tapestry-album of boy agony, wit and honesty, punctuated by devastating in-parentheses-bildungsromans. It's unforgettably brilliant.' – Max Porter
'Exciting, excoriating, gorgeous, appalling, and eye-wateringly honest. Wayne Holloway-Smith's poems are blisteringly beautiful, and probe at a siege-like nucleus of familial harm. Histories of abuse, hurt and disease are confronted and dissected in all their messy, meaty complexity, but always with love, always with hope and a sweet, sweet tenderness.' – Fiona Benson
*
Phoebe Stuckes: Platinum Blonde
Phoebe Stuckes has been a winner of the Foyle Young Poets award four times and is a former Barbican Young Poet and Ledbury Poetry Festival young poet in residence. Her debut pamphlet, Gin & Tonic, was shortlisted for the Michael Marks Award in 2017, and she won an Eric Gregory Award in 2019. Platinum Blonde is her first book-length collection.
Whether wildly or wryly funny, each poem presents an episode in the up-and-down life of the wise-cracking party girl. On the surface, this is a world of dancefloors and bathrooms, glitter and girls, love and disappointment, but beneath the laughter and antics these are self-questioning poems. Poems about self-belief, self-image, vulnerability and insecurity, loneliness, trauma and survival.
'The poems in Platinum Blonde are vulnerable, performative, and ardently female. Stuckes deftly balances violence and wit, self-consciousness and panache. She can turn a sentence on a dime: "This is how I want to die; in a boat, on fire / while Billie Holiday crawls out of a speaker." And "Having an affair / is just getting all dressed up to cut yourself." Get yourself a bottle of gin, some photos of your exes, and settle into a velvet chaise longue to read. You're going to love this book.' – Kim Addonizio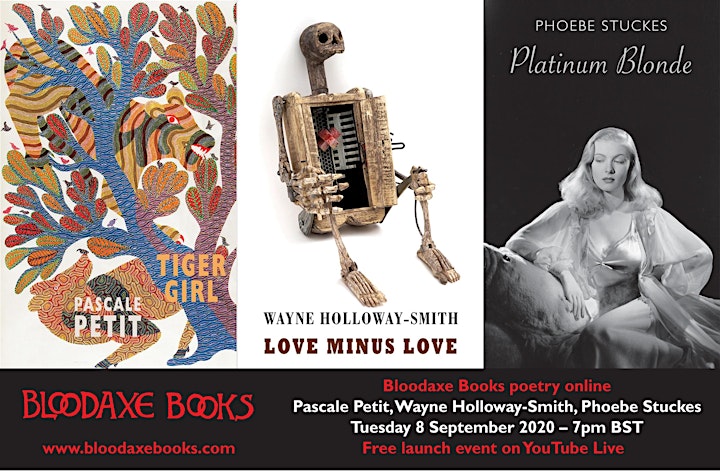 Organiser of Launch reading by Pascale Petit, Wayne-Holloway Smith & Phoebe Stuckes