Description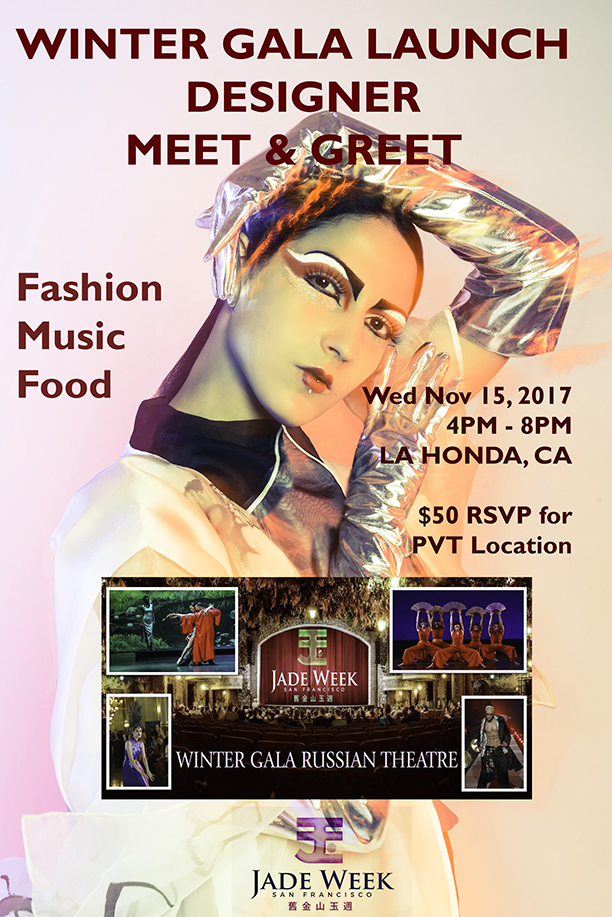 Jade Week San Francisco ™ LAUNCH PARTY

Jade Week San Francisco ™ presents its second season Winter Gala that takes place on Dec., 9th at Russian Theater San Francisco.

A delightful launch party for Jade Week SF supporters at The Lumina luxury high rise to preview the unique Jade Kunlun In Fashion, guests are able to access printed Winter Gala tickets.

$50 online and $60 door
(please Inquire about our underwriter and sponsor opportunities)

Guests are invited to taste delicacies served by Bay Area famous chefs and be amazed by the fashion creation.

Location:

RSVP for Private Exclusive Location @ La Honda, CA (50 min from SF, 30 min from Stanford, and 45min from San Jose.)
4 pm:

✔️Guests spotlight/photoshoot.
✔️Fancy hors d'oeuvre served.

✔️Photo, Art and Fashion sale (silent auction style).
6 pm:

✔️Meet and Greet
Producers, designers lead characters and models forJade Kunlun and preview Winter Gala fashion.
8 pm:

✔️Live Music with main course food served
No refunds at any time