Launch of The Asia Foundation's 2012 Survey of the Afghan People

Wednesday, November 14, 2012 from 9:30 AM to 11:30 AM
Event Details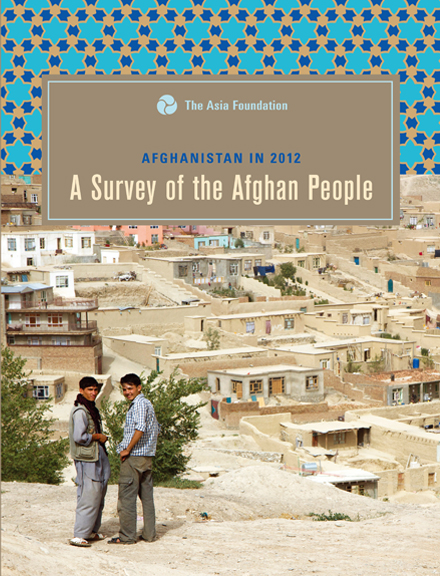 On November 14th, in Kabul and Washington, DC, The Asia Foundation will release findings from Afghanistan in 2012: A Survey of the Afghan People--the broadest, most comprehensive public opinion poll in the country - covering all 34 provinces, with candid data gleaned from face-to-face interviews with nearly 6,300 Afghan citizens on security, corruption, women's rights, the economy, development, and the Taliban. This marks the eighth in the Foundation's series of surveys in Afghanistan; taken together they provide a barometer of Afghan public opinion over time.
Featuring:
Mark Kryzer, Country Representative, The Asia Foundation-Afghanistan

 Palwasha Kakar, Senior Advisor, The Asia Foundation-Afghanistan
 Sunil Pillai, Technical Advisor, The Asia Foundation
Moderator:
Andrew Wilder, Director of Afghanistan and Pakistan Programs, US Institute of Peace
Organizer
The Asia Foundation
The Asia Foundation is a nonprofit, nongovernmental organization committed to the development of a peaceful, prosperous, just, and open Asia-Pacific region. The Foundation supports Asian initiatives to improve governance and law, economic development, women's empowerment, the environment, and regional cooperation. Drawing on nearly 60 years of experience in Asia, the Foundation collaborates with private and public partners to support leadership and institutional development, exchanges, and policy research.
Launch of The Asia Foundation's 2012 Survey of the Afghan People