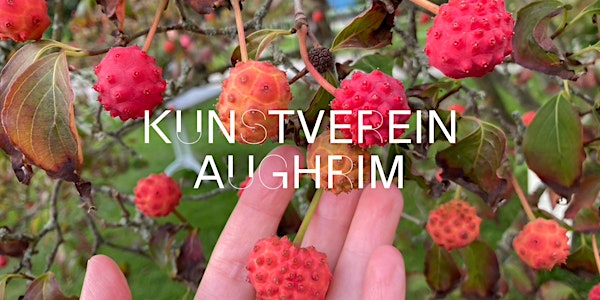 Launch of Kunstverein Aughrim
The official opening of Ireland's first kunstverein, launching within a programme of newly commissioned artworks, projects & performances.
When and where
Location
Kunstverein Aughrim Main Street Y14 K120 Aughrim Ireland
About this event
At 12 noon on Sunday 9 October 2022 Kunstverein Aughrim will open its doors, unveiling its inaugural commission: a site-specific, permanent installation by artist collective Forerunner. Titled Granite Leap, this artwork will be launched within a public programme of new artistic commissions, including performances by Isadora Epstein, photography by Rich Gilligan, collaborative writing by Yurika Higashikawa, hospitality devised by Jennie Moran, and an exhibition of Aughrim's Intangible Heritage Collection by The 1798 Club (Aughrim Active Retirement Group in collaboration with Kunstverein Aughrim).
Schedule
12 noon Official Launch of Kunstverein Aughrim with an opening speech by Isadora Epstein, performed by Kate Strain, to mark the unveiling of Forerunner's Granite Leap.
12:30pm Celebratory toast with the artists; Tanad Aaron and Andreas Kindler von Knobloch and Tom Watt (of Forerunner), Isadora Epstein, Rich Gilligan, Yurika Higashikawa and collaborators from Aughrim Active Retirement Group, with refreshment by Fiona Hallinan and all-day nourishment served from The Stonecutter Café.
1:30pm New performance by Isadora Epstein in the Foresters' Hall, with costumes by Amie Egan, set by Kathy Tynan, performed by Isadora Epstein and Cillian Byrne. This event is seated so please arrive on time to take your seat.
2pm-4pm Exhibition of Aughrim's Intangible Heritage Collection / New photography by Rich Gilligan / Text drop by Yurika Higashikawa / Live traditional music / Walking Tours of Aughrim / Pottery and wood-turning demonstrations
Join the mailing list via our website for updates.
Locations
Kunstverein Aughrim, The Monument, The Stonecutter Café, The Foresters' Hall, The Bandstand, The Pavillion.
A map detailing precise locations and full itinerary will be available on the day from Kunstverein Aughrim.
Getting to Aughrim
Aughrim is located in South County Wicklow, 15km from Arklow.
You can get here by car (from anywhere in Ireland), by bus (from Arklow or Tullow/Carlow), and via train to Rathdrum (from Dublin).
Should you wish to car-pool and require help arranging it, or have any questions about the transport options available, please contact office@kunstverein.ie for assistance.
Traveling by car: coming from Dublin take exit 16 off the M11 and drive via Rathnew > Glenealy > Rathdrum > Ballinaclash > Aughrim or enter eircode Y14 K120 into your navigation system and follow the voice. On street parking available in the village centre and environs.
By bus: Bus route 800 (Local Link) timetable here: https://visitwicklow.ie/listing/arklow-shillelagh-friday-bus-service/ may be disrupted due to the current temporary road closure between Aughrim and Arklow.
By train: There is a train from Dublin (Connolly, Pearse, Dun Laoghaire) to Rathdrum. On Sunday 9 October the train leaves Dublin Connolly at 10:25am. A chartered coach will meet passengers on arrival to Rathdrum train station at 11:41am and deliver them to Aughrim. The same coach will depart Aughrim in time for the 4:01pm train service back to Dublin.
UPDATE:
There is a scheduled bus running from Dublin to Aughrim on 9.10.22*
Departing Dublin (Kildare St. stop 747) 10:30am
Arriving Aughrim (the Monument) 12 noon
And returning...
Departing Aughrim (the Monument) 3:30pm
Arriving Dublin (Kildare St stop 747) 5:30pm
*Please note - seats are limited on this free bus. To book a place please email: office@kunstverein.ie
Supporters
Kunstverein Aughrim is supported by the Arts Council and Wicklow County Council, and is part of the franchise established by Kunstverein in Amsterdam, with sisters in Milan, New York and Toronto.