About this Event
Get Well Get On is part of a UK-wide initiative which supports people who have mental or physical needs stay in work.
Marking National Backcare Awareness Week and World Mental Health Day, Get Well Get On is launching workshops for small and medium sized businesses in Bristol who want to know more about how they can support people with mental and physical health needs in their workplace.
Get Well Get On takes a new approach and provides an innovative solution, supporting people who are in work, at risk of falling out of work and who are on sick leave but are still employed who have mental health issues, or musculoskeletal conditions, such as back pain. It addresses the challenges they face in relation to retaining employment.
In Bristol, 97.8% of businesses employ fewer than 50 staff. For these employers, (and their employees), access to quality Occupational Health support is limited. Get Well Get On provides advice from qualified staff to support these businesses to retain their workforce.
Get Well Get On is one of only 19 initiatives across the UK selected to receive funding from the Work and Health Challenge Fund to support people with mental health or musculoskeletal conditions to stay in work. It is a partnership between Bristol City Council and the Richmond Fellowship.
To find out how Get Well Get On can help your business support employees with mental and musculoskeletal conditions, come along to our special, breakfast launch event and find out more.
The breakfast launch event is on Tuesday 22 October 2019 at 8.00am at City Hall.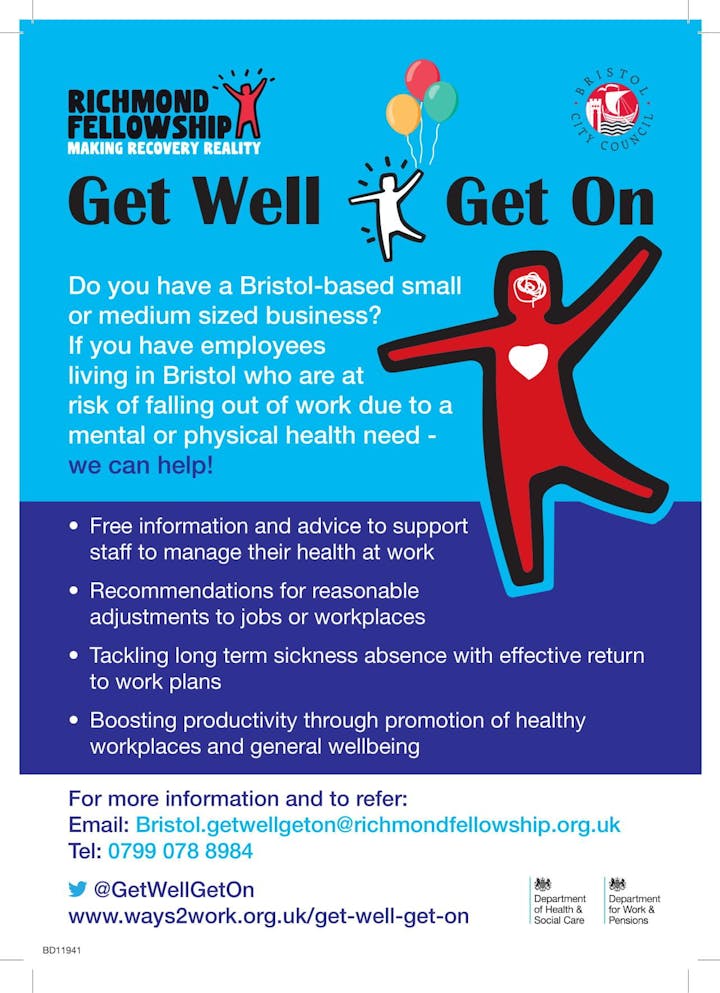 By registering for a ticket, you give permission to be contacted regarding Bristol City Council and the Richmond Fellowship's future events and opportunities. If you would like us to remove your details, please email us on ways2work@bristol.gov.uk