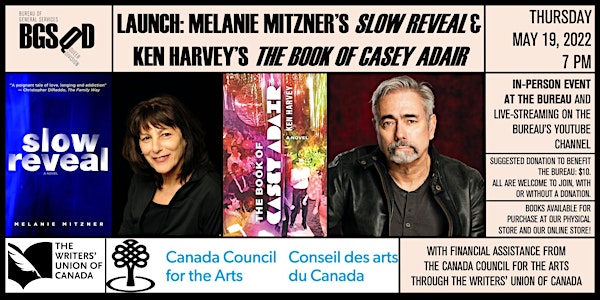 Launch: Melanie Mitzner's Slow Reveal & Ken Harvey's Book of Casey Adair
Event Information
Location
Bureau of General Services—Queer Division
208 West 13th Street
Room 210
New York, NY 10011
Launching Melanie Mitzner's Slow Reveal and Ken Harvey's The Book of Adair
About this event
U.S. Launch of queer American/Canadian Authors: Melanie Mitzner's novel Slow Reveal, set in 1990s New York and Ken Harvey's novel The Book of Casey Adair, set in 1980s Madrid, Boston and New York.
WITH FINANCIAL ASSISTANCE FROM THE CANADA COUNCIL FOR THE ARTS THROUGH THE WRITERS' UNION OF CANADA
Join this event in-person at the Bureau
OR watch the live-stream of the event on the Bureau's YouTube channel.
Registration is not required. Seating is first come, first served.
Suggested donation $10 to benefit the Bureau's work.
All are welcome to attend, with or without donation.
We will pass a bag for donations at the start of the event, but we can also take credit card donations at the register and on this page.
Safety protocol (for those joining in person)
In an effort to prevent the spread of COVID-19:
If you have any symptoms associated with COVID-19 in the days leading up to the event, we ask you to please stay home. We ask all attendees to wear a mask.
Purchase Melanie Mitzner's Slow Reveal (Inanna Publications & Education, 2022, paperback, $22.95) from the Bureau's online store (click on title).
Purchase Ken Harvey's The Book of Casey Adair (U of Wisconsin Press, 2021, paperback, $18.95) from the Bureau's online store (click on title).
Copies of both books are also available at the Bureau's physical store.
Thank you for supporting the Bureau by purchasing books from us!
Melanie Mitzner was awarded an Edward Albee Fellowship for her play Personal Effects. Her screenplay Dodge and Burn was a finalist in the Writers Guild East Foundation Fellowships. In the Name of Love and Out to Lunch were finalists in the Houston Film Festival Screenwriting Competition. She received a fellowship from M.E.T. Theater and fiction grants from Vermont Studio Center and Summer Literary Seminars. An excerpt of her novel Too Good to Be True was published in Harrington Lesbian Quarterly. She's written for Vol1Brooklyn, Wine Spectator, Hamptons, The Groovy Mind, Society for Curious Thought, Broadcast Week, Millimeter and Bloom. She appeared on Best of Women's Fiction podcast. You can follow her on Instagram, Twitter and Facebook. For more information, visit her website: www.melaniemitzner.com. She lives in Montréal and New York.
Ken Harvey is the author of two award-winning books: a short story collection (If You Were With Me Everything Would Be All Right) and a memoir (A Passionate Engagement). He's been published in over twenty U.S. and international literary magazines, including The Massachusetts Review, Consequence, and The Buenos Aires Review. He's read his work on National Public Radio in the United States and in Italy and has been granted writing residencies at the Wurlitzer Foundation and the Millay Colony. A book reviewer for Lambda Literary, Ken holds an MFA in Creative Writing from Bennington College. A native of Boston, he now lives in Toronto with his husband and basset hound, Lily Tomlin.
Date and time
Location
Bureau of General Services—Queer Division
208 West 13th Street
Room 210
New York, NY 10011