Description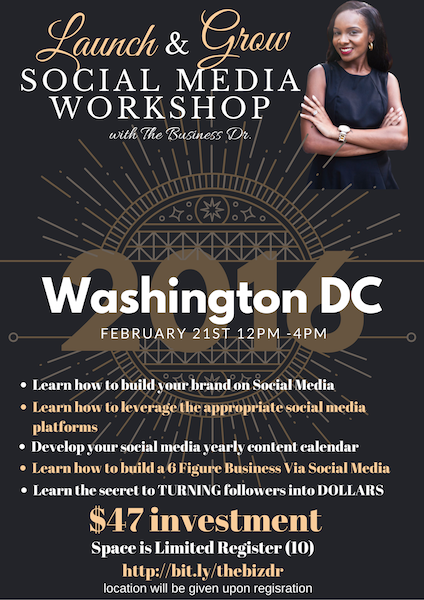 It's a New Year and although your old strategies worked it's time to create NEW strategies. Face it the only way your business will grow is if you continue to reinvent it and be innovative.
I am sure you've heard me preach a thousand times about WHY Social Media is important for your business! It is almost one of the life lines in business. Yes there are many other factors that play on the success of your business however social media marketing is important!
Join me The Business Dr. at my 2016 Launch and Grow workshop! Last year this workshop was a HUGE success. Attendees are now international speakers and books are in Barnes and Noble! I am turning it up a notch (well 6 notches this year) and helping you successfully grow your business via social media!!
During this half day workshop you will:
Learn how to build your brand on Social Media
Learn how to leverage the appropriate social media platforms
Develop your social media yearly content calendar
Learn how to build a 6 Figure Business Via Social Media and,
Learn the secret to TURNING followers into DOLLARS
You will leave with NEW templates that has not been released yet that will be your key to social media success!
Are you ready??