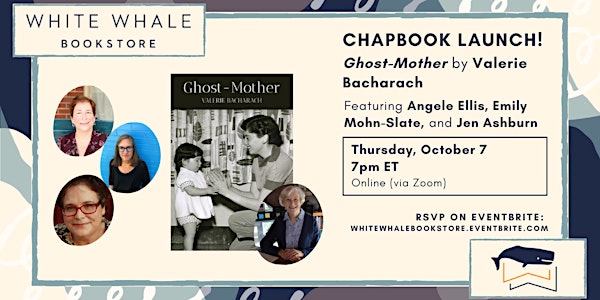 Launch! "Ghost-Mother" by Valerie Bacharach w/ Ellis, Mohn-Slate, Ashburn
Thrilled to host the launch for local poet Valerie Bacharach's new chapbook! Featuring Angele Ellis, Emily Mohn-Slate, and Jen Ashburn
Refund Policy
Contact the organizer to request a refund.
Eventbrite's fee is nonrefundable.
About this event
White Whale is excited to welcome local poet Valerie Bacharach back to our virtual events space in celebration of her latest poetry chapbook: Ghost-Mother! She'll be joined by three more local poets we love: Angele Ellis, Emily Mohn Slate, and Jen Ashburn.
You can order Ghost-Mother on our website! Check out our site here to view all of our upcoming events and local partnerships, purchase books directly from our inventory, and place orders for books we don't currently have in stock
This event will be hosted on Zoom. You'll receive the link to the Zoom meeting the day of the event via email. Free registration/ticket sales will end at 6:30pm ET on 10/7. Please email events@whitewhalebookstore.com if you miss this cut-off and need a ticket. For questions, check out our FAQ for events here.
About Ghost-Mother
How does a daughter, haunted by the death of her mother, honor the enormity of this loss? How does a daughter, carved out by absence, learn to recuperate the spaces of this hollowing? In Ghost-Mother, through a series of exquisite poems that mourn her mother's harrowing decline and passing, Valerie Bacharach explores the contours of grief: its helplessness, its guilt, its inexorable longings. In many of these poems, the poet witnesses stunned or wounded birds, and indeed, this seems the perfect metaphor for the uncomfortable and painful act of a child holding space for a parent's physical disintegration—in which the inevitable transformation to flight and song comes at the cost of great personal sorrow. These are ultimately poems of praise for the beauty and evanescence of life—a paean to knowing what to set free and what to hold fast to ("Sparks from a just-lit match / an arc of moon"), as catalogued within the glowing amber hues of the gorgeous final poem. —Lee Ann Roripaugh, Author of Tsunami vs. the Fukushima 50
About the writers:
Valerie Bacharach received her MFA from Carlow University. Her writing has appeared or will appear in: Vox Viola, Vox Populi, Whale Road Review, The Blue Mountain Review, EcoTheo Review, Kosmos Quarterly Journal, Amethyst Review, On the Seawall, and Poetica.. Her chapbook, Fireweed, was published in August 2018 by Main Street Rag. Her chapbook Ghost-Mother was published by Finishing Line Press in July, 2021. Her poem Bach Trio Sonata #6 in G Major was nominated for a Pushcart Prize.
Angele Ellis's haiku was featured on the marquee of the Harris Theatre after winning Pittsburgh Filmmakers' G-20 Haiku Contest. Her poetry, fiction, and non-fiction have appeared in seventy publications and seventeen anthologies. She is author of Arab on Radar (Six Gallery Press), whose poems about family and heritage won an Individual Fellowship from the Pennsylvania Council on the Arts, Spared (A Main Street Rag Editor's Choice Chapbook), and Under the Kaufmann's Clock (2016), a fiction/poetry hybrid inspired by Angele's adopted city of Pittsburgh, with photographs by Rebecca Clever.
Emily Mohn-Slate is the author of THE FALLS, winner of the 2019 New American Poetry Prize (New American Press), and FEED, winner of the 2018 Keystone Chapbook Prize (Seven Kitchens Press). Her poems and essays have appeared in AGNI, New Ohio Review, Muzzle Magazine, Tupelo Quarterly, The Adroit Journal, and elsewhere. She teaches high school English by day and poetry workshops by night for the Madwomen in the Attic at Carlow University.
Jen Ashburn is the author of the The Light on the Wall (Main Street Rag, 2016), and has work published in numerous venues, including The Fiddlehead, The Writer's Almanac and Pedestal Magazine. She holds an MFA through Chatham University and is a member of Carlow University's Madwomen in the Attic workshops. She's taught creative writing in community workshops, and currently teaches first-year writing at Duquesne University.