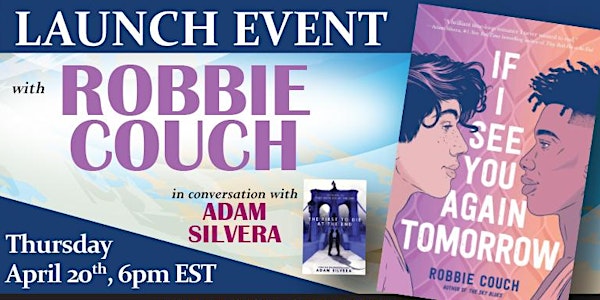 Launch Event | If I See You Again Tomorrow by Robbie Couch
Join us for the live launch of If I See You Again Tomorrow by ROBBIE COUCH!
Date and time
Thu, 20 Apr 2023 18:00 - 20:00 EDT
Location
Books of Wonder 42 West 17th Street New York, NY 10011
About this event
Join Books of Wonder for an Awesome YA Launch!
Books of Wonder is so excited to host the live launch of If I See You Again Tomorrow by ROBBIE COUCH! Robbie will be joined in conversation by ADAM SILVERA, author of The First to Die at the End.
From the author of The Sky Blues and Blaine for the Win comes a speculative young adult romance about a teen stuck in a time loop that's endlessly monotonous until he meets the boy of his dreams.
For some reason, Clark has woken up and relived the same monotonous Monday 309 times. Until Day 310 turns out to be…different. Suddenly, his usual torturous math class is interrupted by an anomaly—a boy he's never seen before in all his previous Mondays.
When shy, reserved Clark decides to throw caution to the wind and join effusive and effervescent Beau on a series of "errands" across the Windy City, he never imagines that anything will really change, because nothing has in such a long time. And he definitely doesn't expect to fall this hard or this fast for someone in just one day.
There's just one problem: how do you build a future with someone if you can never get to tomorrow?
Thursday, April 20th at 6PM EST at Our 17th St Location!
About the organiser
NYC's largest independent children's bookstore and the city's leading specialist in children's literature for almost 40 years! We carry the newest titles from the best authors and artists in the field as well as beloved classics that generations have grown up with. We have a large selection of old, rare, and collectible children's books plus a gallery displaying original art and graphics from the vibrant world of children's books. We host weekly storytimes and numerous author and artist events each week. With a staff of helpful and informed booksellers ready to assist you and your children, we hope you'll visit us soon.  

Come visit us at
42 West 17th St
New York, NY 10011