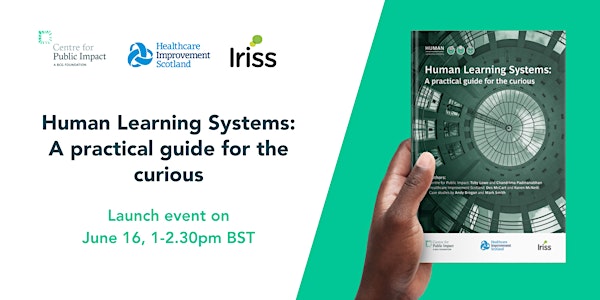 Launch event: Human Learning Systems – A practical guide for the curious
Launch event: Human Learning Systems – A practical guide for the curious
About this event
For some time now, Scotland has been building towards empowered communities with the Scottish approach to public services centred on collaboration with our citizens. We have a person-centred agenda at the heart of all we do through, for example, Self-directed Support and Realistic Medicine, as well as community empowerment. With this powerful agenda, we have much to do to turn learning into actions for sustainable change.
Professor Toby Lowe and his colleagues at CPI have brought together a wealth of emergent thinking around change in a complex system. This thinking resonates strongly with the improvement work both of Healthcare Improvement Scotland (HIS) and Iriss. This led us to jointly commissioning CPI to develop a guide and set of tools, which provide people across health and social care with practical guidance on implementing change. Based on our learning to date, we are confident that this can truly shape a system that actively learns and adapts with our complex world, and creates the conditions for each of us to be supported to live our best lives .
From 24th May at 14:00 access a copy of Human Learning Systems- A practical guide for the curious by following this link.
For future information on HLS in Scotland, please sign up for the mailing list here.
This event will be recorded. During the booking process, you will be asked for your consent for this recording. If you have any questions about the use of the recording, please contact the team ahead of your registration on his.collaborativecommunities@nhs.scot
We collect personal data from you including your name, job title and contact details using a third party, Eventbrite. This allows us to administer bookings for the event. We may also ask about special requirements so that you can participate as fully as possible. We use your booking data to provide you with information before the event and to follow up with you afterwards.
We will not share your information with external individuals or organisations unless permitted or required to do so by law. We keep personal data secure and just as long as needed. For more information on how we handle personal data, and how to contact the UK Information Commissioner to complain, please see our online privacy notice on our webpages.
This data is used to help facilitate the meeting and monitor attendance. If the meeting you attend offers an interactive poll or Q&A session, participation is not mandatory, however your name may be processed with your poll responses or questions.
Further information about how we manage personal data can be found on our privacy notice or by contacting our data protection officer here: Privacy Statement
Email: his.informationgovernance@nhs.scot
Tel: 0141 227 3281
If you would prefer not to use Eventbrite, please contact the team on his.collaborativecommunities@nhs.scot