Description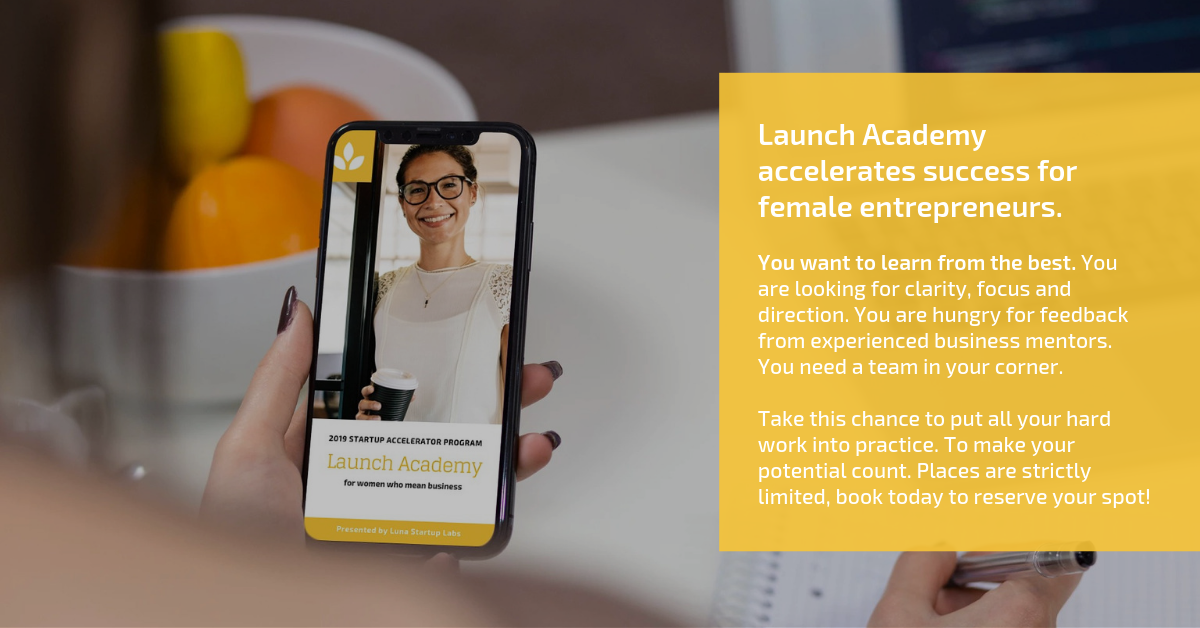 Launch Academy is a 6-Month Startup Accelerator for Women.
Are you ready to stop dreaming, and start doing?
Launch Academy is an entirely new way to support female entrepreneurs. The six month virtual accelerator offers a unique combination of hands-on training, business mentorship, tailored content, a like-minded community, and performance coaching. You will emerge transformed, with a step-by-step plan to turn your ideas into reality as you launch and grow your business.
Your Journey Over 6-Months
Classes and coaching sessions are delivered live, online. The experience is designed to come to you and fit around your professional career. The Launch Academy Program runs from Apr 30 - Oct 08, 2019. Classes meet on Tuesdays, 12:00 pm - 1:30 pm EST.
Module 1 - Ignite Your Genius (4 weeks)

Module 2 - Customer Discovery (4 weeks)

Module 3 - Product Roadmap (4 weeks)

Module 4 - Pitch Perfect (4 weeks)

Module 5 - Profit on Purpose (4 weeks)

Million Dollar Marketing (4 weeks)
Who Should Attend?
Launch Academy is designed for:

Aspiring entrepreneurs who want to test new ideas.

Entrepreneurs ready to take business up a level.

Executives looking to innovate in their current role.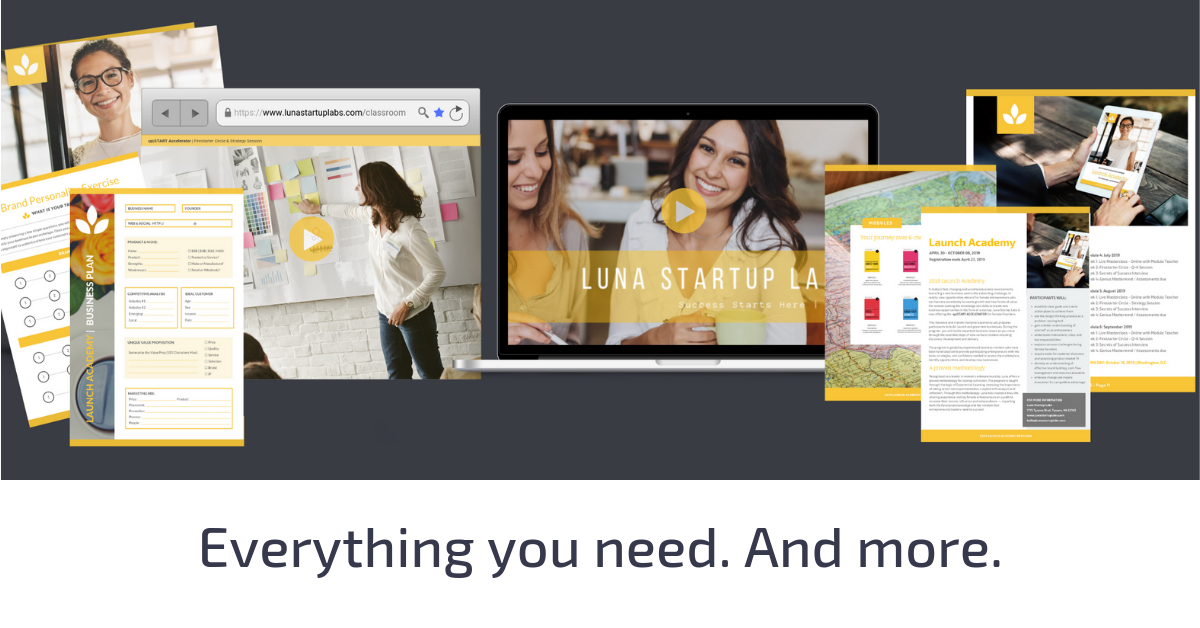 What's Included?
6-Month structured startup training program

24 highly interactive live training sessions

Monthly mentoring & coaching

Invitation to present at Demo Day in Washington, DC

Certificate of completion
Our monthly schedule:
Week 1: Live Masterclass w/ Industry Expert

Week 2: Group Coaching & Strategy Session

Week 3: Secrets of Success Interview

Week 4: Genius Mastermind

Week 4: Assessments Due
Our Vibe, Your Tribe
Although our vibe is warm and welcoming, it's the nitty gritty business advice we provide that keeps our students coming back for more. You'll leave this program with a fresh perspective, actionable plans, new business connections, and lifelong friendships.
Reserve your seat today!
This is a small-group experience, and seats are limited.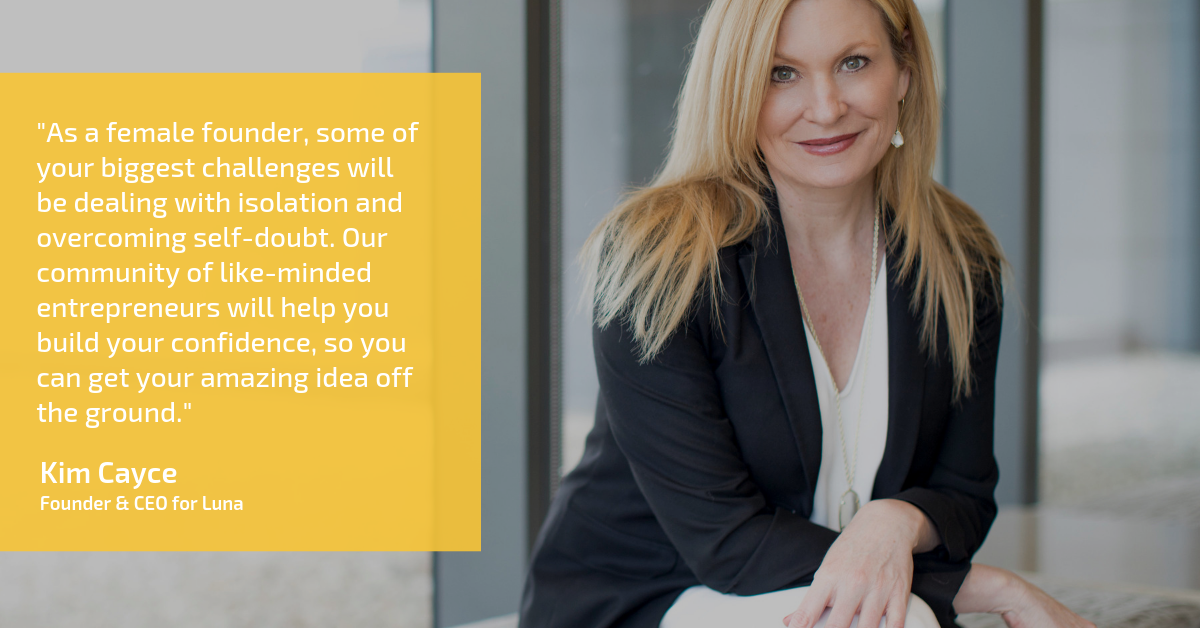 A unique online program designed for your busy life.
Launch Academy is offered online so women can learn on their terms. We believe that continuing education is the secret to success, and by investing in yourself and surrounding yourself with supportive people who can help you reach your goals, you will save time and money while greatly improving your chances of success for your venture.
The Benefits of Online Learning
Flexible & Interactive: Learn from your home or office, anywhere in the world, all online events are offered live so you can connect with your instructor and learn from your peers.
Increased Accountability & Effectiveness: Online students learn 5x more in online multimedia courses than in traditional face-to-face courses and include workbooks and resources to reinforce concepts.
Connect With Like-Minded Women: It's the informal connections you make that are invaluable. You will enjoy small group mastermind sessions and reap the benefits of peer-to-peer learning.
Spark Creativity and Innovation: You will enjoy the respite from the day-to-day operations of your business, giving you the freedom to spark your creativity, develop new ideas and think in innovative ways.
Affordable & Practical: Online programs are taught by our experienced faculty, and include the same hands-on learning as our live events in a condensed session offered at a reduced price.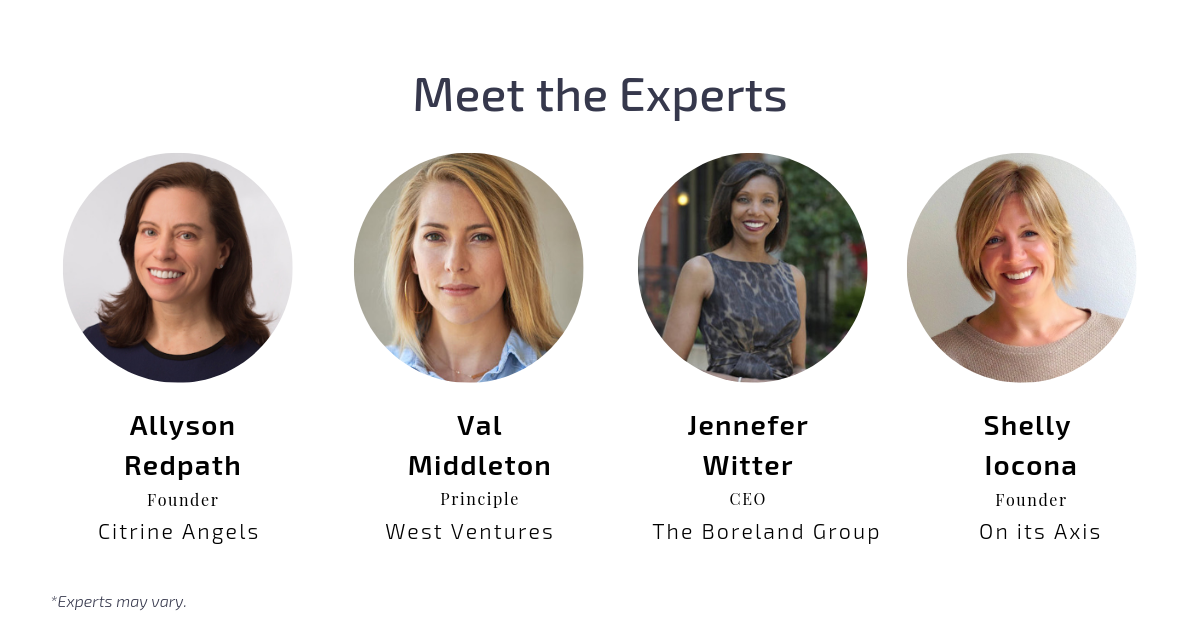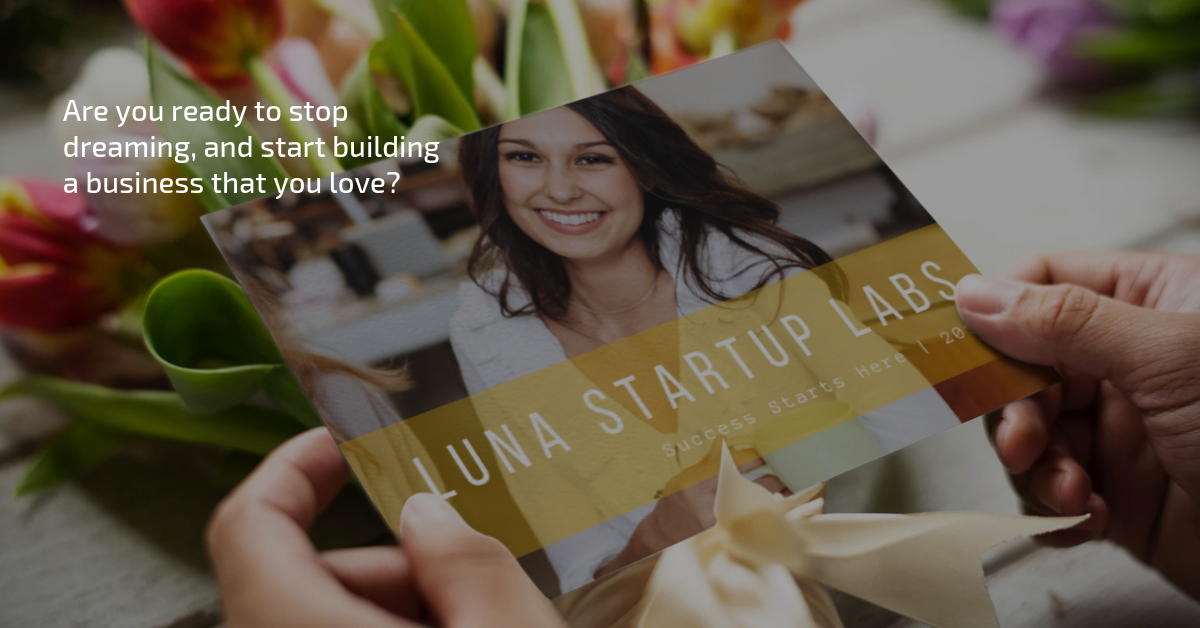 About Luna Startup Labs
Re-energize your business and yourself
Luna works with entrepreneurs, executives and organizations from around the world to turn ideas into action. Our programs will equip you with practical tools and strategies that will have an immediate impact on your organization or business.
We are so passionate about supporting women that we have created a Business School specifically for women. Each event is filled with practical, hands-on learning. You will emerge from our programs transformed, with a network of like-minded women, ready to advance your business and career.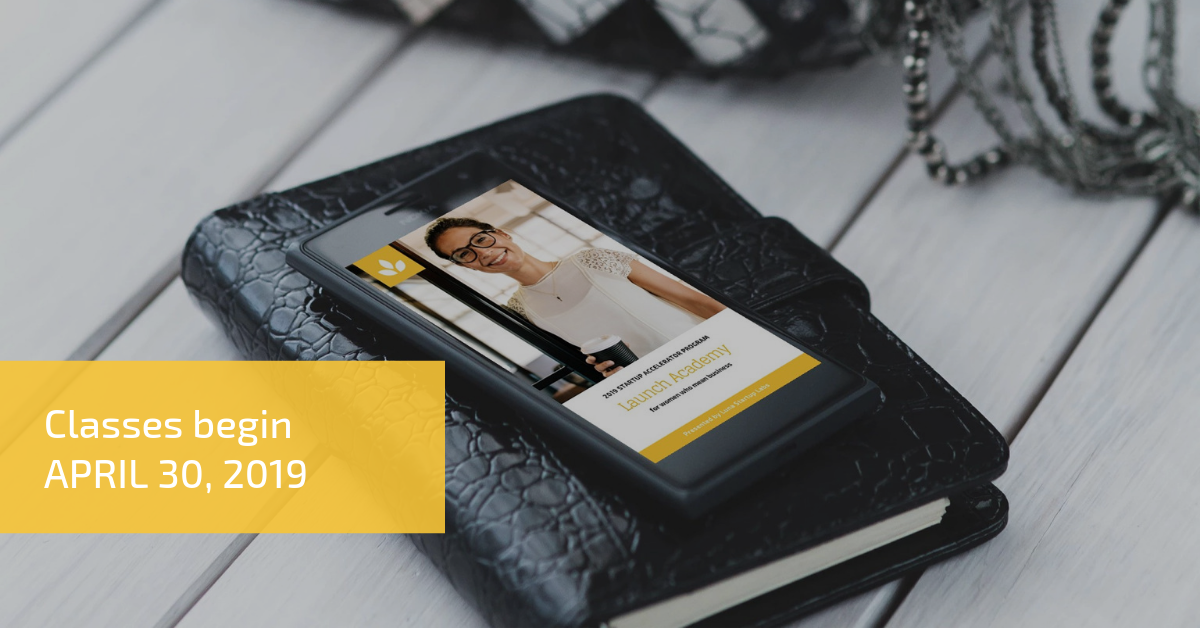 Get Started Today!
If you are ready to stop dreaming and start building a business that you love, this is the solution you have been looking for. You will get the education, mentorship, resources, and support, to help you launch and grow your business with confidence.
IMPORTANT NOTE: All purchases through EventBrite will be contacted within 48 Hours with orientation information for the Launch Academy program. If you would like to get the complete program brochure, download your FREE copy here in order to get the 15-page guide.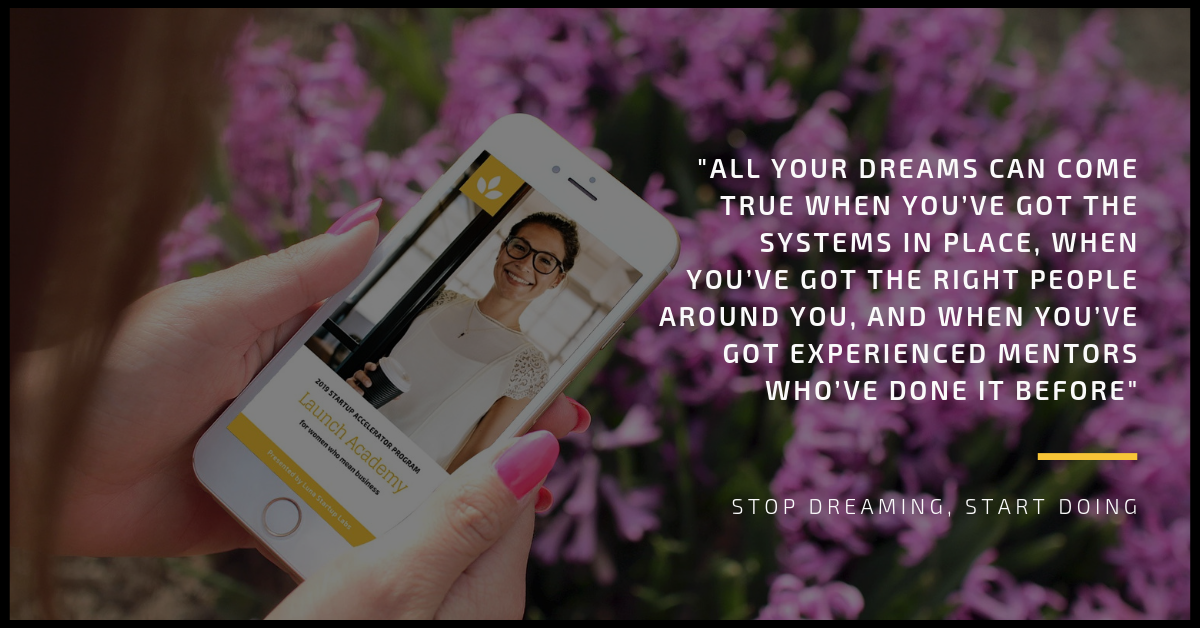 FAQs
What are the dates and times?
Classes begin on April 30, 2019 and end on October 08, 2019.

Classes meet every Tuesday, from 12:00 pm to 1:30 pm EST.
Who can attend?
Launch Academy is a global accelerator that connects women from around the world; everyone is welcome to join. The program is delivered in English, and we ask that you can speak, read, and write English to get the most out of this program.
Are there business ownership requirements?
Entrepreneurs of all levels are welcome here. We have members of all skill and experience levels, from college students to entrepreneurs to multi-million dollar enterprises.
How much does it cost?
6 easy payments of $399 (make the first payment today, followed by monthly billing)

Single payment of $1999 (pay today and save $385)
What happens after registration?
You will receive a welcome email within 24 hours of registration.

Before the first class, we ask that you complete an in-take form to learn about you.

You may schedule a welcome call with our team.

You will receive links to the online classroom 48 hours before the first class.

You will also receive an orientation video with helpful tips.
What's the refund policy?
We offer a Risk-Free Happiness Guarantee, so you can register for Launch Academy at no risk. Reserve your spot today, and if for any reason, by the end of the first class, you honestly feel we did not deliver on the information promised, just turn in your materials, ask for a full 100% refund and we will return your investment within 21 days, less a 5% processing fee. If you are unable to attend after registration you may have a qualified candidate take your place. Call our customer service line at least 5 days prior to the start of the first class to transfer your enrollment or to request a full refund, less a 5% processing fee. If you are unable to attend and do not wish to transfer your ticket to someone else, we will apply your enrollment to a non-refundable credit toward any future Luna Startup Labs event for up to 24 months from your purchase.
How can I contact the organizer with any questions?
Visit our website and complete the contact form here.