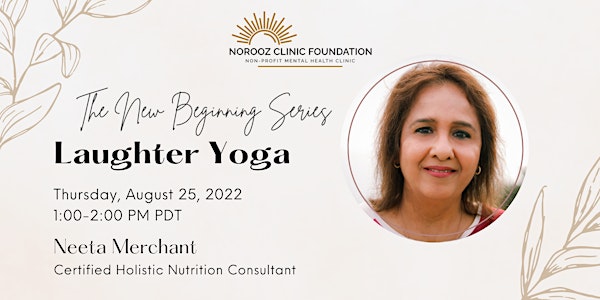 Laughter Yoga
Join our free webinar to learn about Laughter Yoga for health and happiness!
About this event
In the month of August, we're hoping to spread and promote happiness in celebration of National Wellness and Happiness Happens Month. Please join us in our upcoming webinar of "The New Beginning Series" with the guest speaker, Neeta Merchant; she's a certified Holistic Nutrition Consultant, Meditator, Pranayama and Laughter Yoga Instructor.
With the current pandemic situation and challenging economic times, stress levels are higher than ever before. Laughter Yoga is a unique exercise routine which combines unconditional laughter with yogic deep breathing exercises and laughter meditation. Some of the benefits of this fun session include:
Reduces stress quickly
Improves physical health
Maintains emotional balance
Increases blood circulation
Laughter Yoga is a cost-effective and less time-consuming exercise routine that reduces physical, mental, and emotional stress simultaneously and brings an emotional balance.
The New Beginning Series: Laughter Yoga
When: August 25, 2022 from 1:00 to 2:00 PM PDT
Where: Via Zoom - https://us06web.zoom.us/j/85117932241?pwd=M1JkaFdqN2ZnM3YweEp5b0lva3c1Zz09
Meeting ID: 851 1793 2241. Passcode: 905080
Neeta Merchant is a certified Holistic Nutrition Consultant, who is very passionate about helping people cultivate a healthy relationship with food and their body. She empowers and educates her clients to use food and lifestyle changes to support their body, mind, and spirit. Ultimately, they achieve balanced wellness and live a healthy, blissful life. Her values are to work with clients in a thoughtful compassionate way and hold their hand in their wellness journey.
The webinar will be a fun and educational session about Laughter Yoga and we will be able to practice the exercise together.