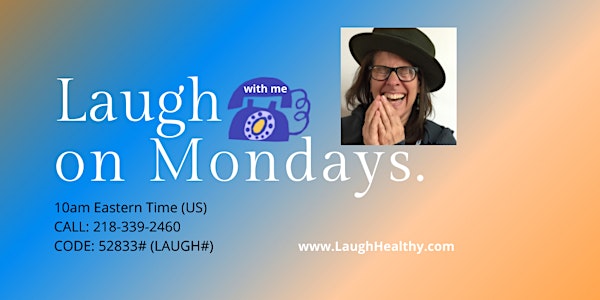 Laughter Yoga on the Phone Monday Mornings with Sarah from Wherever You Are
Location
Philadelphia event on the phone from anywhere you are
123 Anywhere You Live
Call from your office, home, or anywhere
Philadelphia, PA 19152
Start your week with PURPOSEFUL PLAYFUL LAUGHTER! Mondays 10am EST CALL: 218-339-2460 CODE: LAUGH# (52844#) Powerful fun inspiring exercise
About this event
A recent participant said:
"Sarah is a powerhouse of joy, laughter, and insight! She's also truly amazing at connecting with and inspiring people. I cannot recommend working & laughing with Sarah enough. Not only will you be happier, but you'll also have the pleasure to learn from a truly inspired, loving, fun human being!"
Experience it for yourself! Spend just 15 minutes with Sarah on the phone on Mondays and start your week with energy, positivity, and motivation to carry with you! Feel free to share with your friends, family, and colleagues ~ you can call from your car, your office, or anywhere. For questions or to be added to the reminder email, visit: www.LaughHealthy.com/eventsI can't wait to share playful purposeful laughter with you - Laughter really is the best medicine.
Experience these wonderful benefits: ~ Increased: energy, focus, creativity, productivity, blood & oxygen flow in the body ~ Decreased: stress, anxiety, depression, pain ~ Easy way to get exercise when you're on the go ~ Don't forget how much FUN you'll have...and you'll feel GREAT!
Call any Monday at 10am Eastern: 218-339-2460 Code: 52844# (LAUGH#) Event is FREE RSVP Requested. Once you RSVP I will send you information so you'll know what to expect on the call.Schedule a call to learn more: www.Calendly.com/LaughHealthy