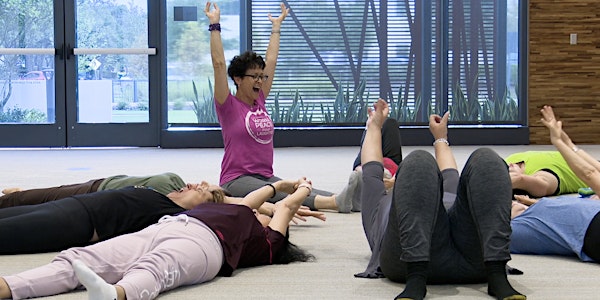 Laughter Yoga (In Person)
Join us in person for "Laughter Yoga" on Thursday, August 25 at 6 PM in the Community Conference Center.
When and where
Location
Center for Health & Wellbeing 2005 Mizell Avenue Community Conference Center Winter Park, FL 32792
About this event
Join certified Laughter Yoga teacher Dana Kaplan in this program focused on helping your body create feel-good hormones using a gentle form of exercise that combines breathing techniques from yoga with laughter exercises. Laughter Yoga will leave you feeling more lively and healthier than ever. Proven to release stress, Laughter Yoga is also proven to boost your immune system, exercise your heart and lungs, elevate your mood, improve your circulation, help reduce symptoms of arthritis, asthma, allergies and pain, and help you foster feelings of kindness, joy, forgiveness or love. Laughter truly is the best medicine!
Special Note: No yoga mat is needed. Laughter yoga can be practiced standing or sitting, regardless of fitness level. If you can laugh, you can do Laughter Yoga. It's best to do Laughter Yoga on an empty stomach.
By participating in this session, you can expect to:
learn stress-relief techniques.
learn the Physical, mental, Emotional and Spiritual Wellbeing benefits of laughter.
leave feeling relaxed, joyful and connected to their higher selves.
This program is presented by Dana Kaplan and hosted by the Winter Park Health Foundation.
Cancelling Your Reservation: If you are unable to attend a program, cancelling your reservation gives us an accurate count of how many to expect; for sold-out programs, cancelling your reservation also allows someone on the waitlist to attend in your place. Cancelling can be done in two easy ways: by calling 407.644.2492 and selecting Option 1, then Option 3 to speak to a representative or by using the online ticket cancellation option in your original confirmation email from Eventbrite.
By participating in this program, you agree to CHWB's Gracious Space policy.
About the Presenting Organization
Dana Kaplan is an experienced yoga teacher registered with Yoga Alliance (E-RYT 500), a mantra artist leading the kirtan band To Bring Devotion as well as certified Laughter Yoga teacher. Her Laughter Teacher Training was with the founder of Laughter Yoga, Dr. Madan Kataria. Kaplan has been leading regular Laughter Yoga clubs since 2010, both in person and more recently virtually. She also leads Laughter workshops at Yoga Festivals up and down the east coast and at special events. She loves sharing the joys and health benefits of Laughter Yoga with all. She particularly likes the way all barriers of separation melt away as we connect to one another at a heart level, which is the meaning of yoga.
Click here to watch a video on Laughter Yoga at the Center for Health & Wellbeing.