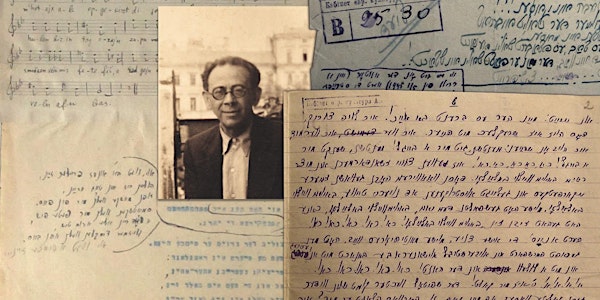 Laughing at Hitler: Soviet Yiddish Music and Humor during World War II
Anna Shternshis (narration) and Psoy Korolenko (vocals and piano)'s lecture-concert about Yiddish songs in the Nazi-Occupied Soviet Union.
About this event
The Jewish Music Forum, A Project of the American Society for Jewish Music, is pleased to present "Laughing at Hitler: Soviet Yiddish Music and Humor during World War II," a lecture-concert with narration by Dr. Anna Shternshis, and a vocal and piano performance by singer, songwriter, and scholar Psoy Korolenko.
Description:
Based on a recently discovered archive in the Ukrainian National library, this lecture-concert presents a number of Yiddish songs created in the Soviet Union under the Nazi occupation, in the Red Army and in the Soviet Rear. Anna and Psoy will present Yiddish songs that ridicule the German Army and Nazi leaders, ones that address the tensions between Jewish refugees in Romanian-run ghettos in Transnistria (Bershad, Mogilev-Podolsk and Shargorod), and other humorous pieces.
All Jewish Music Forum events are free and open to the public. Please register on Eventbrite to receive the Zoom link by email.
Anna Shternshis is the Al and Malka Green Professor of Yiddish studies and director of the Anne Tanenbaum Centre for Jewish Studies at the University of Toronto. She received her doctoral degree (DPhil) from Oxford University in 2001. Shternshis is the author of Soviet and Kosher: Jewish Popular Culture in the Soviet Union, 1923 - 1939 (Indiana UP, 2006) and When Sonia Met Boris: An Oral History of Jewish Life under Stalin (Oxford UP, 2017). Together with artist Psoy Korolenko, Shternshis created and directed the Grammy-nominated Yiddish Glory project, an initiative that brought back to life forgotten Yiddish music written during the Holocaust in the Soviet Union. A recipient of 2020 Guggenheim Fellowship, she is currently working on a book tentatively entitled Last Yiddish Heroes: A Lost and Found Archive of the Holocaust in the Soviet Union about Yiddish music created in Nazi-occupied Ukraine.
Pavel Lion, a.k.a. Psoy Korolenko, is one of Russia's most popular – and clever – songwriters, as well as a pre-eminent Yiddish singer, songwriter and scholar. Self-referred to as a ''wandering scholar'' and an ''avant-bard'', he is known for his multilingual one-person cabaret-esque shows, which balance folk and klezmer music, free-style poetry and intellectual comedy. Psoy writes and sings in English, Russian, Yiddish, and French. On stage since 2000, he has published one book of selected essays and song lyrics, ''The Hit Of The Century'', and 14 CDs – some of them in collaboration with active Jewish and Klezmer musicians ("Opa!", Daniel Kahn, Igor Krutogolov, "Oy Division"). Psoy is a member of the organizing committee for a Russian American music festival JetLAG, a guest of many klezmer music festivals, and an ex-artist in residence at the Trinity College (Hartford), The University of Michigan (Ann Arbor), Dickinson College (Carlisle, PA). An author of insightful and sophisticated Russian sung poetry, Psoy is also known for his keen and explorative vision of the art of translation, "tradaptation" and what he calls Spell-Art (i.e. playing with foreign text, emphasizing linguistic distances, multilingual songs etc).