Laugh with the Lilly Scholars Network at our social on Sept. 30 @ ComedySportz!

Friday, September 30, 2011 from 7:15 PM to 9:30 PM (EDT)
Event Details
Laugh with LSN at ComedySportz!

Key Details
ComedySportz - 721 Massachusetts Avenue, Indianapolis, IN 46204
Friday, September 30
Show starts at 7:30 PM; please arrive by 7:15
Tickets are $12.50 per person, plus a $1.68 service fee ($14.18 total) 
Register by September 28 to reserve your spot (current and alumni scholars + significant others/guests welcome)!
About this Social Event
Join the Lilly Scholars Network for our first social outing of the season. Current and alumni scholars will come together to enjoy an evening of laughter - and significant others/guests are welcome too!  
ComedySportz is team competitive improvisation;  think "Who's Line is it Anyway" with a sporting twist.   Two teams of improvisational "Actletes" compete for laughs, points on the scoreboard, and the Meaningless Trophy.  The referee keeps the match moving, gets suggestions from the loyal fanz, and calls any foul that occurs on the playing field.  SinceComedySportz is an actual sport, there are fouls that can occur.
The "Groaner Foul"  will be called if an "Actlete" says something so stupid or punny that the loyal fanz audibly groan.   The offending "Actlete" will then have to apologize.   The loyal fanz will be able to accept or reject the apology.   If the apology, is denied then points will be taken away from that team's score.
The "Brown Bag Foul" will be called on an "Actlete" who says something naughty.   ComedySportz is an all ages family friendly event.   The "Brown Bag Foul" makes sure that the content of the match is family friendly.   Also the "Brown Bag Foul" is the one foul that can be called on the Loyal Fanz as well.   This keeps the match clean.   If the "Brown Bag Foul" is called, the offending Actlete or Fan will then have to wear a brown paper bag on his or her head.  Points will be removed from the team's score, or in the case of the Loyal Fan, dignity will be lost.
Each game or scene will start off with suggestions from the Loyal Fanz.   At the end of each round, the audience judges will vote on which team was funnier.   The funnier team will then get however many points the Referee decides.  And of course,  as with most sporting events, each ComedySportz match begins with the singing of the National Anthem and our theme song "Take Me Out to See Improv".   La la la laaaa…
ComedySportz is the longest running show in Indianapolis, now in its 18th year. It's not comedy about sports - it's improvisational comedy played as a sport. If you love "Whose Line Is It Anyway?," then you'll love this. We hope you can join us! 
Questions? 
Email lillyscholars@gmail.com or
call Bryana Schreiber, LSN Alumni Board President, at 214.499.0836.
About the Lilly Scholars Network
The mission of the Lilly Scholars Network (LSN) is to establish a network of current and alumni Lilly Endowment Community scholars devoted to serving the community, encourage participation throughout the state and develop friendships and bonds.
How LSN Started
The Lilly Scholars Network (LSN) is a volunteer service organization that was started by Lilly scholars from Wabash College and Butler University at a meeting in the fall of 2006. The group at this meeting started LSN with two main objectives: giving back to the community and creating a sustainable network of Lilly Scholars throughout the state of Indiana.
Moving LSN Forward
Since the fall of 2006, LSN has brought together many Lilly Endowment community scholars who have worked together to complete numerous service projects with various nonprofit organizations in and around Central Indiana. LSN has also hosted a variety of successful social events and created a number of campus chapters. The first official student chapter was started at Butler University, and there are currently active chapters at Butler, UIndy, Purdue, Ball State and IU.  Scholars at other campuses have shown interest in starting chapters on their campuses as well and we look forward to working with them!
Ideally, we would like to establish LSN chapters on campuses throughout the state of Indiana. We want to make the transition to college for Lilly scholars and help them connect with other leaders like themselves, and engage with their communities – at home, at school and wherever they go. Beyond reaching current scholars, LSN also aims to bring alumni scholars together to connect, network, serve as mentors and give back not only in campus communities, but around the state. 
Each year we seek to engage more scholars and expand our reach and impact.  Ultimately we aim to bring more and more Lilly scholars together and motivate them to continue to be active citizens in their communities and throughout their lives.  The hope is that through LSN you will serve, lead and inspire others to do the same.
When & Where

ComedySportz
721 Massachusetts Avenue
Indianapolis, IN 46204


Friday, September 30, 2011 from 7:15 PM to 9:30 PM (EDT)
Add to my calendar
Organizer
Lilly Scholars Network (LSN) Give Back INitiative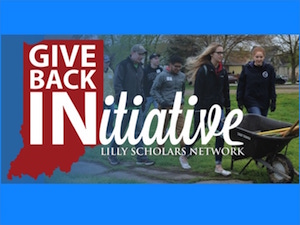 Each year since 1998, Lilly Endowment has awarded 4- year, full-tuition Lilly Endowment Community Scholarships to selected Indiana high school seniors enabling more than 4,000 students from all 92 counties to pursue higher education in Indiana. Now, both current and alumni scholars are joining forces to make an impact in communities throughout Indiana and beyond.  Grateful for the incredible scholarships they were awarded, recipients of this prestigious award are banding together to pay it forward through a month-long statewide service event – the Lilly Scholars Network Give Back INitiative.
The Lilly Scholars Network, a community of Lilly Scholars, has engaged scholars in various service, social and professional development events during the past ten years. This year, the Lilly Scholars Network is mobilizing Lilly Scholars to take the lead and make an even greater impact in their local communities.
During the month of April, current and alumni Lilly scholars will roll up their sleeves to work on volunteer projects around their Hoosier home state and internationally. The Lilly Scholars Network Give Back INitiative mobilized scholars to serve as Project Leads and organize a community service project in an Indiana county of their choosing. In its first year, the Give Back INitiative will host projects in twelve Indiana counties. 
Laugh with the Lilly Scholars Network at our social on Sept. 30 @ ComedySportz!