'Laugh It Up, Brooklyn!' - The 2017 Art of Brooklyn Film Festival
Description
'Laugh It Up, Brooklyn!'
This delicious block is a warm, supple blend of side-splitters and charming portraits of lovable characters.



SOULFINGER vs GOLDFINGER
Comedy, 2m
Directed by Crazy Legs Conti
Brooklyn Premiere
An epic battle of SOULFINGER (Denzel Washington) against GOLDFINGER (Al Pacino) Shot just off Brooklyn's Kent Ave.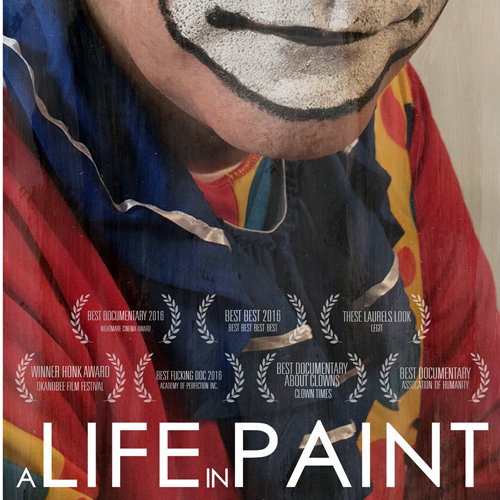 A Life in Paint
Comedy, 7m
Directed by Luis Alcaron
World Premiere
A mockumentary about the heartbreaking plight of the modern-day urban clown. Shot in Brooklyn with a Brooklyn-based cast and crew.
¡Hola Kitty!
Documentary, 10m
Directed by Daniel Burity
The film is a metaphor of faceless immigrants who work in the shadows of American society. The documentary blends social commentary with pop culture as it highlights an immigrant in a Hello Kitty costume. The director lives in Brooklyn.
The Tables
Documentary, 15m
Directed by Jon Bunning
Brooklyn Premiere
A look at the powerful connection between a pair of outdoor ping pong tables in the heart of New York City and the unlikely group of people they've brought together. The director and several of the subjects live in Brooklyn.
Sure-Fire
Comedy, 15m
Directed by Michael Goldburg
NYC Premiere
A comedy about Benny Boon, a NYC con man having a mid-life crisis who wants to "go legit." Instead, he stumbles into posing as a producer making a movie called "Hooker Mom" to pay off gangsters trying to kill him. Co-written by award-winning screenwriter, Brooklyn-raised Dave Chan.
Shoot Me Nicely
Comedy Drama, 19m
Directed by Elias Plagianos
A fashion photographer loses his elite magazine job, plunging him into a downward spiral of odd jobs and celebrity chasing. Starring Linda Hamilton (Terminator), William Sadler (Shawshank Redemption, Iron Man 3), John Behlmann (Blue Bloods), Jackie Martling (The Howard Stern Show). This Red-Hook-based production company has been making films in Brooklyn for over 10 years.