Description
Join us for a night full of laughter with the extremly talented Juston McKinney for the Sawtelle Family.
Doors open at 6:30pm and show starts at 7pm. This show is 21+ only.
Our Story
Chiari. One word that changed our lives forever. Two years ago our lives were turned upside down with the diagnosis of Chiari Malformation for our sweet Connor who is now 4.
Chiari is a Malformation of the skill causing the brain to descend into the spinal column causing many painful and debilitating symptoms. Shortly after the diagnosis, Connor underwent his first of many brain surgery. Since then he has had 3 brain and 2 spine surgeries along with countless testings and procedures. He's currently tube fed and wears a brace to maintain stability in his neck.
Last fall our lives came crashing down once again when our preemie Charlee was diagnosed with the same condition along with hydrocephalus (fluid on the brain). She underwent emergency brain surgery to save her life in October. Charlee at the age of almost 2 has undergone 3 brain surgeries in less than a year.
Just when we thought life couldn't get any more complicated our oldest Natalee (age 7) and myself (mom) just got diagnosed with Chiari. Both her and I will need to have surgery at some point.
There is NO cure for this monster of a diagnosis and all it's lovely friends it brings. The only want to slow progression and help any symptoms is brain surgery. We currently travel from Maine to the amazing experts in Manhattan who fight every day to find a cure.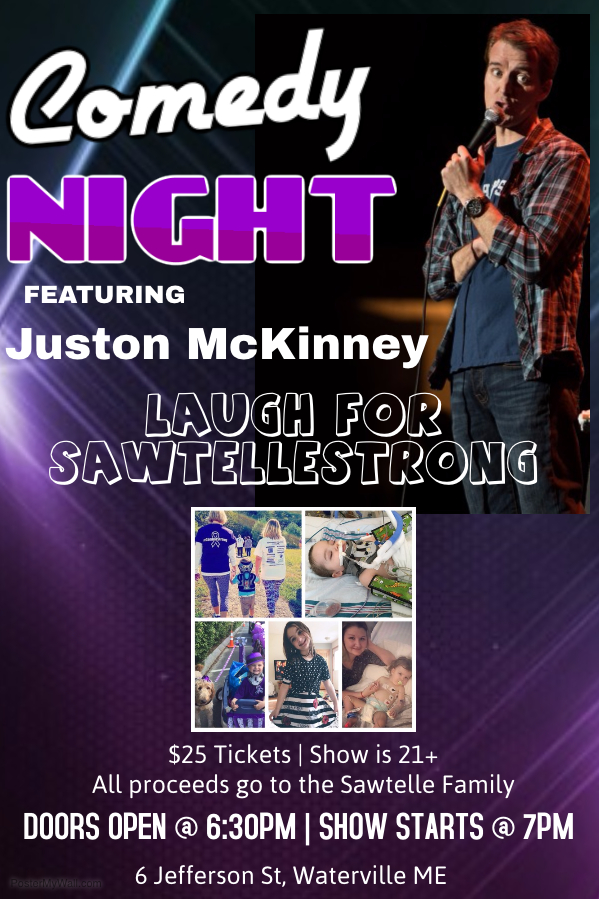 Comedian Juston McKinney
Date and Time
Location
Refund Policy