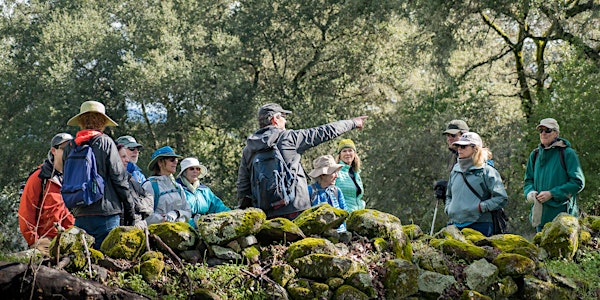 Laufenburg Ranch History With Arthur Dawson in Knights Valley 3-14-20 Members
Description
Explore Laufenburg Ranch's rich human stories and ecological history with historian Arthur Dawson while enjoying spectacular views of Mount St. Helena. We'll visit a 130-year-old barn and the turn-of-the-20th Century homestead where Charlie Laufenburg spent his life — and consider environmental cycles and people's changing relationships with the land.

Level 2- some inclines with good trails, approximately 2 miles with 300 feet of elevation gain

About Laufenburg Ranch
The 176-acre turn-of-the-century farm in Knights Valley was bequeathed to Sonoma Land Trust in 1987 by the late Charles Laufenburg. The Ranch features an historic barn, oak woodlands, and expansive views of Mt. St. Helena. Bidwell Creek, which runs through Laufenburg Ranch, is habitat for salmonids and endangered freshwater shrimp. Sonoma Land Trust partnered with Circuit Rider Productions' Watershed Science program for several years to expand the riparian corridor along Bidwell Creek and provide environmental education opportunities for local youth.
If you have any questions please contact us at outings@sonomalandtrust.org or (707) 526-6930 x 110.