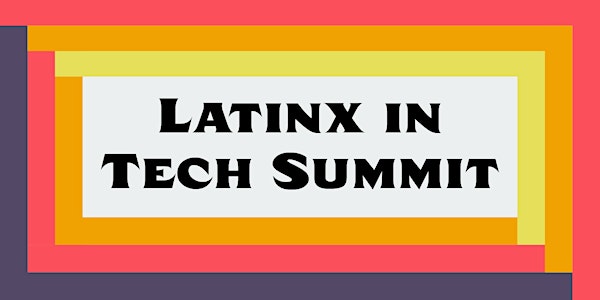 LatinX in Tech presented by Accenture
Capital Factory welcomes you to our Latinx In Tech Summit presented by Accenture!
About this event
At Capital Factory we're dedicated to increasing diversity in the tech community and making our co-working space an inclusive environment for people of all backgrounds and identities. We lead and participate on teams that drive innovation by bringing diverse backgrounds to the conversation.
Check out our 2019 Diversity, Equity and Inclusion Report, which reflects on our work the past few years, what we're doing currently, and how we want to continue improving in the future. Read more about it here. If you have any feedback or comments, we'd love to hear from you!
**IMPORTANT NOTE: This event will be live-streamed on Hopin for online attendees.
WHO IS THE EVENT FOR?
LatinX leaders, entrepreneurs, and allies in tech who support and invest in diversity and inclusion. Join our new LinkedIn Group and start connecting with fellow entrepreneurs, tech professionals and more who will be attending the summit! Discuss takeaways, the session topics as well as future opportunities during and after the event!
WHAT TO EXPECT
Attendees can look forward to:
A keynote address from John Henry, entrepreneur, investor, and host of "Hustle" on Vice News reflecting on the current state of entrepreneurship and venture capital for underrepresented founders
A Startup Showcase Pitch Competition
Panel Building for LatinX: Growing the Workforce that will discuss ways the tech industry can improve, raise awareness, provide access, and grow LatinX tech industry employment rates feat. Albert Baez, Maria Salamanca, Tony Aguilar, and Yesenia Reyes
Panel LatinX DREAMers in Tech focusing on how DREAMers aren't able to fully take advantage of the LatinX talent pool and how immigration policy is impacting the landscape for LatinX entrepreneurs feat. U.S. Congressman Joaquin Castro, Lisa Woodson, & Eugene Sepulveda
These conversations are designed to increase, retain, and elevate LatinX entrepreneurs in the tech sector. Industry experts will discuss the importance of diversity and inclusion, best practices for a more equitable workforce, and showcase the accomplishments of LatinX Tech Founders.
This event will be online and streamed on Hopin. We will also have an in-person outdoor happy hour following our event at 4:30pm at LatinX-owned Wanderlust Wine Company!