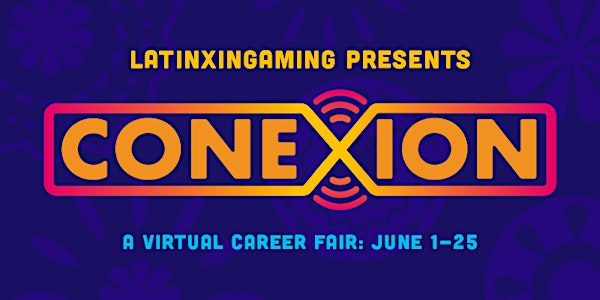 Latinx in Gaming presents: CONEXION 2022 - A Virtual Career Fair
Latinx in Gaming presents CONEXION, a Virtual Career Fair connecting Latinx professionals with growth and jobs in the gaming industry.
About this event
Latinx in Gaming presents CONEXION, a Virtual Career Fair, connecting the biggest companies in gaming with a diverse pool of talented candidates.
Follow @latinosingaming on Twitter for more information and updates.
Thanks to our Sponsors: NIANTIC, EA, IGDA, IRON GALAXY, SONY & UNITY for helping us host this event!
Friday, June 24th
8:00am PT( 11:30am ET) - 5:00pm PT (8:00pm ET)
Our online conference features multiple breakout rooms throughout the day with direct access to some of gaming's top companies:
Niantic
Unity
Activision Blizzard
Electronic Arts
Riot Games
Iron Galaxy Studios
Nintendo
Jam City
DOTS
Second Dinner
Sony Playstation
Owlchemy Labs
And more TBD!
IN ORDER TO PARTICIPATE IN THE CAREER FAIR, YOU MUST SUBMIT A RESUME TO US WITH YOUR TICKET. EMAIL US AT CONTACT@LATINXINGAMING.COM WITH ANY ISSUES.
Saturday June 25th, 10:00am PT (1:00pm ET) - 12:30pm PT (3:30pm ET)
Pitch your game to an Investor Panel of talented executives and developers for feedback and funding.
Prize Pool of $5,500 in grants to winning projects.
Sign up to participate in the Investor Panel here!
Once you sign up, you will receive an email with more information from the Latinx in Gaming Team!

Join the Puerto Rico Game Developers Association (PRGDA) for a day of office hours with industry professionals hosted on GatherTown.
SCHEDULE:
Friday June 17th 10:00 am PT (1:00pm ET)- 4:00pm PT (7:00pm ET)
Saturday June 18th 6:00am PT (9:00am ET)- 12:00pm PT (3:00pm ET)

During the month of June, Latinx in Gaming will host free webinars to level up your skills:
June 2, 4:00pm PT (7:00pm ET) The Recruiter's Guide to Getting Hired with Iron Galaxy Studios
June 7, 4:00pm PT (7:00pm ET) The Potency of Personal Brand with Cristina Amaya
June 14, 2:00pm PT (5:00pm ET) Exploring how Internships work within big orgs like Nintendo!
June 21, 3:00pm PT (6:00pm ET) Tips from the Trenches - How to help recruiters & hiring managers get you through the door
June 21, 5:00pm PT (8:00pm ET) - Riot Games Internship Program - Join Riot Games University Teams for an overview of the internship program!

CONEXION runs June 1- 25, 2022 with plenty of networking opportunities
Friday Fiesta - hosted by The Game Industry Gathering on June 3
Recruiter Hours - hosted by Niantic on June 15
Cafecito Mentorship - with The International Game Developer's Association on June 16
Mentorship - hosted by The Puerto Rican Game Developers' Association on June 17 & 18
Virtual Unity Happy Hour - 4:30 PM PST - Link to Follow
IN PERSON HAPPY HOUR - Hosted by Jam City from 6pm - 8:30pm PT in Los Angeles on June 23. Sign Up here

Professionals in the industry will review your art, resumes & other work before our career fair. Reviews runs from June 13th - 22nd and include:
Resume Reviews
Art Portfolio Reviews
LinkedIn Reviews
Social Brand Reviews
Writing Portfolio Reviews

The IGDA Virtual Mentor Café at CONEXION is a form of "speed mentoring" for participants in a casual and virtual environment. Participants will be assigned to a small group led by one or two mentors where participants may ask questions and discuss discipline-related topics within game development.
Thursday, 16th of June 2022 from 5:30pm PT (8:30pm ET) - 7:30 pm PT (10:30pm ET) via a virtual format.
Sign up here. Event details and instructions will be provided upon attendee's confirmation