Description
Latinx in AI at ICML 2019
The Official LXAI Research Workshop is co-located with ICML at the Long Beach Convention Center in Long Beach, CA on Monday, June 10th, 2019 in the Seaside Ballroom.
Full Details: http://www.latinxinai.org/icml-2019
Mission
Our mission is to increase representation of our communities at the main conference and create a platform allowing our members to share their work, gain access to mentoring, collaborations, and networking opportunities with other researchers in artificial intelligence.
Call for Participation
The workshop is a one-day event with invited speakers, oral presentations, and posters. The event brings together faculty, graduate students, research scientists, and engineers for an opportunity to connect and exchange ideas. There will be a panel discussion and a mentoring session to discuss current research trends and career choices in artificial intelligence and machine learning. While all presenters will identify primarily as latinx, all are invited to attend.
Sign-up to be a mentor: http://bit.ly/LXAI-ICML2019-MENTOR
Program
All events will be held in the Seaside Ballroom at the Long Beach Convention Center.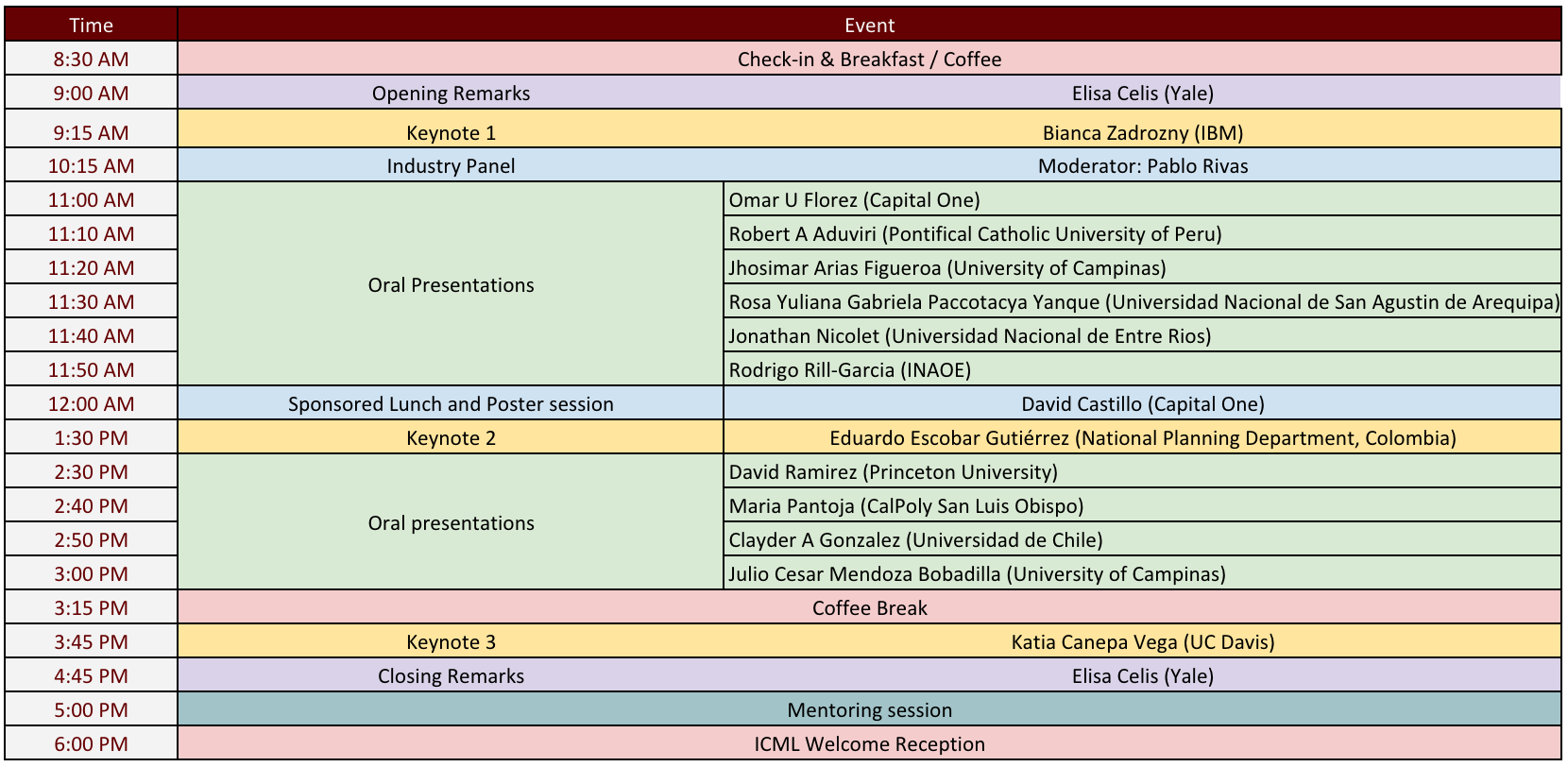 Organization
Workshop Chairs
Executive Chair -- Elisa Celis, Assistant Professor, Yale University
Program Committee Chair -- Jorge Luis Guevara Diaz, Research Scientist, IBM Research
Sponsorship and Website Chair -- Pablo Rivas, Assistant Professor of Computer Science, Marist College
Finance Chair -- Javier Andres Orduz Ducuara, Doctor of Sciences, National Autonomous University of Mexico
Operations and Visa Chair -- Javier Turek, Research Scientist in ML, Intel Labs
Public Relations Chair -- Xavier Sumba, Research Assistant, Concordia University
Diversity & Inclusion Chair -- Omar U. Florez, Senior Research Manager in AI, Capital One
Workshop Advisors
Laura Montoya, Executive Director, Accel AI Institute, Co-Chair Latinx in AI Coalition
Pablo Samuel Castro, Senior Research Software Developer, Google
Jorge Penalva, CEO & Cofounder lang.ai


Sponsors
Thank you to our amazing sponsors that are making this event possible!

Platinum:
Capital One
Facebook
Microsoft
Gold:
Google

Silver:
Apple
DeepMind

Bronze:
Intel

Supporter:
Elementia

If you are interested in becoming a sponsor, please check out our Sponsor Prospectus and send us a message to lxai-icml-chairs-2019 at accel.ai.