Description
About Latinx Games Festival
Latinx Games Festival's goal is to learn from and connect with Latinx game development professionals and industry veterans in a centralized location. We're proud to have The Museum of Latin American Art located in Long Beach, California, as our official partner and venue host for the 1st ever Latinx Games Festival to be held on September 14th, 2019! We're here to celebrate Latinx game development communities and provide them with a platform for global opportunities. Our Arcade will be curated from a variety of Latinx countries around the globe. Talks and Roundtables will be streamed, recorded, translated and transcribed in English, Spanish and Portuguese.
Speakers: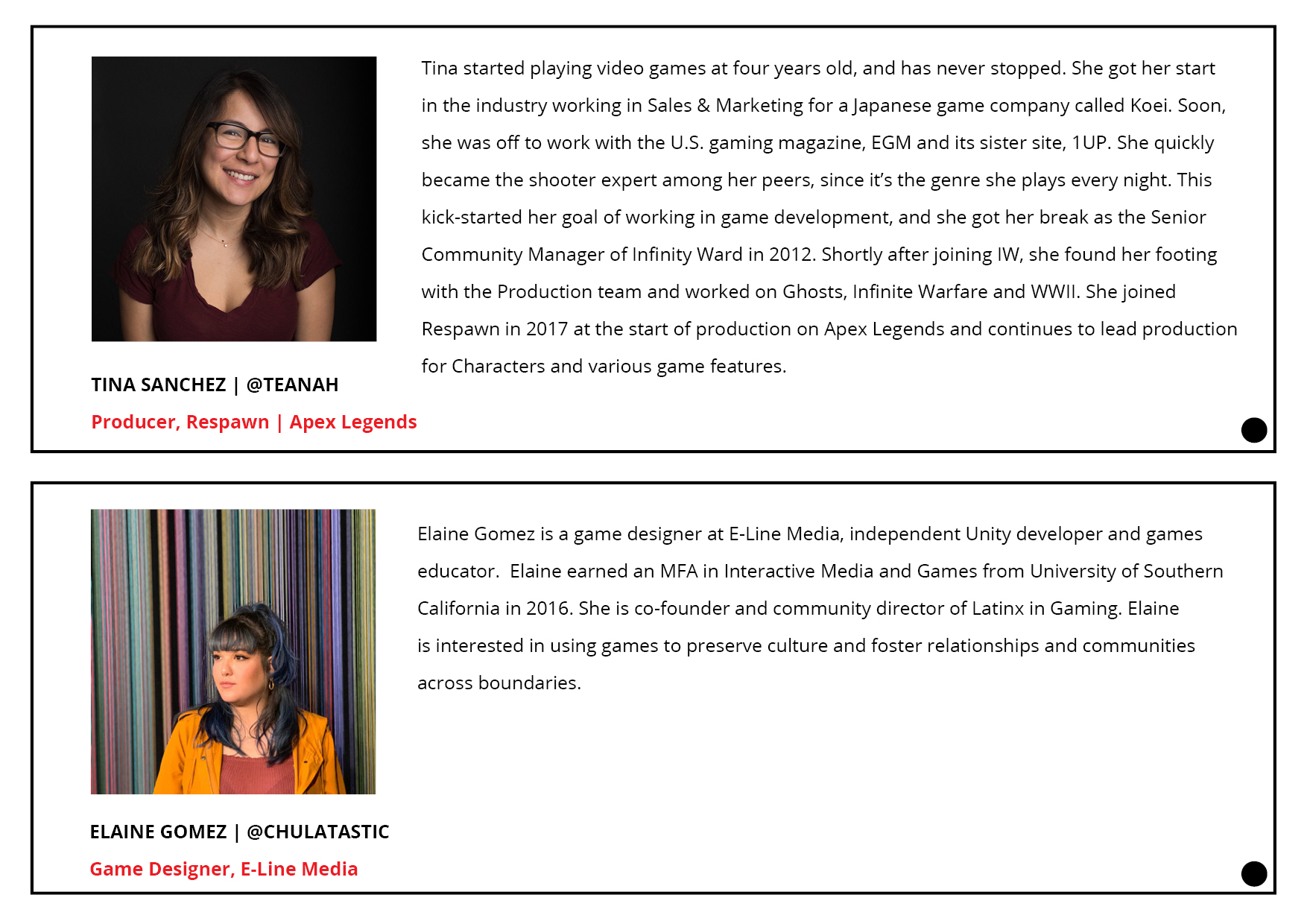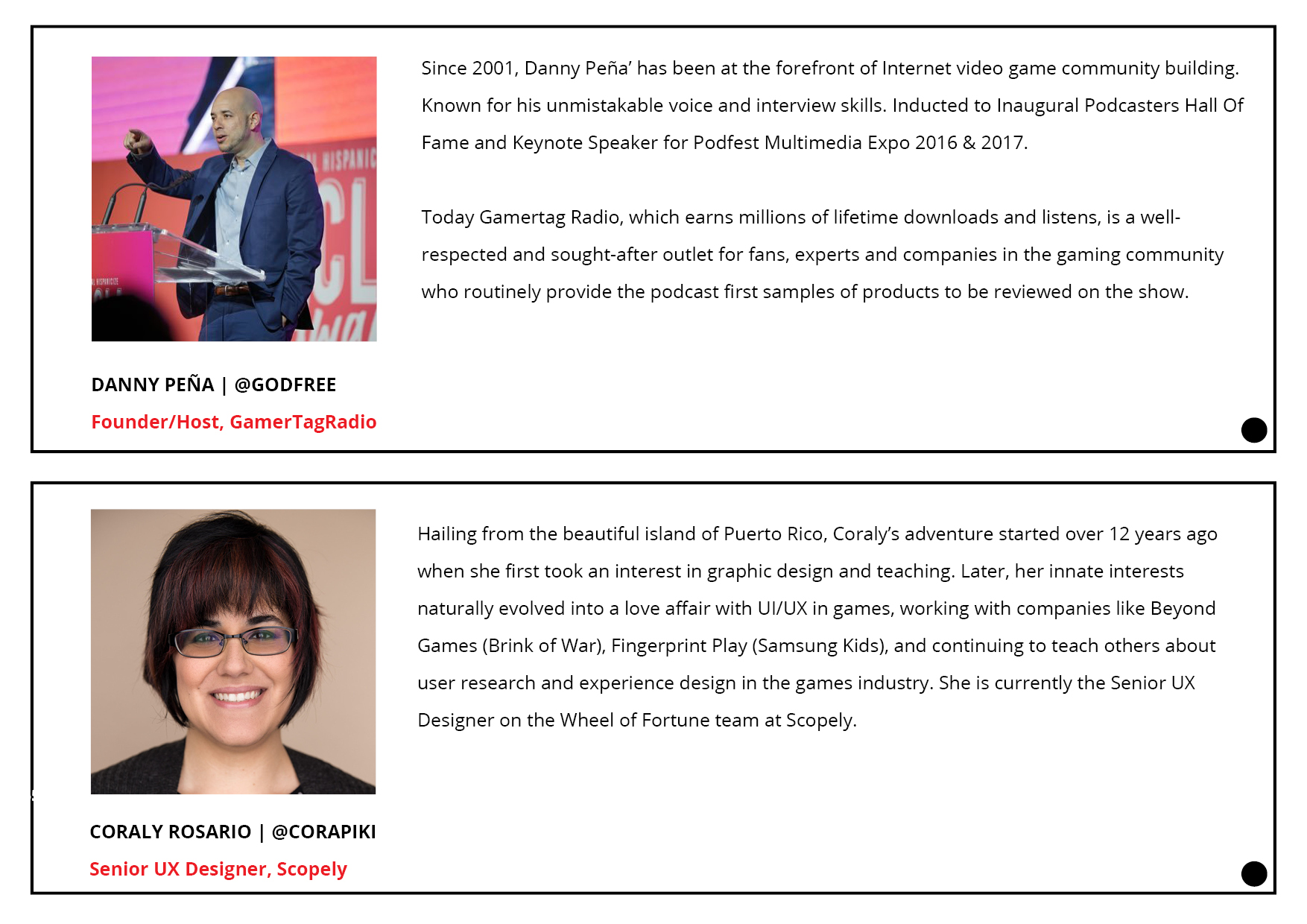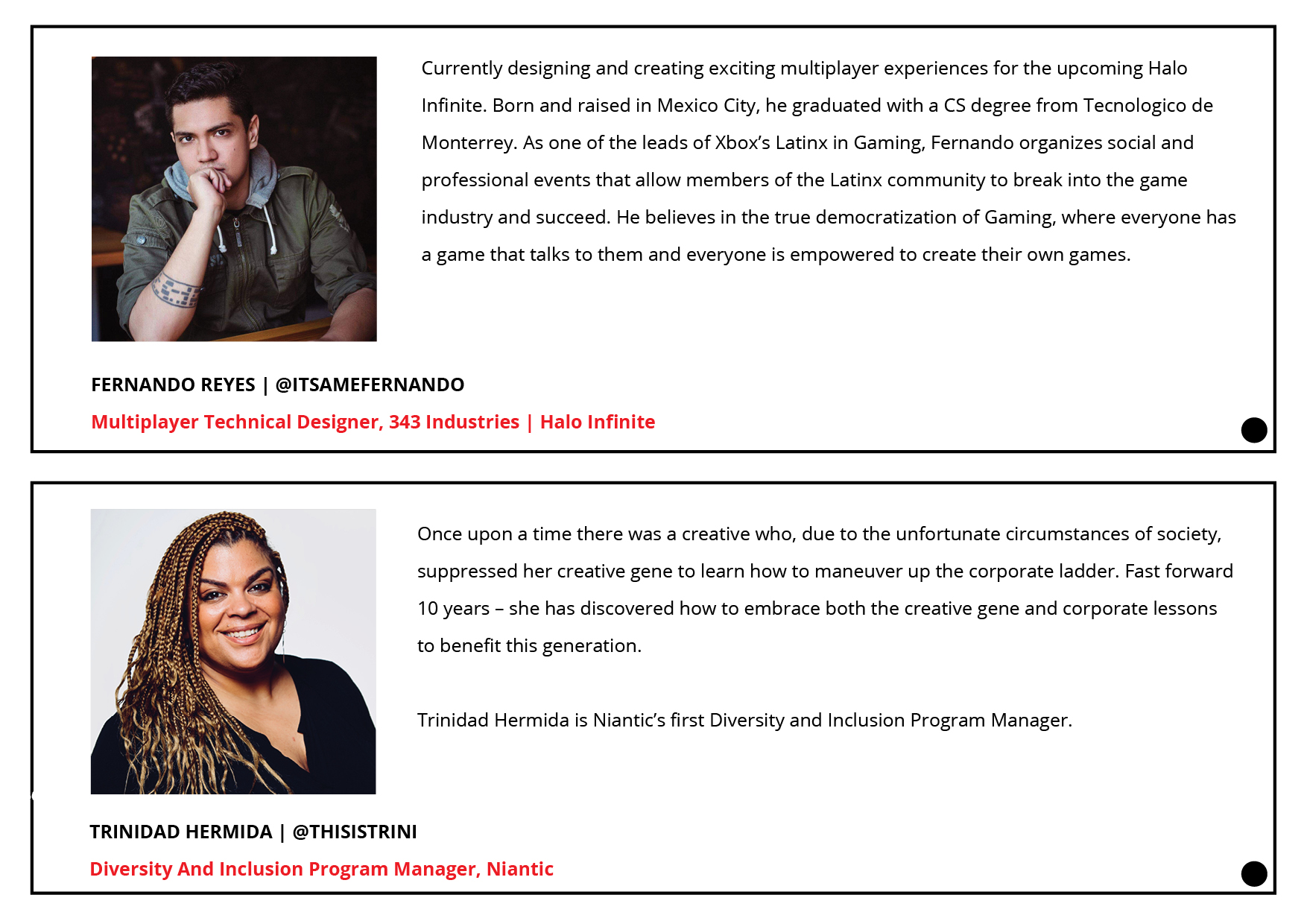 Sponsors: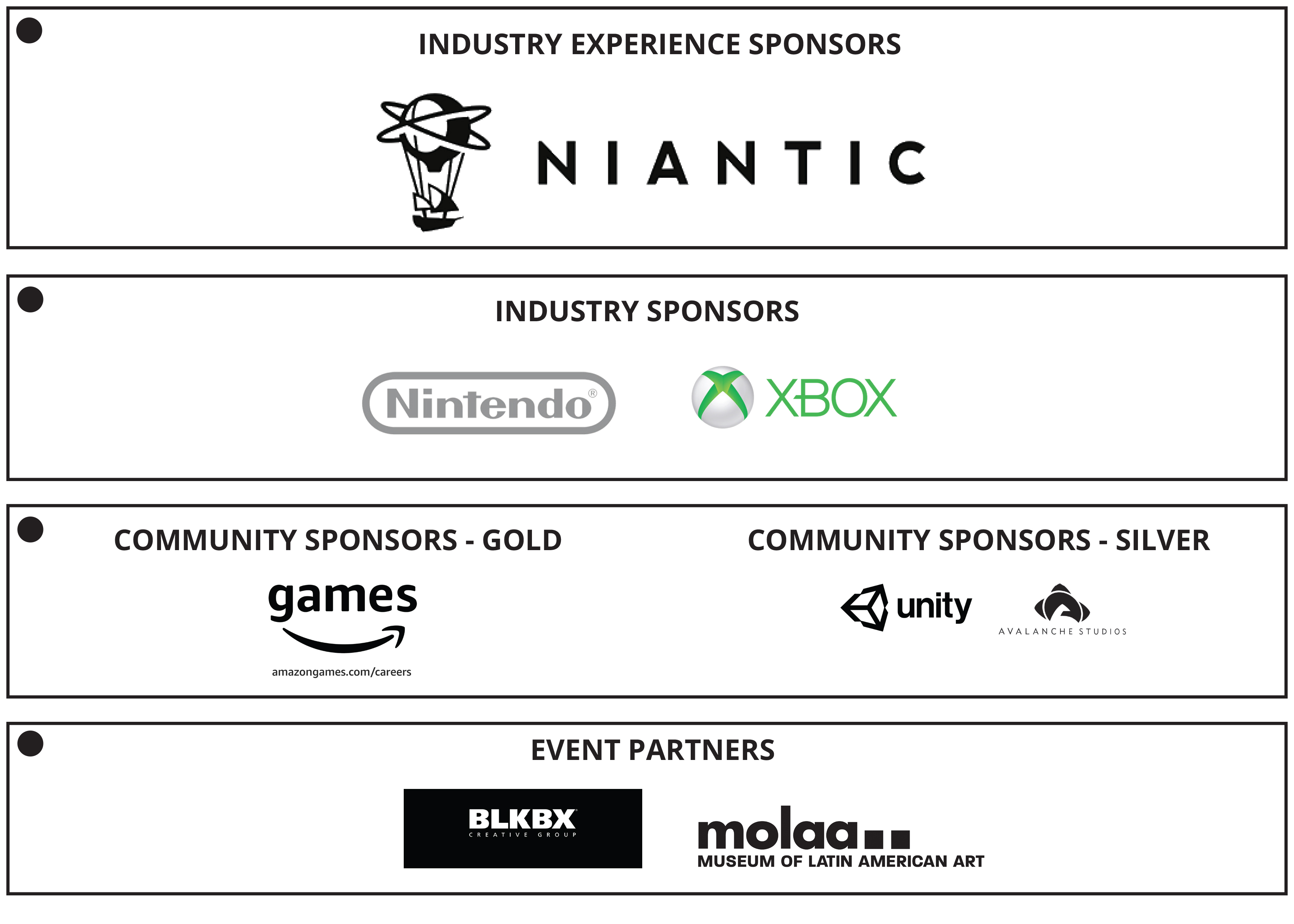 About Our Official Venue Partner The Museum of Latin American Art (MOLAA)
The Museum of Latin American Art expands knowledge and appreciation of modern and contemporary Latin American art through its Collection, ground-breaking Exhibitions, stimulating Educational Programs, and engaging Cultural Events.
The Museum of Latin American Art (MOLAA) was founded in 1996 in Long Beach, California and serves the greater Los Angeles area. MOLAA is the only museum in the United States dedicated to modern and contemporary Latin American and Latino art. Since its inception, MOLAA has doubled its size and added a 15,000 sq. ft. sculpture garden. Its permanent collection now numbers over 1,600 works of art The Museum is located in Long Beach's rapidly developing East Village Arts District.
Obstacles To Overcome
Social, economic and political strife are just some of the elements common to many Latinx regions. Game development in these regions suffers greatly as industry events become inaccessible to the game devs here due to high costs of flights, hotels, badges, food, and visas. They often miss out on valuable industry knowledge and networking opportunities, curated at these events from the top professionals.
Why You Should Care
Showcasing games produced by Latinx developers will create a richer, more mature games industry that positively impacts the future of Latinx game development. There's a huge opportunity to leverage the interest and passion for video games in these regions, and convert Latinx youth into producers of the games they enjoy playing.
Latinx Games Festival was founded with 3 Core Goals, which are as follows:
To bring together major publishers, developers, gamers, enthusiasts, press, universities, and game development communities to discuss the opportunities, trends, and the future of Latinx game development.
To connect and nurture a DIY focused Latinx game development community spread across the world. Networking across these regions will allow Latinx developers the opportunity to share resources, core skills, best practices, creative processes, industry opportunities and offer new ideas.
To work together to provide a platform for rising Latinx talent, welcome new Latinx voices, to honor experimental works, and highlight games developed within Latinx countries; and help build a roadmap toward sustainable Latinx game development success.
Follow us for the latest updates on Latinx Games Festival
Latinx Games Festival is seeking out like-minded community members to promote, sustain, and develop strategic partnerships that support the growing movement focused on Latinx game development. Together we'll add more flavor to the games industry, widening the talent pool, and keeping Latinx game developers in the pipeline!
Twitter: @LatinxGamesFest
Facebook: @LatinxGamesFestival
Instagram: @LatinxGamesFestival
Join us in building a strong community and making the inaugural Latinx Games Festival a success!
Volunteer Submission Form- https://docs.google.com/forms/d/e/1FAIpQLSfLXXw5u-ExHF2aL6y6TOURt0BDzYrrAfljZEhevVAqfB2FRw/viewform
Cover Our Event!
Press Submission Form- https://docs.google.com/forms/d/e/1FAIpQLSfPok65Ka2FRs00liWA9d0NYcUWird57mowcntrsxIQ4exm-Q/viewform
Sponsor Our Event!
Sponsor Submission Form- https://docs.google.com/forms/d/e/1FAIpQLSfBqjp0yoqwZU3pEdQ-qgbtPOeDFRQN9OE3WMFAj4Yto2Hk6w/viewform