Event Information
Refund policy
Contact the organizer to request a refund.
Eventbrite's fee is nonrefundable.
Inaugural LatinoLEAD LíderCon: Professional Development for Latinx Communities in the Midwest
About this event
Introducing LatinoLEAD's inaugural LíderCon 2021 with local, regional and national speakers, multiple networking sessions and an award ceremony.
This two-day virtual conference will feature local and national speakers and attendees from a cross-sector of backgrounds. Two prominent national figures – Dolores Huerta and Omar Jimenez – will kick off the morning sessions of the conference.
EARLY BIRD TICKET DEADLINE OCTOBER 29, 2021
LatinoLEAD will be hosting current and future Latinx leaders and professionals to network, connect and share their work and their thoughts on some of today's most pressing issues.
The goal of our Conference is to inspire the latinx community through new opportunities, thought-provoking conversations and access to powerful resources they can use to amplify the voice of the latinx community.
TUESDAY - NOVEMBER 9, 2021
DOLORES HUERTA - 8:30 AM
Civil rights activist and living legend, Dolores Huerta will be kicking-off the conference with a keynote address.
LATINX ENTREPRENEURSHIP: AN ECONOMIC FORCE IN THE U.S - 9:00 AM
In this session, we will have leaders share with us their experiences being small business owners, the importance of intergenerational wealth within the Latinx community through ownership, business growth, and development. We'll share resources about how to make sure you succeeded in your entrepreneurship journey. In addition, we will learn about how Latinx-Americans and Latino immigrants positively contribute to our economy.
​HOW PROFESSIONALS ARE EFFECTIVELY NAVIGATING THE PANDEMIC - 11:00 AM
Learn how busy leaders are successfully navigating the unprecedented challenges of COVID-19. The constant juggling of schedules. Balancing family life. Supervising staff. The toll this pandemic is taking on professional's mental health. This session offers advice and tips from health experts from Children's Hospital Minnesota.
WEDNESDAY - NOVEMBER 10, 2021
OMAR JIMENEZ - 8:30 AM
National CNN correspondent will be joining us on the second day of the conference to talk about his growth journey to becoming a national correspondent and journalist.
​THE POWER OF THE LATINX VOTE - 9:00 AM
In this session, author and campaign strategist, Chuck Rocha, will give insight into how Latino voter outreach is vital to our election system. Chuck is an Advisory Board Member of Leaders of Color, which recruits Black and Brown leaders to serve in public office, and is also the founder of Nuestro PAC, a partisan Super PAC that aims to educate, mobilize and turn out Latinos in key electoral states.
​LATINX REPRESENTATION IN LAW - IMPROVING THE JUSTICE SYSTEM - 11:00 AM
Nearly 20% of the U.S. population is Latinx. But only 4% of lawyers are Latinx. In this presentation, panelists will discuss what steps the legal profession and the Minnesota Latinx community must take to increase the representation of Latinx lawyers in the law, and thereby ensure that our justice system reflects the people it serves.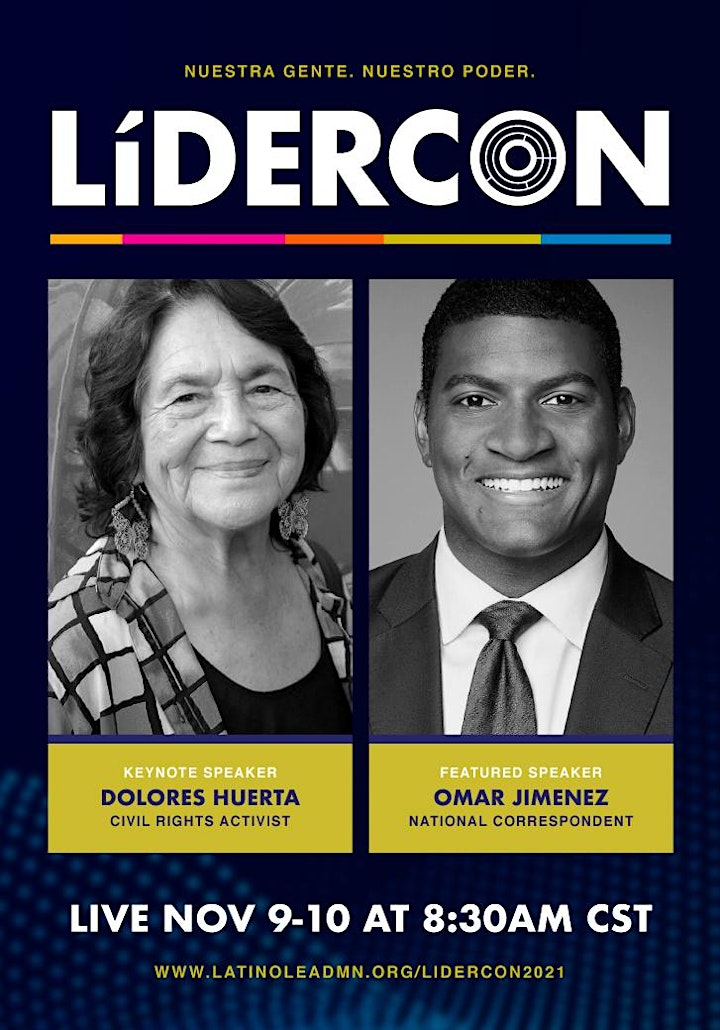 INDUSTRY MATCHED NETWORKING
Get matched with people in your industry! Based on your industry, you can get paired to talk with other attendees and speakers who join this session.
Our Speed-Networking Session will be available twice each day of the conference. With your paid admission, you will have access to one-on-one talks with other guests and connect with new people both at the event and afterwards!
​LOUNGE TABLES ​NETWORKING
The Networking Lounge will be open throughout the two days for you to join a table with audio, video, or both! This gives you one more way to connect at LíderCon.
There are 15 tables each with unique conversations based our guests on interest and topics.​ Some tables are reserved for Sponsors to network with attendees, others are for guests to talk with one another in an open format.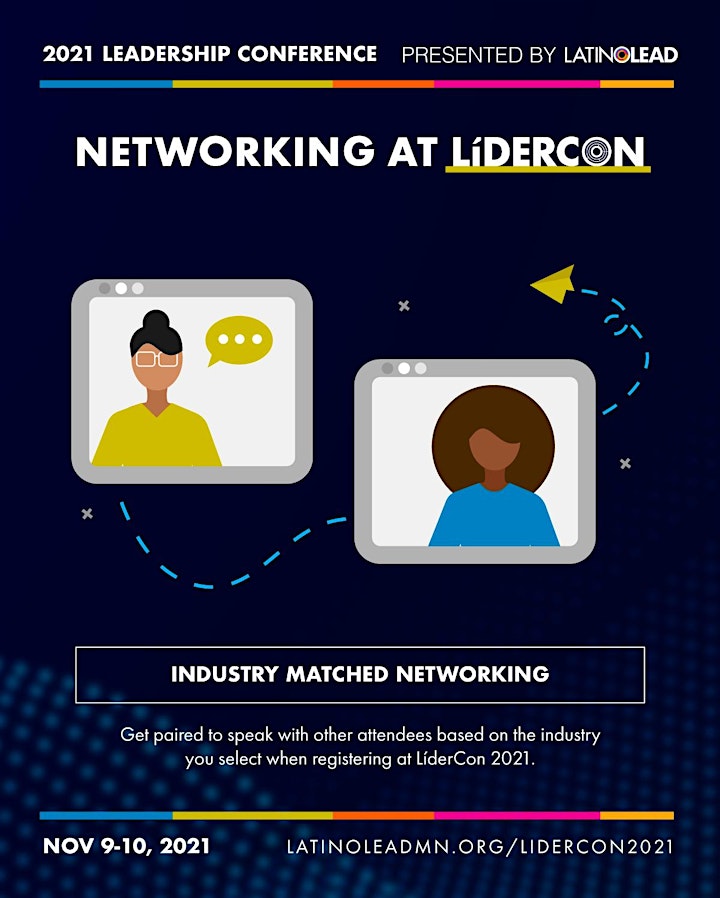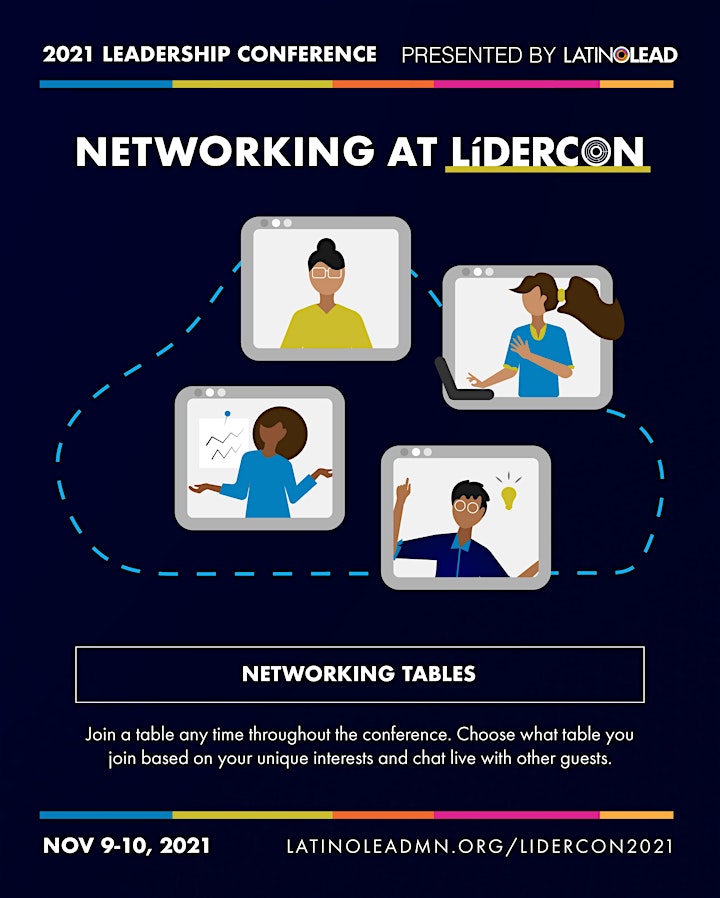 Date and time
Location
Refund policy
Contact the organizer to request a refund.
Eventbrite's fee is nonrefundable.